"I'm passionate about health equity for marginalized communities, both as a professional and as a peer who has seen and done some fucked up shit. Am I allowed to swear?"
That's Kochina Rude talking about her extensive work in the nightlife and public health environments—and quite honestly, I have no idea how she does it all. Every Saturday with co-host Lisa Frankenstein and ace producer Tito Soto, she puts on Princess, the weekly drag extravaganza. Also, she helms queer punk band Lolly Gaggers, who just completed another wild tour. (You can catch them playing during Folsom Street Fair on Sun/25 at the Stud/Oaklash Stage at 3pm).
Also, she is one of the main figures in nightlife's harm reduction scene, spreading the gospel of compassion and safe usage, instructing audiences and staff on how to use Narcan and other life-saving maneuvers. And also again, she is a violently creative yet sweet force in and of herself, a wonderful living tribute to her drag mother, Phatima Rude. Plus, it's her birthday this weekend!
The Princess party started at the Stud and then moved online as part of the Great Pandemic Twitch Drag Migration—"big sloppy kisses to anyone who watched our mess online from the couch!" she says. (It was actually pretty genius.) The show eventually found a loving IRL home at drag doyenne D'Arcy Drollinger's Club Oasis, where it continues to pack 'em in, hosting more than a few of those viral queens from that one behemoth drag TV competition. You know the one.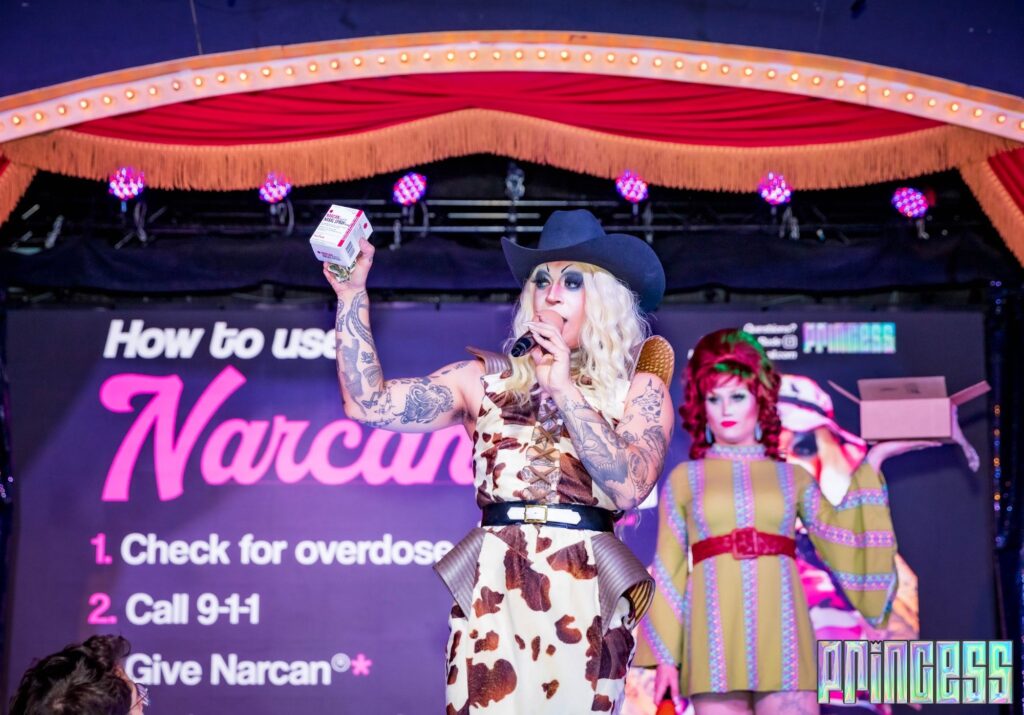 I wanted to take a moment to catch up with Kochina, not just because she's fascinating, but also because her work in harm reduction is inspiring, and shows how we can truly look out for one another without shaming or pushing each other down. Read on for an in-depth peek into the World of Kochina Rude.
48 HILLS Princess, in its current weekly incarnation, officially turned two earlier this year. What are some your favorite memories from hosting?
KOCHINA RUDE I guess my favorite Princess memories would be the ones I actually remember! When Lisa and I hosted the show online we'd take shots of tequila for big tippers over the course of several hours. I was wasted by the end of almost every broadcast. I've stopped drinking since then and, funny enough, became a better host—or at least I like to think so. Y'all can be the judge of that!
I'll never forget our inaugural event at Oasis for Pride 2021, where we produced a 20-minute mega-number with several friends and content collaborators, featuring all the hits that were released when the clubs were closed, as well as a tribute to SOPHIE. It was iconic. People laughed, cried, and cheered. I also performed in memory of my drag mother Phatima who had passed a month prior. I reenacted her infamous staple gun act and fondly remember her whenever I touch the scar tissue still knotted in my forehead.
Other notable moments range from laughing with Lisa onstage when we both forget who we're introducing, having heckling battles with drunk audience members, and experiencing the thrill of watching seasoned performers whip out their best acts on the catwalk. One of my proudest moments has been booking Mini Minerva of the legendary Hot Boxxx Girls to perform at Princess, her first booking ever on the Oasis stage. I'd looked up to Mini ever since I cut the carpet at Aunt Charlie's on Tuesday nights; she supported me even when it was obvious I had no clue what I was doing. To be able to pay it forward was an incredible full circle moment for me.
We also debuted our very first "Mx. Princx" pageant in January of this year, managing to pull off a completely unique showcase spanning two weeks. It has been SO cool to see Tito's larger-than-life visions come together through this party, with a major hand from his partner Pseuda (an experienced artist in their own right who I've admired for years).
48 HILLS You're at the forefront of drag in SF right now. What queens are really giving it, what are some new trends emerging, and how is local scene continuing to develop while juggernauts like "Drag Race" continue to popularize drag?
KOCHINA RUDE I don't know if I'm at the forefront, I just work here! I'd say Tito Soto has definitely put in the hard work to make opportunities happen, not only for me and Lisa but for so many talented performers citywide and beyond. It must be said that if we are Princess, then D'arcy Drollinger is QUEEN!
I am a fan of drag just as I was before I smeared lipstick on my face for the first time, and it's been amazing to see my friends achieve the success they deserve. One of the things I love about the San Francisco drag scene is its resilient, out-of-the-box approach to performance art. Until recently with the exception of notable figures such as Peaches Christ, Honey Mahogany, Juanita More, and of course Heklina, SF just hasn't seen itself represented on major drag platforms in the way many other major cities have. I like to think our scene is resourceful and that we are generally content to choose our own adventures, in an environment where making it on TV isn't necessarily everyone's objective. A new trend I've noticed is simply the fact that since the pandemic, EVERYBODY has stepped their non-gender specific pussy up, as they say.
As for who's who, I'd argue that the KINGS are really giving it right now. Rebel Kings of Oakland mainstays Jota Mercury and Vera are the twice-voted "Best of the Bay" Drag King and newly crowned winner of Star Search, respectively; Meatflap, current reigning SF Drag King of Dandy Cabaret and second runner-up of Princx Pageant; and the first-place Mx. Princx Pageant titleholder, Tyson Check-In, alias of jack-of-all-trades performer Sgt. Die Wies (aka Kuntrl-Alt-V). I'm also inspired by up-and-coming queens, kings, and things with unique visions such as Bonita Rose, Cheese Outta Control, Melanie Sparks, Lotus Boy, Cosimo, Obsidienne Obsurd, Princess' own resident set designer Évian (like the water), and of course my mija de drags, La Chucha. There is a TON of variety happening in this scene right now.
I wouldn't be where I am today without my sisters I came up with—from High Fantasy to the Stud, Oasis, and beyond—and who loved me enough to appreciate and encourage me, as well as bully me into learning better makeup. These include Mary Vice, Nicki Jizz, Princess Panocha aka God's Lil Princess, Mama Celeste, Cash Monet, Beverly Chills, Adam Kraft, Florida Man, Silk Worm & Britney Smearz, and of course my partner in crime, Lisa Frankenweenie. Special mention to my House of Rude siblings Hollow Eve and Jillian Gnarling, Vivvyanne Forevermore, and my former "Awooga!" party co-producer, DJ John Fucking Cartwright. Thankyoueverybodygoodnight.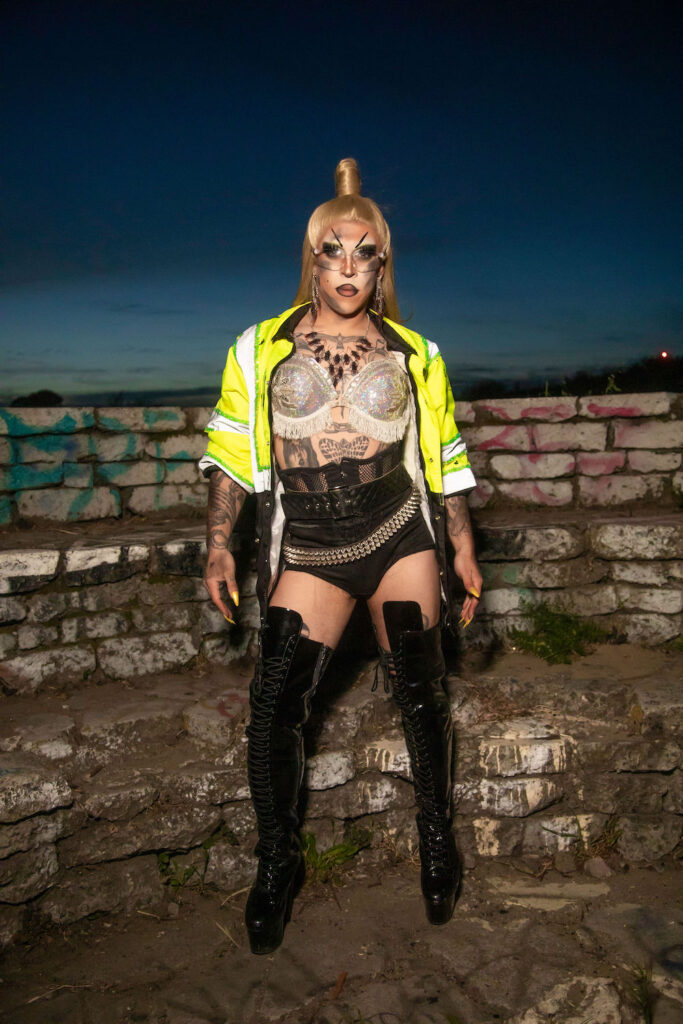 48 HILLS One of the things that makes Princess and your own drag and music practice unique is centering the importance of harm reduction. Can you tell me about that, how it came about, and how it manifests at Princess?
KOCHINA RUDE First, for the newbies to this kind of conversation: The National Harm Reduction Coalition defines harm reduction as "a set of practical strategies and ideas aimed at reducing negative consequences associated with drug use… harm reduction is also a movement for social justice built on a belief in, and respect for, the rights of people who use drugs."
I started volunteering as an HIV test counselor for community-based organizations in 2013, and eventually got a job managing the sexual health program at St. James Infirmary here in San Francisco, the country's only clinic for sex workers. I've done various work independently for organizations such as the National Harm Reduction Coalition, and right now I work full-time at the California Department of Public Health STD Control Branch in Richmond. This is where I disclose that anything mentioned in this interview is unrelated to my position as a state employee.
I'm passionate about health equity for marginalized communities, both as a professional and as a peer who has seen and done some fucked up shit. Am I allowed to swear?
I've always kept a day job in addition to whatever else I've got my hands in. Occasionally it's blended into my drag activities: I used to park the St. James mobile testing van outside the Stud for HIV screening during the monthly party "Hoe Is Life," and on a few occasions I collaborated with my sister-queen Mama Celeste producing sexual health education videos for gay rights organization MPACT Global. In a foreboding event, we had the video series premiere party at the Stud with attendees from San Francisco Department of Public Health and other publicly funded local organizations, where Lisa Frankenstein performed in drag as a sexy scabie.
But until recently at Princess, those worlds usually remained separate for me, not unlike how my role in a music project is unrelated to my drag, or how my seven-year career in coffee sales is unrelated to anything I do now. Like Walt Whitman said, I contain multitudes or whatever.
48 HILLS You've now inspired a city project that pays queer and trans clubgoers to educate and distribute Narcan to their peers in nightlife settings—can you tell me more about this, and how it's developing?
KOCHINA RUDE More definitions for those unfamiliar: Narcan is the brand name for a drug called naloxone, which is an opioid antagonist designed to reverse an overdose. "Overdose" refers to a potentially fatal shutdown of basic bodily functions, including breathing, as a result of ingesting too much of an opioid-based substance such as heroin, prescription painkillers like morphine or hydrocodone, and fentanyl. Other substances such as meth, cocaine, molly, GHB, or ketamine do not apply.
Part of my background includes overdose prevention training. When I worked at a syringe access site, the participants of the program didn't generally overlap with people I spent time with at the club; moreover, chronic drug users and people involved in street economies are the true experts of harm reduction. As my friend and mentor Kristin Marshall would say, if you shout "Overdose!" at 6th and Market, a dozen people are guaranteed to come running with Narcan in hand. The nightlife scene I am familiar with, however, isn't necessarily up to speed on this stuff in the same way.
Fast forward to last year's Folsom Street Fair: I'm at a house party off the main block. I'm hanging on the back patio with my sisters after performing at the fair earlier that day. The attendees are diverse and the vibes are cute. Suddenly a partygoer drops to the ground, blue-faced and unconscious. Some people instantly jump in with CPR, though chest compressions only help a person who is drowning or having a heart attack. I recognized that this person was experiencing a drug overdose. But it dawned on me that despite many witnesses at this crowded event, nobody seemed to know what to do. And to be fair, despite my training, I didn't really know what to do either. For a hot second my brain went blank, before I started yelling for Narcan (I didn't have any on me!) and for someone to call 9-1-1.
Reversing an overdose is usually a team effort and this situation was no different. People in harnesses and rhinestones took turns giving rescue breaths as a member of the Stud collective held the unconscious person in their arms, with a burlesque performer on the phone with emergency services a few feet away. Narcan takes up to five minutes to kick in. After administering the nasal spray, I learned that there is no sensation comparable to feeling a person literally choke back to life in your own mouth. I felt my heart swell, knowing that this person would live to party another day.
After that day, I decided to leverage any platform I had to prevent this from happening again. After all, I had a captive audience at Princess every Saturday night! Within two weeks I was able to partner with the Drug Overdose Prevention and Education (D.O.P.E.) Project as an independent distributor and began giving away Narcan to attendees at Princess weekly. Fortunately I have had the blessing of SF Oasis since day one, and D'arcy has been a fantastic ally in this endeavor.
In the months since, the city took notice and is now paying queer and trans community members to educate and provide Narcan to their peers in the clubs. I'm incredibly proud that this new public health intervention activity was modeled after my little personal project, as part of a behavioral health program led by one of my personal harm reduction heroes Tracey Helton. Most recently, I've partnered with the LGBT Leather District and the San Francisco Entertainment Commission to educate bar owners and staff on overdose prevention in the workplace and supply them with naloxone.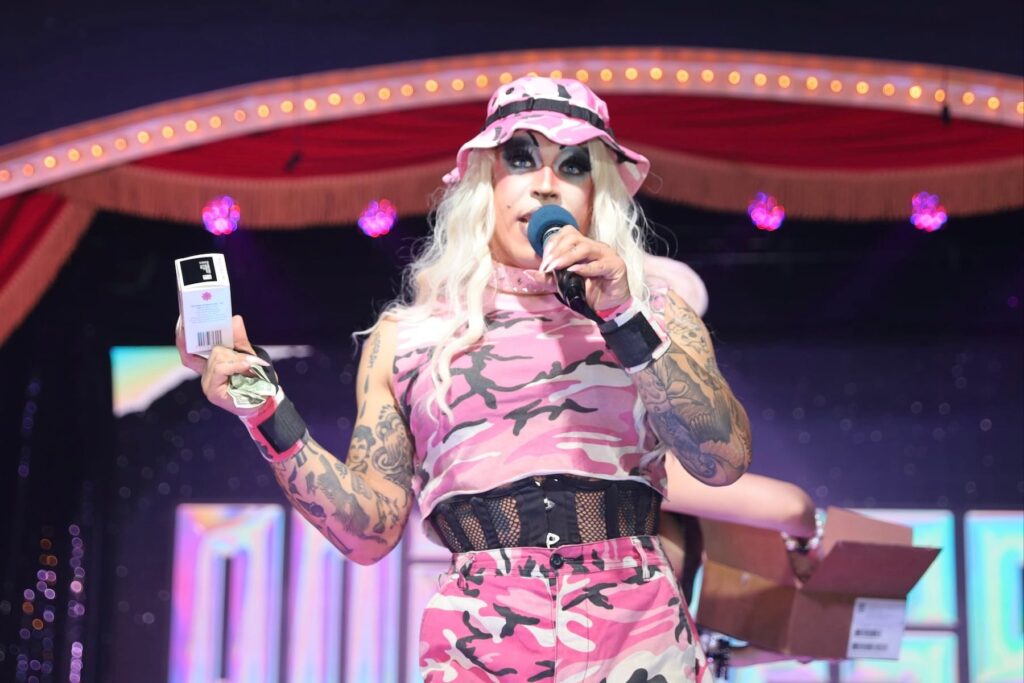 48 HILLS Why is this such an important issue for clubgoers in general?
KOCHINA RUDE I'll put it this way: because drugs and drug users are criminalized in our society and because there's no regulation of the underground drug industry, when a person buys a bag of something, sometimes there is a risk of it being cross-contaminated with something else. A street-grade version of fentanyl, a drug historically used for monitored pain management in hospitals, appeared on the East Coast and gradually made its way to San Francisco by the mid-2010s. There are lots of myths and theories about fentanyl, but the facts remain: it's anywhere between 50 to 100 times stronger than heroin, a very small amount can lead even experienced users to overdose, and it's not going anywhere anytime soon.
In the past six years, deaths related to fentanyl have skyrocketed nationwide (though fentanyl itself is not the only cause). More people have been lost to fatal overdose than COVID itself since the start of the pandemic in San Francisco alone. Scary, right? It is important to understand, however, that there is a dedicated market for fentanyl among drug users; it is on the menu just like every other drug out there. We can ruminate on how traces of this incredibly potent opioid makes its way into non-opioid party substances like coke or K until we're blue in the face (no pun intended), but regardless, we can be assured that it's here to stay.
Overdose deaths now affect our community of clubgoers and weekend warriors in ways previously unforeseen. In my case, I didn't know whether anybody else was doing this already. I just knew something had to be done.
(For backstory on harm reduction in San Francisco, I recommend reading this piece by Holly McDede for KQED: "From the Underground to Public Health Policy: A History of Harm Reduction in San Francisco")
48 HILLS What would be your dream to see in every club, bar, and live venue?
KOCHINA RUDE My dream for every club, bar, and live venue is the same as my dream for every health jurisdiction everywhere. I want naloxone to be freed from any laws restricting dispensation by non-physicians. (Until the early 2000s in SF you still needed a doctor's signature to access naloxone, but thanks to activists this is fortunately no longer the case. Anyone can pick up a free kit at the Community Behavioral Health Services pharmacy weekdays at 1380 Howard Street in SoMa.)
I want fentanyl test strips to be made accessible and readily available everywhere, in a format that is user-friendly for lay people. I want every club to have a kit behind the bar, with staff members trained on how to recognize an overdose.
I want the federal government to invest in harm reduction policy without lip service. I want safe injection sites. I want more public bathrooms. I want housing for people experiencing homelessness. I want the decriminalization of drugs (and drug users). Every single overdose is preventable. I want Narcan to be relinquished from the hands of law enforcement and repurposed to community members and sustainable community-based programs. As disability rights activists famously said, "nothing about us without us!"
The thing people should know about me is that I don't actually have a plan. I am just a person who does stuff. On my own time, I respond to DMs from people on how to practice harm reduction before their weekend outings, and for the past three years I've given away homemade condom kits to street-based sex workers in my own neighborhood in Oakland (as harm reduction also includes minimizing risks for sexually transmitted infections)!
Beyond my quaint career as a local queen, I provide vocals for a queer post-punk band called Lolly Gaggers, and if I happen to have extra Narcan or fentanyl test strips I'll give them away for free at our merch booth and ensure that people know how to use them. (I will shamelessly add that Lolly Gaggers was named first runner-up for Best Band in 48 Hills' Best of the Bay Awards for the past two years!)
Most recently, I was able to secure a sponsorship from the city to fund several months' worth of fentanyl test strips to be available at Princess for partygoers to take home and test their drugs, via newly founded Oakland-based project FentCheck. Beyond that, as I often say when I'm onstage doing my song-and-dance, I don't want Princess to be the only nightlife event doing this. I want every party and every venue that comes into contact with people who use drugs to have the resources to prevent and reverse overdoses, so that everyone in our community may live to party another day (or, you know, invent a cure for cancer or something. Whatever!).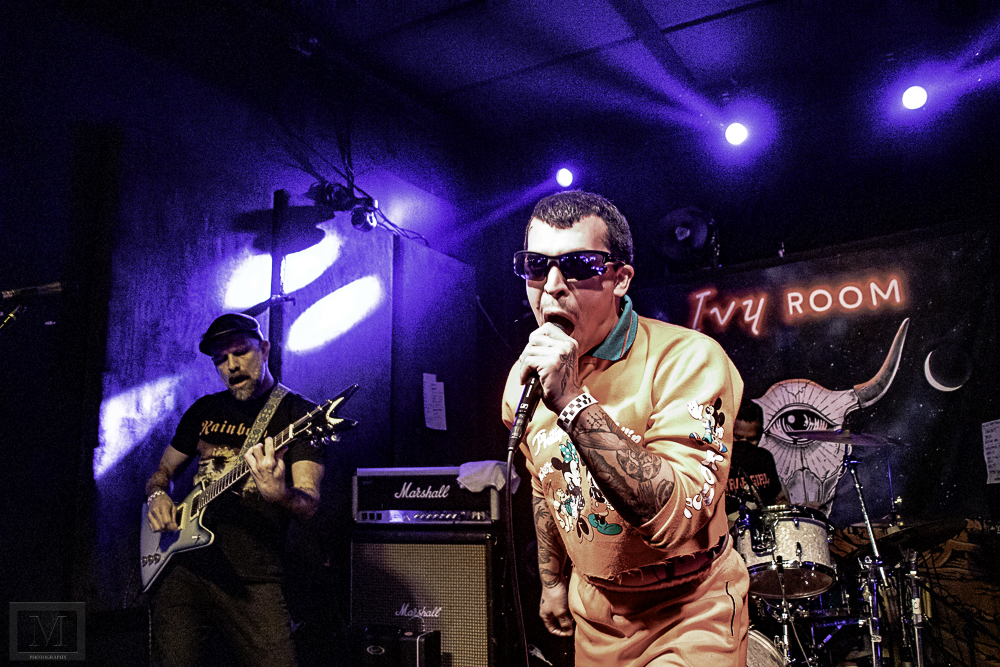 48 HILLS I know that harm reduction is a big part of your life outside drag as well, and I know it has a deep personal meaning for you. Can you tell me your experience with its importance in your own life?
KOCHINA RUDE I was a dissatisfied teenager in the suburbs who experimented with drugs and sometimes got into dangerous situations. I'm not unique for that, but my experiences as a young person have heavily impacted my perspective on the world. I started doing this work because I wanted to prevent others from having the same negative experiences I'd had myself.
As a teen I once went to get tested at a free clinic without my parents knowing; sensing my naïveté, the physician providing the screening ended up taking advantage of me sexually. My hope is ensure compassionate services are provided for anybody facing stigma in regards to their sexual health. As far as drugs go, I've loved substance users since I developed a shred of autonomy, and death has also been a lifelong teacher for me in this regard. My mother's best friend, the first openly gay man I'd ever met and a former injection drug user, passed away from complications related to AIDS when I was a child. Though my memories of him are faint, his imprint remains strong on my perspective as a queer person whose community disproportionately experiences disease and addiction, as part of one formidable, complicated, beautiful package.
Almost exactly one year since losing my drag mother (to natural causes, though she was a person who experienced several phases of drug dependency in her life), one of my closest friends and fellow harm reductionist on the front lines, Sive Sanchez, recently passed away from drug overdose on May 7. Whether or not it was intentional, I'll never truly know, but this was a person who helped me in my own recovery and who embodied what it meant to accept people as they are without judgment.
For many harm reductionists, this work is deeply personal. The sadness I have felt for my loved ones who deserved better from the world is what keeps me motivated toward health justice for us all. More than anything, I hope that my work can speak for itself, and that in some small way I am able to make a difference. For me, the means have always justified the ends.