The right-wing folks who helped recall District Attorney Chesa Boudin have a bit of a problem today:
Crime is up in many categories, and certainly not down, since their candidate, Brooke Jenkins, took over the office. But they can't blame the DA, since they helped put her in office.
They can't blame the mayor, since they supported her and her DA candidate, and they can't blame the cops, since the mayor hires the chief.
So now they are going to try to blame the judges.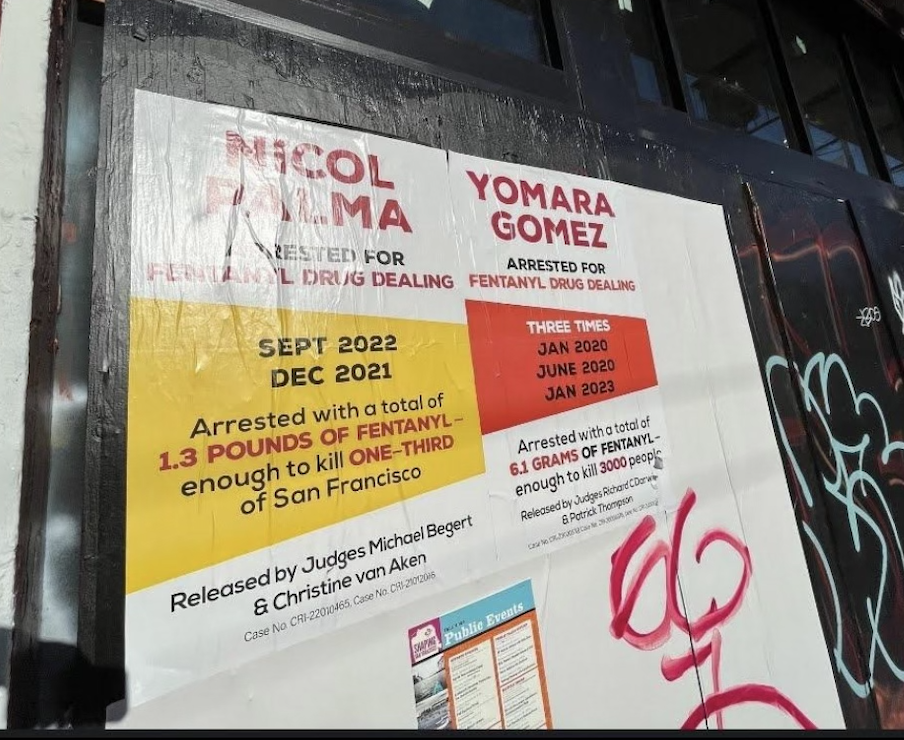 The campaign, which I suspect will lead to efforts to remove or replace sitting judges who will be on the ballot in 2024, is well underway.
It started in public in August, when Jenkins sought to blame the local judges for not ordering drug offenders to be locked up pending trial.
On August 28, according to records I've received under the San Francisco Sunshine Act, Stop Crime SF, a leading Boudin opponent, asked the District Attorney's Office to provide:
All records of and information on motions to keep a defendant in custody pending trial (motions to detain) filed by your office, including those that pertain to the cases referenced in the attached SFGate article of August 4, 2023. 2. For the same time frame, please identify all those cases (case numbers) where motions to detain were denied by the court.
The DA's Office said that information is confidential. But the request, of course, is part of an effort to identify judges who are following the law and releasing people charged with crimes unless they are a clear threat to the community.
From three retired judges:
the California Constitution makes clear that detention is to be the limited exception, not the rule. And studies of this approach to date have reinforced that it promotes, rather than undermines, public safety.
This approach is a threat to the independence of the judiciary, according to dean of the law school at UC Berkeley:
Everyone understandably wants to feel safe. Appeals to voters to be tougher on crime often have great resonance. That is what Stop Crime SF is counting on. But we all also should want to be sure that every judge decides every matter based on its merits, not with an eye to a report card at the next election. If we, or a loved one, is before a judge we undoubtedly would want nothing else.
And in the past few days, Stop Crime SF has sent a survey to many, perhaps all assistant district attorneys asking them, anonymously, to grade the Superior Court judges who are up for re-election this fall on their "tough on crime" credentials.
The survey, a copy of which I have obtained, includes this:
In particular, please provide your view on whether the decisions(s) advanced or compromised justice or public safety and the reasons why.

Provide case numbers and/or defendant names and a brief description of the judicial action taken if available. Based on your examples, we may order transcripts or other court records and conduct further research. You may also provide favorable/unfavorable or explanatory comments about any judges rated above.

Please feel free to continue comments and/or case numbers for a particular judge on a back page.
Boudin told me tonight:
It is super problematic especially in the context of what is clearly a coordinated effort by the mayor and the DA to scapegoat individual judges for applying the law rather than taking responsibility for their own failure to deliver on promises to the voters.
We don't know if it's directly connected, but posters have appeared all over the Mission specifically naming local judges who have released before trial—again, according to the state Constitution and the rules judges have to follow—people charged with selling fentanyl.
Stop Crime SF told the SF Standard that they aren't behind the posters.
But the overall message that the foes of Boudin have created is now being aimed at the judges, and it's likely that some of them will now be challenged.
Nothing wrong with that; it's an elective office. But the idea that, after the failures of the Breed Administration, Breed's Police Department, and Breed's District Attorney, the blame for the opioid crisis has now shifted to the judges shows how desperate these people are for scapegoats.
It reminds me, in a way, of the right-wing political forces that came together in 1986 to oust Rose Bird as chief justice of the state Supreme Court. They used her careful scrutiny of the death penalty as a wedge issue to get rid of someone who was also willing to support the rights of workers and free speech and had angered big business.
It was, as many admit in retrospect, a travesty of politics over justice. It led to many years of over-incarceration, executions, and terrible rulings by a Republican court.
Is this really the path we want to go down in San Francisco in 2023?