Arleene Correa Valencia says her current show at the Catharine Clark Gallery, Naces Así, Naces Prieto. No Naces Blanco / You Are Born Like This, You Are Born Brown. You Are Not Born White (through Sat/4)—with paintings, textiles, light sculptures and her first audio piece—was inspired by the letters between her and her father, when he had gone to the United States, and she and her brother and her pregnant mother stayed in Michoacán for a year.
Correa Valencia said she's grateful to have the letters included in the show, especially as she writes to her father how she loves and misses him. "I think it has allowed me to understand the progression of how our migration happened," she said in an interview at the gallery. "And the emotions that were surfacing at the time of our family separation and our reunification."
The year that Correa Valencia was separated from her father had a profound effect on her life and work.
"My dad is my best friend and the love of my life and the love of my soul," she said. "This notion of insecurity has always been really present in my life, and it feels like this void that I've never been able to really solve. And even though we're together now, and we live really close to each other, I feel like my whole life has been this anxious moment of fearing that the separation would be repeated."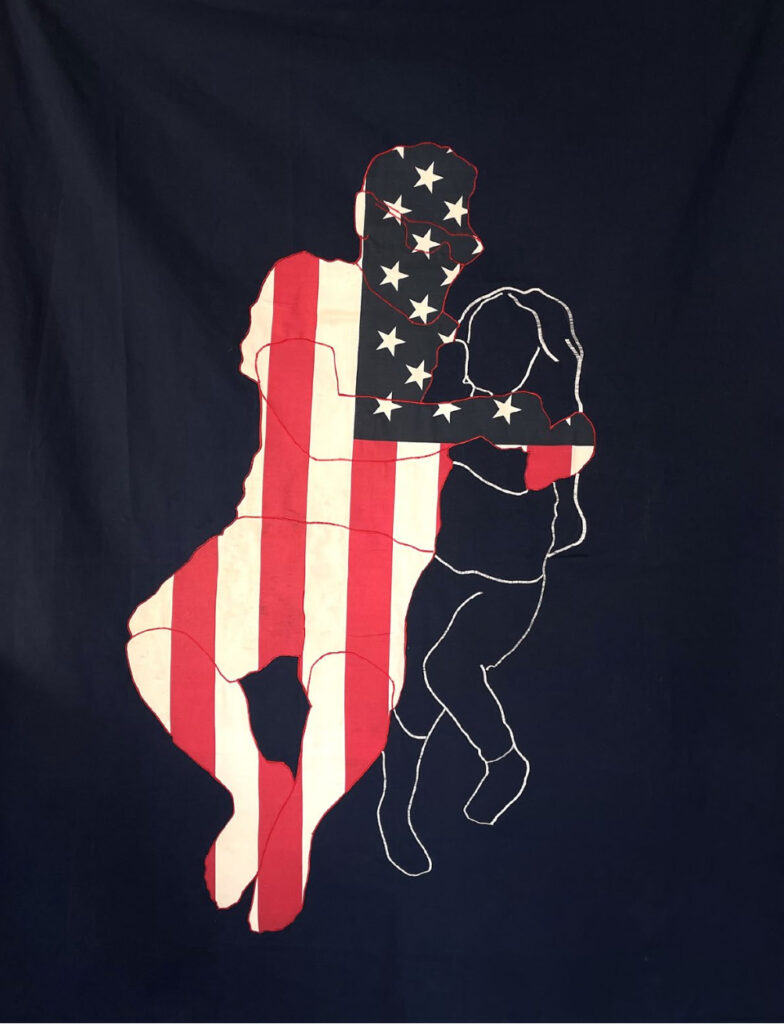 Correa Valencia repurposed old clothing for the show, transforming items into representations of the separation period. One large pink textile work, Papalotl: Sonadores En Busqueda de Amor/ Papalotl: Dreams In Search of Love, shows children with their faces in silhouette. "In this pink work that we have in front of us, there is a lack of parents," she said. "It's a lot about the children that are in this waiting moment. It's like me in the letters, there are children who are waiting to be reunited with their parents."
In 2017, she started documenting the agricultural workers in the vineyards in Napa, where she and her family live. "When I've been out in the field, the thing that really caught my attention is these reflective fabrics and these neon colors, which are so specific to the need to be visible," she said. "Then I also feel like there's this need to be invisible because of our status. Using that as inspiration, I brought a lot of that fabric into my work."
Drawings on reflective fabric that's embroidered on paper with glow-in-the-dark thread make up 16 small drawings that Correa Valencia did with her husband and niece as models.  
"If we were to shine a flashlight upon these portraits, the parent figure always attempts to protect the child from the visibility of the light, and reflects that light back onto the viewer," she said. "If we turn off the lights entirely, the children glow in the dark, but the parent disappears."
Correa Valencia used her father's old uniforms from his job as a painter to make clothes for her and her siblings in Hijos el Sol/Children of The Sun. They four figures stand in front of the Aztec sun calendar that her father painted.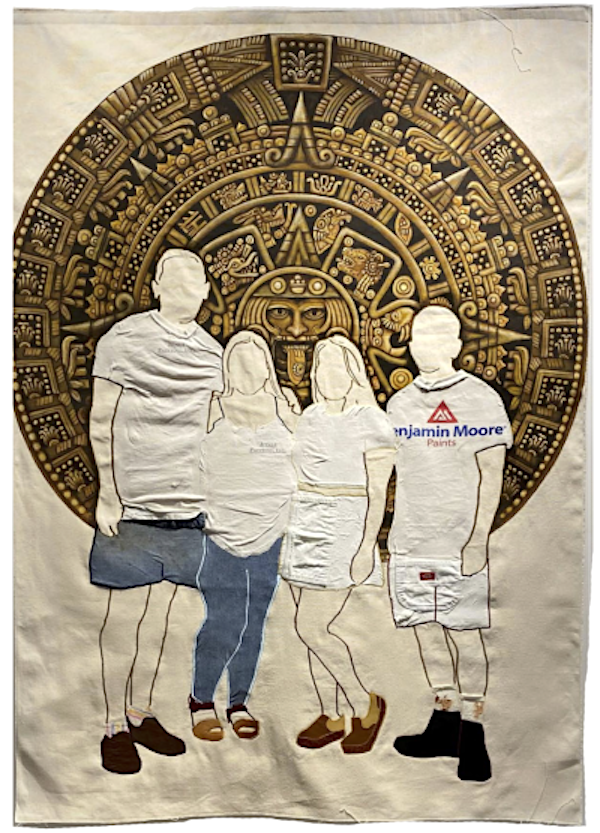 Her father, a lover of Bob Ross, painted corn gods and serpents that hung in their home. Since he was interested in art and she wanted to be close to him, she became interested in art too. 
He also features in Correa Valencia's first sound piece with a recording of her niece crying when she was first born. One thing her father says is "Naces así, naces prieto. No naces blanco," the title of the show. The audio piece is in the media room with two sculptures made of aluminum and LED lights, Salida/Exit and Un Momento Mas/One More Moment, show an adult holding a child. 
In spite of her parents' love of art, they didn't encourage Correa Valencia's dreams. 
"I remember coming home and saying, 'I'm going to be an artist,' and my parents were just like, 'OK, well, you don't have a Social Security card, you don't have a driver's license,'" she said. "'Humble yourself down, our opportunities in this country are very limited.'"
Although Valencia knew her parents wanted to shelter her from harm, it was still painful.
"My parents were trying to protect me from the inevitable heartbreak of not being able to go to art school," she said. "By them shooting me down, I felt they were doing their best at making sure that the pain of not having my dreams come true happened at home, and not in a public space."
But that heartbreak wasn't inevitable. From the age of 14, Correa Valencia worked as a nanny. She took all the art classes offered at Napa Valley College. Then her painting teacher, Fain Hancock, who had gone to California College of the Arts (CCA), told Correa Valencia, she would bring up someone from the school to talk to her. 
I pulled her aside and I said, 'Fain, I have to tell you something—I'm undocumented, and I'm not going to be able to do this and I don't want you to waste your time.' She said to me, 'I don't care. I don't care if you're undocumented, we're going to send you to art school.'"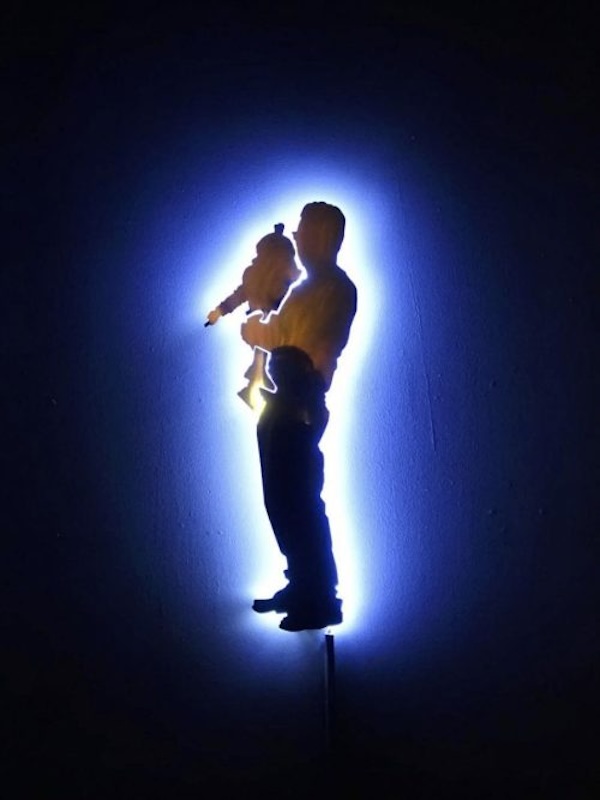 Because of the Deferred Action for Childhood Arrivals, Correa Valencia became a DREAMer, and CCA gave her a full scholarship. This past year, Correa Valencia became a green card holder. For a long time, she had been so fearful of being deported that she hid her status. Then a few years ago while she was doing a residency in New York, she decided to accept it. 
"I started saying out loud, 'Hi, I'm Arleene, I'm undocumented, or I'm illegal,' or whatever, and I just started using that word so much that it removed all the power that that word had over me. I feel that I healed a lot through that, and I wanted to do the same thing in my work."
Catherine Clark Gallery has represented Valencia since 2022. Correa Valencia says it's a perfect match. 
"My relationship with Katie has been so exciting," she said. "I am so lucky and blessed to be working with such an incredible and loving and supportive team."
Along with the show at Catharine Clark, Correa Valencia recently had work exhibited at the Armory, an international art fair in New York. She is also one of the artists in Yerba Buena for the Arts' Bay Area Now 9 show with an installation with benches and doors from a detention facility in Oregon. She's glad for the attention her art is getting.  
"It feels really special to know that I'm helping write our history in a nontraditional way that is equally as valid and powerful for us," she said. "I think that art allows us to see a different perspective and allows us to tell our own truths. I'm really honored to be able to tell the truth of my family and my community in a way that in a way that looks back at that little girl that never went to a museum or an art gallery, and says, 'You are invited to see yourself in this work.'"
ARLEENE CORRES VALENCIA: NACES ASÍ, NACES PRIETO. NO NACES BLANCO / YOU ARE BORN LIKE THIS, YOU ARE BORN BROWN. YOU ARE NOT BORN WHITE through Sat/4 at Catharine Clark Gallery, SF. More info here.