Édith Piaf's mighty voice, expressive performance style, and hardship-fueled lyrics made the French singer an international star in her lifetime.
But it's the having-been-there authenticity with which she delivered her weighty street tales and lovelorn torch songs like "L'Accordéoniste" (1940), "La Vie en rose" (1946), "Hymne à l'amour" (1949), "Padam, padam…" (1951), "La Foule" (1957), "Milord" (1959), and of course "Non, je ne regrette rien" (1960) that made her an icon.
Nicknamed "The Little Sparrow" for her diminutive height and enormous stage fright, hard-drinking Piaf poured years of lived suffering—maternal abandonment, childhood blindness, abject poverty, the death of her daughter, the loss of her first great love, boxer Marcel Cerdan, and three near-fatal car accidents that left her dependent on painkillers—into her music, before succumbing to liver cancer in 1963.
The chanteuse's rich catalog became the soundtrack of her posthumous biographical musical film, 2007's La Vie en Rose, and since 2015, the basis of Gil Marsalla's PIAF! The Show (playing San Francisco's Herbst Theater on Mon/6).
Starring French theatrical sensation Nathalie Lermitte, the mega-successful musical tells the story of the cabaret singer's career using her unforgettable songs and projections of previously unpublished photos. For 90 minutes, Lermitte, who resurrected the singer in previous productions Piaf je t'aime, Piaf: une vie en rose et noir, and Piaf: ombres et lumiere, before joining this show in 2018, will again channel the icon, backed by a four-piece band.
I spoke to Lermitte about discovering Piaf, playing the singer, and how she'd like the legendary artist remembered.
48 HILLS What can you tell me about how the show is structured?
NATHALIE LERMITTE This show is a journey through the songs of Édith Piaf. They have left an undeniable emotional trace around the world. With the songs and beautifully projected photos, you travel in the spirit of Montmartre, Paris. Emotion is the success of this show.
48 HILLS Piaf was just 4'8." How do you make yourself both small and larger than life to capture the singer?
NATHALIE LERMITTE I'm just four inches taller than Piaf. However, humility is the key word! I am very aware that I must live up to this repertoire, to what it has left in the hearts of people. It's a great honor and a great responsibility. When the applause comes, I know that 90 percent of that belongs to Piaf.
48 HILLS How do you transform into Piaf each night?
NATHALIE LERMITTE Every night, I do not transform myself; I am in service. I put all my sincerity and truth at the service of the moment. If it has transformation, it comes from what I am at this moment. The songs have a very strong emotional potency; I just have to help myself.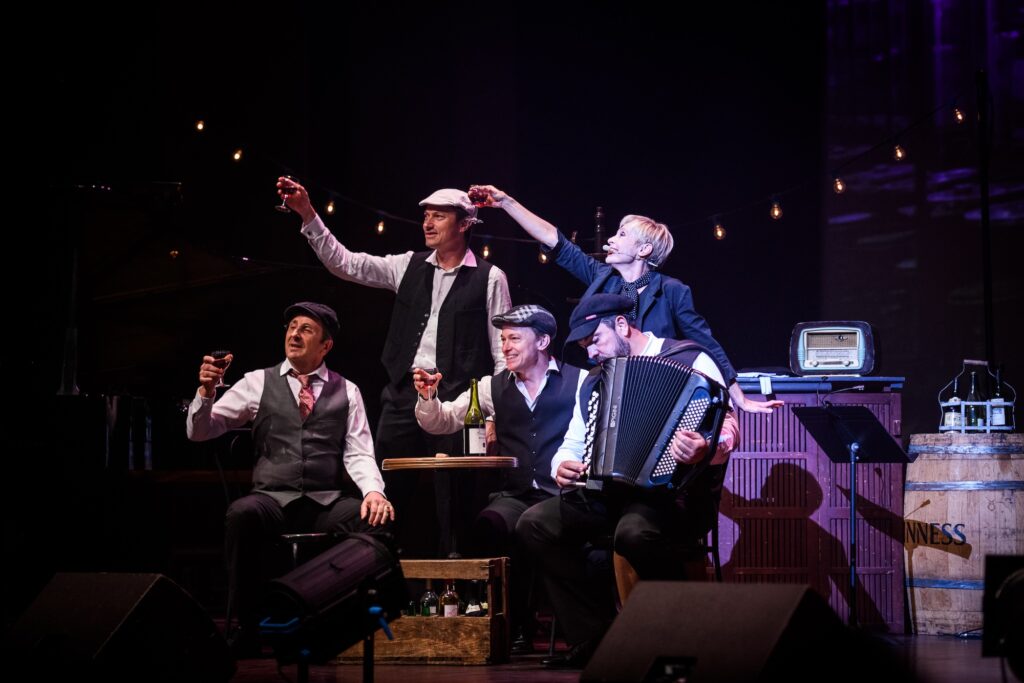 48 HILLS I read that discovering "Les blouses blanche" as a child spurred your lifelong fascination with Piaf. What was it about the track that left such an impression on you?
NATHALIE LERMITTE I was four years old when I heard this song. I was immediately fascinated by the emotion that emanated from it. Piaf sowed something deep inside me that never disappeared. Strangely, I knew it was going to be important. I understood years later why.
48 HILLS Why did you initially turn down playing the singer in "Piaf je t'aime," and what changed your mind?
NATHALIE LERMITTE I did not understand why this director wanted me to accept this role. The little white dress seemed much too big for me. The emotion of my four years has taken over. This is the link I come back to every time the stage is too high. It's like a ship returning to port—and here I am today.
48 HILLS How do "Piaf je t'aime," "Piaf: une vie en rose et noir," and "Piaf: ombres et lumiere" differ from the current show?
NATHALIE LERMITTE It's amazing how these four shows talk about the same thing and yet are very different.
The first was a musical with more than 20 actors; the second was a musical biography; the third was a play; and the last was a musical journey. This artist is so rich that there are many ways to celebrate her.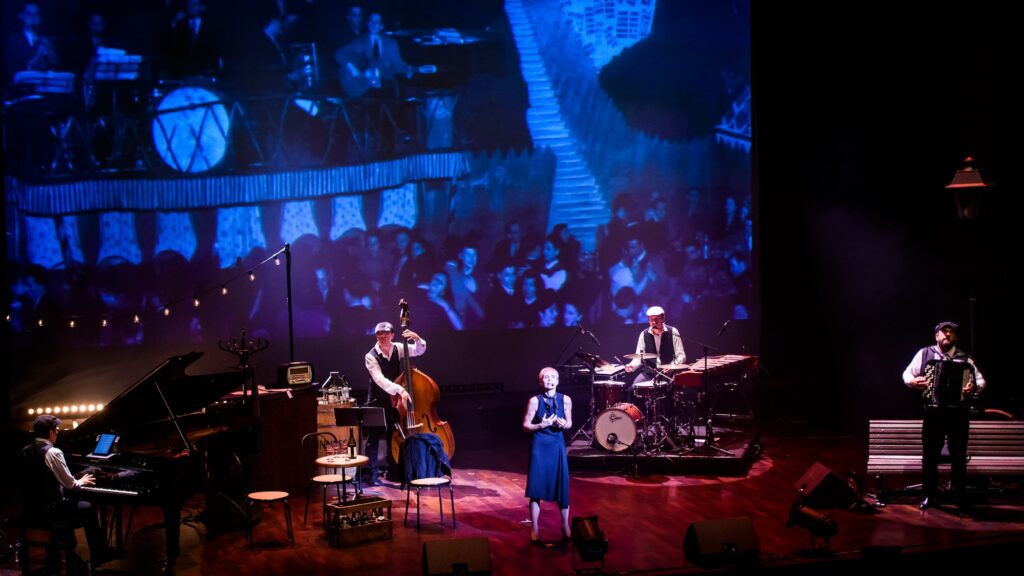 48 HILLS How did you end up joining Piaf! The Show?
NATHALIE LERMITTE I had just finished my last piece on Piaf when the producer of the show sent me an email very late one night. At this moment, I thought that for a role that I had tried to refuse years before, life had another project and lots of enchanted days!
48 HILLS What is your favorite Piaf song to sing and why?
NATHALIE LERMITTE For me, the song "Milord" is the most complex, the most subtle, and the most emotional. I was lucky enough to have been a friend of the song's author. He told me so much about it. We have the feeling that it is a cheerful song, but it is one of the saddest in Piaf's repertoire.
48 HILLS Both you and Piaf started your careers performing with your fathers. Talk to me about this and any other similarities you share.
NATHALIE LERMITTE I must admit that I have an extreme side like her. I love or hate—no in-between. I also like to say that I know how to surround myself with exceptional men, and my godfather is a boxing champion.
48 HILLS What would you like San Francisco audiences to know about Piaf? What would you like San Francisco audiences to know about you and your career?
NATHALIE LERMITTE San Francisco will discover that they have never forgotten this incredible artist! That her songs are forever inscribed in their heart, that their lips may, despite themselves, sing with full voice with us. I then humbly wish that they would not remember me for this.
PIAF! THE SHOW Mon/6, Herbst Theater, SF. $60-$100. Tickets and more info here.