The opening of this play sees our lead, Miri (Chelsea Bearce), hastily prepping for a job interview. Despite her relatively conservative attire, her mother (Jan Zvaifler) can't help but comment about the clothes supposedly being too casual. Miri—somewhere in her late 30s or early 40s—seems to agree, but quips that if she did show up in traditional business attire, it would be "triggering" for her would-be Millennial co-workers.
It's the sort of "pull up your pants"-style "OK, Boomer" joke that someone of Miri's age would more likely find off-putting, but it went over great with the audience I sat with. Then again, at age 42, I seemed to be the single youngest person in attendance. (A later Miri line laments that humans have lost all instinctive sense of direction due to GPS.)
And my opinion probably won't matter, now that The Engine of Our Disruption (world premiere extended through November 19 at the Berkeley City Club) is playing to sold-out houses every week. Still, the script by Patricia Milton—with whom I used to be of a regular pool of playwrights—shows a disconnect between artists and subject. Engine is meant to be a dark satire of the tech industry, but we might now know too much about the tech industry to take the plot points at face value, even with a supposedly satirical bent.
Our story finds Miri unemployed at the start because she was a whistleblower at a company called "Uver" (get it?). After a brief stint with the DoD, she's now interviewing for an Ethical Compliance role at Bubble (Google, right down to the rainbow-colored logo and use of the company name as a verb). To her surprise, she's being interviewed by her ex-boyfriend, Xtopher (Michael Tuton) and openly misogynist brogrammer Chip (Louel Señores).
As if Miri's past relationship with Xtopher weren't already an issue, there's also the conspicuous timing of her being brought on as an ethics officer when the company is due to testify in front of a senate by a panel lead by Miri's mother.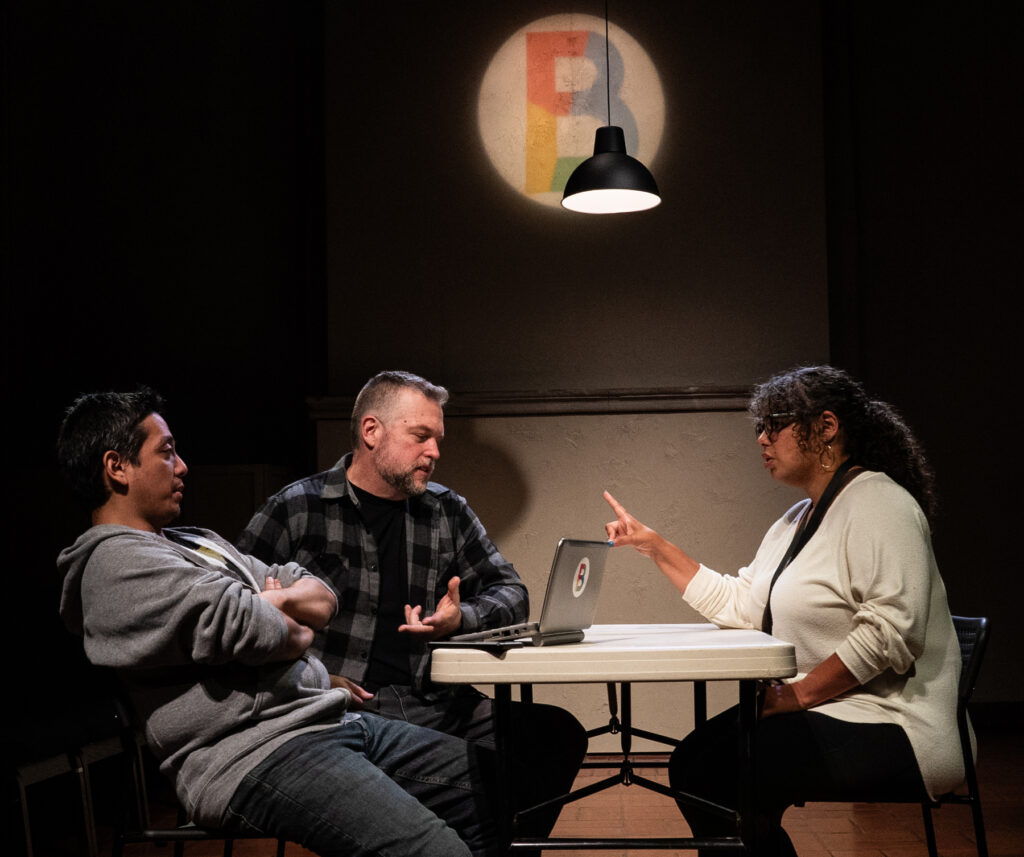 The Engine of Our Disruption posits itself as a send-up of the tech industry and the currently over-reliance on AI. Indeed, both are mentioned, but the play is conventional to the point where it could have, with a few adjustments, been written decades earlier. An old-fashioned story isn't bad, in and of itself, but not every convention translates to a fully contemporary context.
For instance, it works that Xtopher is a moustache-twirling villain worthy of Mr. Potter from It's a Wonderful Life. It also works that he'd be easily impressed by one of his own ideas, which is essentially a smartwatch app version of a Magic 8-ball. And it certainly works to take shots at Big Tech and the way its "move fast and break shit" ideals have just left a lot of things broken, but almost nothing fixed. One of the best running gags in the show is about how Bubble's self-driving cars can't recognize squirrels.
Yet, despite the abundance of accurate tech lingo, the play doesn't at feel like a peek behind the curtain so much as a Mr. Smith Goes to Washington-style interpretation, completely with overly-optimistic ending. (I swear, I didn't plan to make multiple Frank Capra allusions.) 
One problem is that this supposedly-about-AI story is really a screed against adware and tracking cookies trapped in an anti-AI story. When Miri tells her story of why she broke up and how the tracking ads wouldn't let her forget it, it's absolutely heart-breaking and a spot-on condemnation of the invasive nature of Big Tech. Had the rest of the play been about that sort of personal impact (maybe even add in something about stalkerware like Apple AirTags), then it would have succeeded.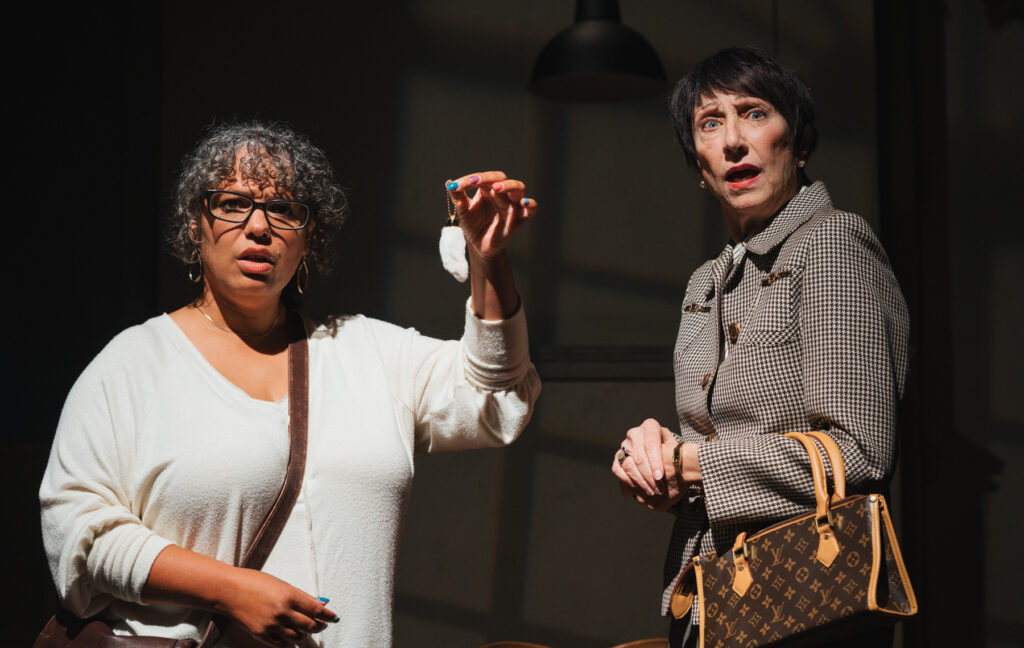 Another problem is that the characters don't really evolve over the course story. Miri and Xtopher are unchanged from who they were at the start, and both the Senator and Chip don't change so much as they both eventually use their powers for good rather than evil. Which leads to the play's biggest problem: Chip. His rampant misogyny goes completely unchecked and it's stomach-churning. Miri never pushes back on his insults, he never sees the error of his ways, and he never gets his comeuppance. He's never shown to learn the error of his sexism or gaining any respect for Miri.
He's an absolutely irredeemable character whose later face-turn comes out of plot convenience rather than character development. I know full well that his misogyny is all-too-common in the tech industry, but I can't root for a character whose sole traits are sarcastic sneers and quotes from MRA SubReddits.
Thankfully, Central Works still practices safety measures, requiring everyone attending to be masked. With three standing air filters running, my Aranet4's CO² readings ebbed and flowed, peaking at about 1165ppm and ending the show around 1039ppm.
If any industry is ripe for dressing down, it's Big Tech and its increasing ubiquity—nay, intrusion—into our everyday lives. But The Engine of Our Disruption seems more content to just put Big Tech headlines into traditional sitcom tropes. There's a genuinely funny laugh here and there, but the script is still an at-arm's-length take that feels hesitant to get personal. Which is a shame, because it's at its absolute best when it goes there.
THE ENGINE OF OUR DISRUPTION's world premiere has been extended through November 19th at the Berkeley City Club. Tickets and further info here.