I spent Monday morning at the Department of Motor Vehicles office, where everyone is unhappy.
It's hard to do anything these days without a "government issued ID," and in California, the agency that issues those IDs also has to deal with car registration, car sales, license plates, and driving tests.
That's a quirk of our car-dependent culture, but it creates needless problems.
The process for getting those golden documents that allow you to pick up your prescriptions, get to see a doctor, go into a bar, check into a hotel, get on an airplane or so many other things has become far more complicated in recent years, particularly with the advent of "Real ID."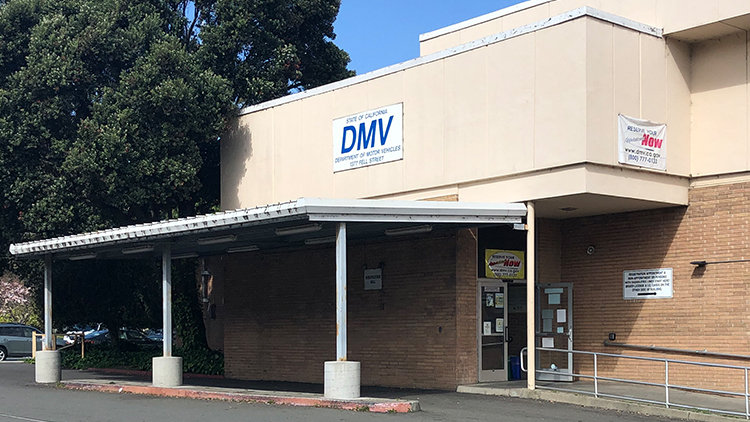 The DMV staff are incredibly friendly and hard-working, and do their best, but at the Daly City office Monday, there were too many people for too few workers, and every time I go to the DMV, it seems to get worse.
That's because the young, the tech savvy, the folks who speak English, can do most of their DMV work online, which is a good thing.
When you reach 65, you have to show up in person to take an eye test before you can renew your driver license. If you need to get Real ID, you have to show up in person. If you can't figure out the website, which is primarily in English, you have to show up in person.
So the in-person population is older, less fluent in English, and needs more help.
It's all fine for me. I am healthy, and can stand in line for a long time. I am fluent in English. I am good at dealing with bureaucracy. I did most of the work online in advance, I can figure out the website, and I have all the documents I need easily available.
That was not the case for a lot of the folks I saw Monday.
A woman who has perhaps the worst job in the place tried to be friendly as she greeted people who had already waited in a long line and needed to check in. Her job, among other things, was to say No.
No, you can't get a Real ID without two forms of proof of residence. No, that form isn't good enough. No, you can't check in until you stand in another line and get a different form.
She did the best she could, with a long line of people with problems, many of whom left the office in frustration.
Many of the folks in line were older, some used walkers, and some faced language barriers. Nobody who spoke Spanish, Chinese or Tagalog was at the check-in counter. One person held his cell phone out, with a relative on the line, on speaker, trying to explain his situation to the check-in person. When they needed a Chinese interpreter, she had to run across the room to the one person who was bilingual, who was also handling clients.
People with appointments, like lucky me, go to one line, but the signs aren't clear, so you can, like unlucky me, stand in the wrong line for half an hour, at which point you are informed that you have to stand in a different line for half an hour.
I got there very early for a 10am appointment, knowing this was the drill. But when I finally got to the front of the appointments line, it was 9:40, and you can't check in until five minutes before your appointment. So: Back to the end of the line.
The woman standing next to me was retired, and completely flustered and frustrated. She didn't understand why you can't be early to an appointment; most places want you to be early.
There aren't enough human beings on hand to help the seniors; I had to become the appointments line traffic cop, asking everyone what time their appointment was and trying to make sure the ones who had only five minutes to spare got to the front while the rest of us waited in the back. I speak only English.
Then: They tell you to take a seat and wait. There weren't enough chairs for everyone waiting. All of us in line tried to make sure the older people and the folks using canes and walkers got to sit, but a lot of others had to stand.
Again: I am fine. I can stand for hours. Many of the clients could not.
"Why is it always like this?" my linemate asked. "I've been living here all of my life, and they can't seem to fix this."
Let's take a look at the basic problem:
There's a DMV Office in Alturas, which is part of Modoc County, population 8,700. There's one pretty nearby in Fall River Mills, which is in Shasta County, population 182,000.
There is exactly one DMV office in San Francisco, population 815,000. This city has almost ten times as many people as Modoc.
There are two in San Mateo County, population 764,000. There are four in Alameda County, population 1.6 million.
These offices are open only on weekdays, during hours when many people have to work. Even with an appointment, it's half a day's work.
You get the idea.
There are now private "DMV Partners" like AAA that can do car registrations. They are also, in my experience, really crowded, and lack translation facilities.
Some things can be done online or at a "kisok." The lines for the kiosks are also long, and there's nobody on hand to help people who are having trouble (and then slowing down the line for everyone else.)
Part of the problem is that the DMV, thanks in part to the feds, is programmed to seek out fraud. The result is that the vast majority of people who aren't trying to cheat the system suffer.
There's no reason for this to happen. The state could easily open enough offices in urban areas to handle the demand, which is utterly predictable. The offices could staff up to the point where there are people walking around with Ipads checking folks in while they wait in the long line (which often snakes well out the door, including in the rain). Every check-in could have a well-defined counter for people who speak the languages dominant in that area. A special line with trained staff could handle seniors, who make up a lot of the population of in-person visits and might need help with the kiosks.
The offices could have enough chairs for everyone who is waiting. They could open on weekends and evenings.
Or California could get with the modern world and separate driving from "government issued ID."
None of this would cost that much.
When former state Assemblymember Delaine Eastin ran for governor six years ago, I asked her about the DMV. She told me that the Legislature had approved a pilot project once to open offices on Saturday.
"They stopped it because it was too successful," she said. She told me that if was elected, she would end the . misery at urban DMV offices.
I voted for her. Gavin Newsom won.