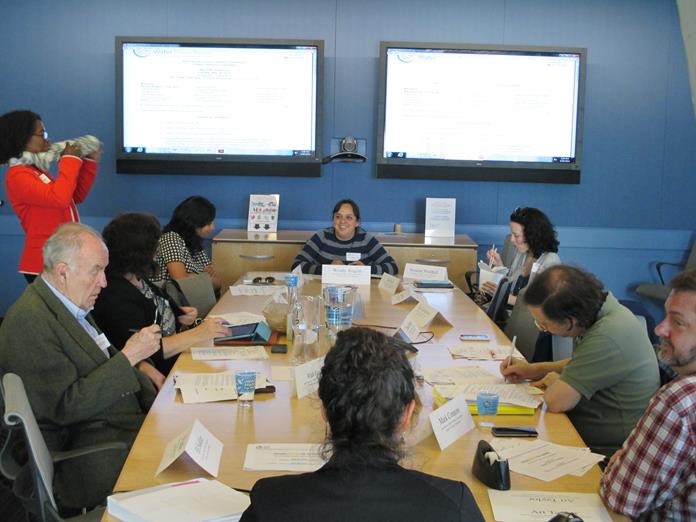 A presentation to the SFPUC CAC showed why the mayor is completely, utterly wrong in every way about the city's clean-power program.

By Tim Redmond

MAY 22, 2014 — Citizens' advisory committees do not tend to be political powerhouses. They meet quietly, with little or no media interest. They study issues and make suggestions, which the commissions and agencies they work for can completely ignore.
But the May 20 meeting of the San Francisco Public Utilities Commission's CAC marked another step in the effort to move the city forward on clean-energy goals – and combined with recent moves by the Board of Supervisors, suggested that Mayor Ed Lee is going to be increasingly isolated in his opposition to a modest public-power option.
The CAC, chaired by Wendy Aragon, is poised to pass a resolution she authored urging the PUC to quit stalling and take the necessary steps to put CleanPowerSF into action. The program would allow the city to buy green energy in bulk and distribute it to customers as an alternative to Pacific Gas and Electric Co. PG&E is unable to meet even the state's modest goals in reducing the use of fossil fuels.
San Francisco's official climate-action policy calls for 100 percent renewable electricity on the local grid by 2030 – a laudable goal that simply can't be met without CleanPowerSF or a similar alternative.
That was the message that two experts on the city's staff delivered to the CAC in a presentation that directly undermined every single argument the mayor has raised against CleanPowerSF.
Kim Malcolm, director of policy and administration for the PUC, started off with a very neutral, straightforward description of the project and where it stands. She made it clear that she's not advocating for any policy – "we are staff, and we do what the commission directs us to do," she said.
But her accurate description of what the proposal looked like when the PUC rejected it made some of the points anyway. CleanPowerSF would offer 100 percent renewable energy, consistent with the state's standards. The highest possible price – 11.5 cents a kilowatt hour – would be slightly higher than what PG&E charges, but not that much: The utility's rates are going up to about 9.5 cents, and it's entirely possible that the city program could come in a penny or two less than projected.
The revenue raised from the sale of electricity would be enough to begin to fund an immediate local build-out of city-owned renewable energy projects – a program that would immediately create hundreds of jobs.
Lee and some allies of PG&E have complained that the original plan called for the city to contract with Shell Energy North America to handle the purchase and delivery of power – and Shell, as everyone knows, is not a great corporation. Neither, of course, is PG&E. But that may be a moot point now: Malcolm said she now thinks that the PUC's own staff could handle that job, internally, at a lower cost.
Buying and delivering power "is something that the SFPUC staff do every day," she said.
In fact, Jason Fried, the executive officer of the supervisors' Local Agency Formation Commission, noted that CleanPowerSF might be able to pay the SFPCU for that work – essentially underwriting the cost of existing staff without adding any new positions. That would help balance the agency's budget.
"Our first study shows that if you did a 30-40 megawatt program it could pay the SFPUC between $500,000 and $1.1 million a year," Fried said.
Shell, at this point, is out of the picture, Malcolm said – "and we are looking at other alternatives."
So there goes "Shell Shock." Not an argument any more.
Other communities are already successful – Sonoma's clean power program has the same rates as PG&E, she said, and in Marin, 75 percent of the residents and businesses have chosen Marin Clean Energy over PG&E. So there goes the risk – the notion that San Franciscans won't sign up, or that the program won't get off the ground.
Now the mayor has another way to undermine the project: He wants to take the money set aside for CleanPowerSF start-up costs and allocate it to other SFPUC priorities, like system maintenance. The supervisors are already taking a very dim view of that – the Budget and Finance Committee, in a rare move, shot down the entire SFPUC budget this week because of that raid on clean-energy funding.
Even if that succeeds – and given the overwhelming support on the board for the clean-power project, it seems unlikely the mayor will get what he wants – Fried and Malcolm made clear that the program could now launch for much less money than originally anticipated. "If we launched today, it would be a fraction of that amount," Malcolm said.
Besides, Fried pointed out, the $19.5 million in start-up money is just a loan, from the city to CleanPowerSF – money that would be paid back fairly quickly.
There goes that argument.
The mayor now says he wants to put money into the Go Solar SF program, which would allow private individuals and businesses to get help installing solar panels. But that program, while worthy, is tiny and essentially meaningless in comparison to CleanPowerSF and serious climate-change goals, Fried said: "With CleanPowerSF, you get a reduction of 365 days a year of greenhouse gas emissions. With Go Solar SF, it's 14 days."
In fact, 45 percent of the city's entire effort to reduce greenhouse gases will come from CleanPowerSF; energy efficiency, cleaner cars, and other programs will help, but without this one, "you can't do it," Fried said.
Strike Four.
Now, the mayor is also insisting that he doesn't see the jobs element. But that's because he's not paying attention, testimony at the meeting suggested. "The actual build out in the long term is huge," Eric Brooks, who has been following this debate for ten years, noted. "We're talking hundreds of megawatts and many thousands of jobs."
Strike Five. And the mayor has nothing left.
There's only one reason that this program isn't already under way, Jess Dervin-Ackerman of the Sierra Club said. "It's stalled by political forces."
The political forces, such as they were, kept the resolution from passing May 20; some of the CAC members were against it (member David Pilpel said he didn't think the CAC should be spending its time on this – as if there's anything more important on the agenda right now.) But two of the supporters of Aragon's resolution missed the meeting, and when they return next month, it will probably pass.
Putting even more pressure on the three SFPUC commissioners who sided with PG&E, and on the mayor.