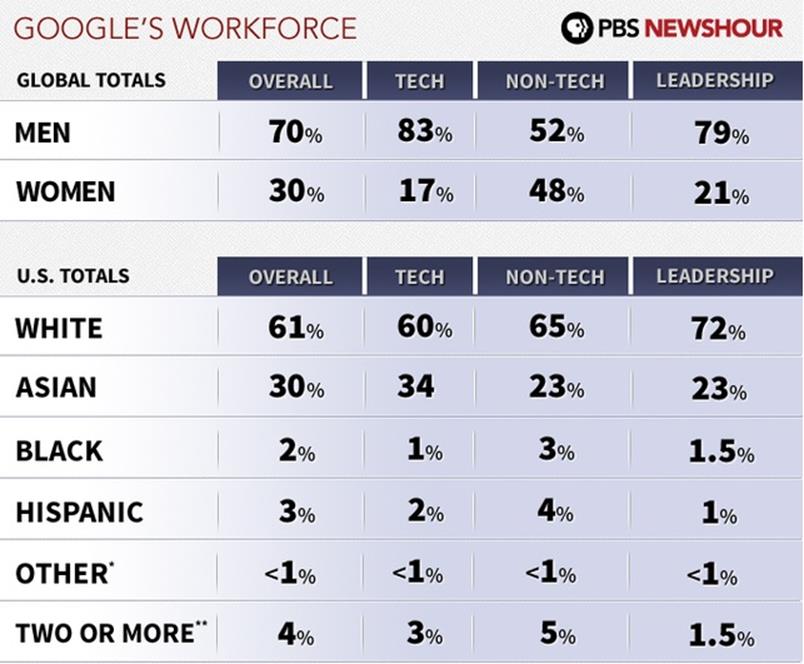 By Tim Redmond

Mayor Ed Lee can be proud that San Francisco now has the lowest unemployment rate of any city in California, and at 4.4 percent, it's below what economists call the "natural" rate – the percentage of people who are between jobs or out of work more-or-less voluntarily. In other words, the jobless rate in SF – if, in fact, the published "unemployment" rate is accurate – can't get much lower.
Now: Everyone knows that these figures are bit funky, since they don't count people who are "not in the workforce" – and that includes people who have given up looking for a job. I suspect there are quite a few people in San Francisco, some of them homeless, who fit that description.
There are also people who are employed, even full-time employed, who for all practical purposes are living in poverty because they can't earn enough to pay rent in this overinflated housing market.
That said, the data Google just put out on its workforce demographics tells an interesting story. I think we can safely assume that the figures for Google are fairly similar throughout the tech industry, and if that's even close to true, than what we have been doing in San Francisco is creating jobs for young, college-educated, white and (some) Asian men.
My daughter jokes about it when she walks past the tech buses on her way to school and tries to count the women in the line. "No girls there," she says. "No girls, no girls, no girls …"
And no Black people, and no Latino people, or very few, and almost zero in the upper ranks of engineers and managers.
By that analysis, one could certainly argue that Mayor Lee's "jobs agenda" has actually been about bringing young white and (some) Asian men into the city, displacing older, poorer, often non-White people who might have been unemployed – and look! The unemployed can't afford to live here, so the unemployment rate goes down! Like magic!
Help us save local journalism!
Every tax-deductible donation helps us grow to cover the issues that mean the most to our community. Become a 48 Hills Hero and support the only daily progressive news source in the Bay Area.
Good for Google to make the data public, so we can talk more seriously about the lack of diversity in tech. And I'm sure the company is making some efforts to improve things. Over time, the demographics may change.
But right now, it's fair asking: For whom are we creating jobs in San Francisco?