Activists protest outside her windows early in the morning to send a message about the city' s priorities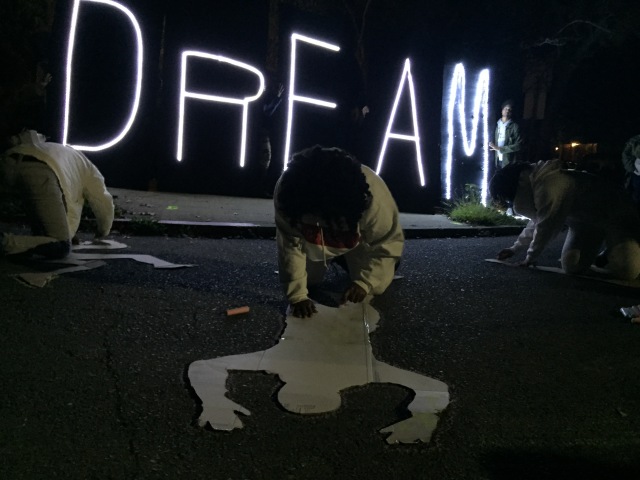 By Julia Carrie Wong
JANUARY 19, 2015 — A group of about 40 Black activists from the #BlackLivesMatter movement attempted to give Oakland's new mayor Libby Schaaf a wake-up call at her home in the city's Upper Diamond neighborhood starting at 5:00 AM this morning. The protesters erected seven-foot tall signs spelling "DREAM" in LED lights in front of the mayor's house, and chalked body outlines on the street. They also projected quotations by Martin Luther King Jr onto Schaaf's garage door, set up altars along the street, and illuminated a banner reading, "If we can't breathe, you can't dream."
Over the course of about two and a half hours, they chanted, sang songs, and played selections from sermons and speeches by Martin Luther King Jr. They also read a list of demands that included dismantling the Oakland Unified School District Police Department, a "complete overhaul" of the California Police Bill of Rights, firing police officers with a record of using excessive force, and putting more funding toward school libraries and art programs.
The protest was part of four days of demonstrations against racism, police violence, and economic violence that have taken place across the Bay Area to mark Martin Luther King Day.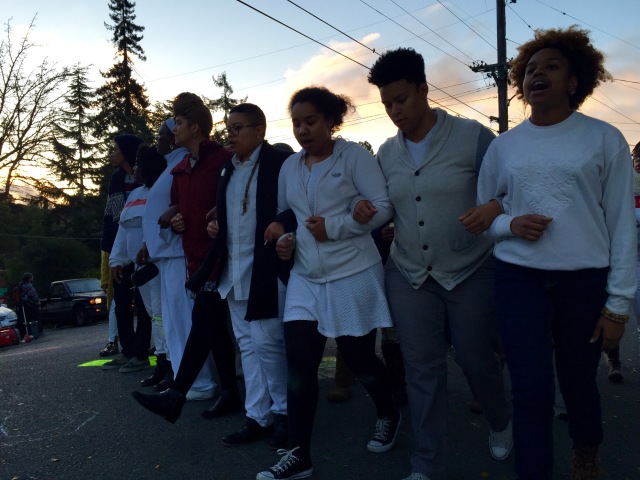 The activists said they were angered by the mayor's decision to spend her first day in office with the Oakland police force. "You chose to prioritize blue," protesters chanted in a "mic-check" style speech, "but today you will hear Black."
"If Libby Schaaf wants to be mayor of Oakland, she needs to represent all the people of Oakland, and not just District 4" said protester Xan West, 35. "She represents the police and developers."
West said that she has been harassed by police in West Oakland, where she was born and raised, and is struggling to stay in the city due to rising costs caused by gentrification.
Soon after the demonstration began, several Oakland police officers arrived at the scene, but they did not take any enforcement action.
There was no sign of life inside Schaaf's home for two hours, and as the sun came up at 7:00 AM, the protesters were beginning to prepare to leave when they spotted a man in an upstairs window. Two protesters later knocked on the door and delivered a leaflet to a man who identified himself as Schaaf's husband Sal. He thanked the activists and asked them to "take pity on our neighbors."
It's unclear whether or not the mayor herself was at home.