Is there a pattern? Maybe not — but building inspectors are finding a lot of problems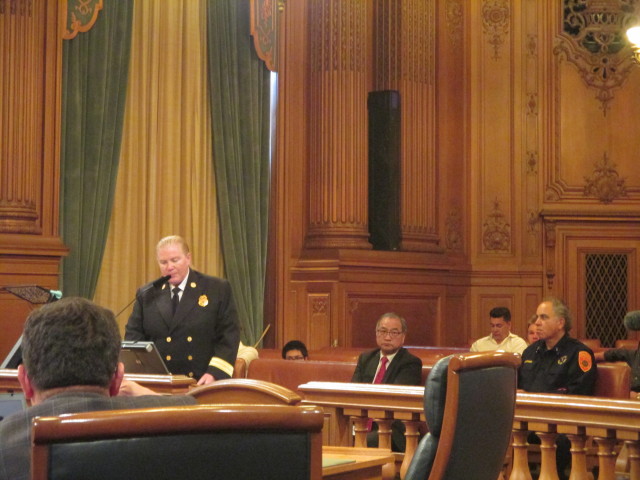 By Tim Redmond
MARCH 20, 2015 – We learned two interesting things at a hearing yesterday on all the fires that have been happening in the Mission:
The Fire Department investigates arson, but doesn't take into account the surrounding geopolitical circumstances – for example, the fact that landlords are desperately trying to get rid of rent-controlled tenants.
The enforcement of building and fire codes is still overwhelmingly complaint-driven – which means that tenants who don't know their rights, or have limited English proficiency, or are undocumented and afraid to complain, can wind up living in places with serious, even life-threatening fire-code problems and nobody will ever know about it. Until there's a fire.
Sup. David Campos called the hearing at the Public Safety and Neighborhood Services Committee to look into the rash of recent fires in the Mission. We got the usual message from Fire Chief Joanne Hayes-White and her staff: We are doing everything we can to prevent fires. Then we heard the same from the Department of Building Inspection: We have a robust program to organize tenants and let them know their rights – and now that there have been a string of fires along the Mission Corridor, we are focusing added attention on the area.
The question I had, of course, is this: If everything is going so well, why were there so many problems at the site of the Mission Street fire that left one dead, six injured, and scores displaced?
Well, for one thing, as Rosemary Bosque, head of housing inspection for DBI, explained, there haven't been that many random inspections of these sorts of apartment buildings. While highrises, schools, and hospitals have inspections every year or two years, private apartment buildings don't tend to get a close look unless somebody calls in to complain.
"It's a complaint-driven system," Bosque said. "But when we saw a cluster of fires in the Mission area, we started a concentrated code-enforcement program."
And over the past week, with those inspections, "we have found not just safety issues but some conditions that are life-threatening hazards."
While fire and building codes require that buildings have adequate egress, there are no laws mandating sprinklers for all apartment buildings.
Tommi Avicolli Mecca, a housing-rights advocate, spoke to that point at the hearing, noting that sprinklers (unlike smoke alarms) actually prevent fires. "Sprinklers, sprinklers, sprinklers," he said.
Warren Mar, vice-president of the Building Inspection Commission, noted that the department has for years based its work on complaints – and he's been pushing for more regular inspections of residential buildings. In fact, one speaker suggested that landlords should have to pay an annual fee to cover the cost of inspections.
Campos asked the Fire Department staff whether anyone took into account the general climate of housing speculation and landlords trying to get rid of tenants during investigations of possible arson. The simple answer: No.
Captain John Darmann, head of the arson investigators, said his team looks at the facts on the ground – that is, the state of a burned building – and nothing else. It's all a scientific process, he said, and considering outside factors might add a bias.
Which I get, of course. But when police investigators look into a series of murders that may be connected, they consider (or should consider) all the relevant factors, including the social and economic context that might tie the killings together. And that would seem to be something that arson sleuths might consider, too.
Darmann also offered some data that pointed to a general decline in the number of fires citywide and in District 9 over the past ten years. But the data also showed that the number of fires went up a bit between 2010 and 2012.
Darmann said that was due in part to more construction: People like to set portable toilets on fire, and the more construction, the more porta-potties. Still, the figures that show more fires as housing prices rise can't be entirely irrelevant.