Tech firm spends $8 million on ads — and the latest (really stupid) one could cost the election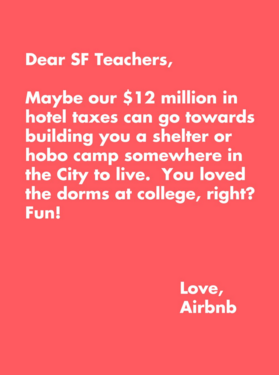 By Tim Redmond
OCTOBER 23, 2015 – I saw quite a few posts on Facebook today that read more or less like this:
"I wasn't sure how I was voting on Prop. F, but now I know."
The measure to more tightly regulate Airbnb and other similar short-term rental platforms has been more-or-less tied in the polls. The $8 million campaign, entirely funded by Airbnb, has flooded the airwaves and the mail with misleading, inaccurate ads seeking to shut down a measure that would have an international impact on the business plan of a company that makes money when its hosts break the law.
But the company made a major error this week, one that could have a significant political impact: It showed how utterly tone-deaf it is, and how the big "sharing economy" companies are run by people who think they are so entitled that they can brag about doing what everyone else in town does anyway: Pay taxes.
The minute Airbnb's new campaign hit, it was mocked not just locally but all over the country.
As Sup. David Campos told the Examiner, "At some point you get so used to not following the rules, that when you follow the rules you think you're doing society a favor."
Here's the thing about the ads: This was not a fluke. Airbnb can't say some low-level functionary approved something that management didn't see. There's no way this campaign was launched without the support of senior management.
And senior management, as is the case with senior management at a lot of tech firms, is clueless (or worse) when it comes to how the companies are impacting the lives of the rest of us in San Francisco.
So now there's a new meme out there, which is mocking Airbnb. And all those people who were getting all those mailers and seeing all those ads and thinking that Airbnb was all about helping poor San Franciscans stay in the city, and that Prop. F was going to make neighbors spy on neighbors?
They are getting a different message now. And there's no way that will not resonate on Election Day.