I'm sorry: Sometimes you don't gloat about a victory. And one of those times is when you have killed someone, and a jury says you acted within the law.
I don't agree with the jury in the Alex Nieto case, but that doesn't matter: Even if you think the four officers who killed Nieto acted within the rules and their training, they ought to have some respect for the fact that they took a human life.
That is nothing to celebrate. That's nothing to smile or joke about.
And yet, I have what appears to be a Facebook post from one of the officers who shot Nieto, Roger Morse, making what at worst could be read as a threat and what at best is just a terrible, terrible snide comment about the man that he helped kill.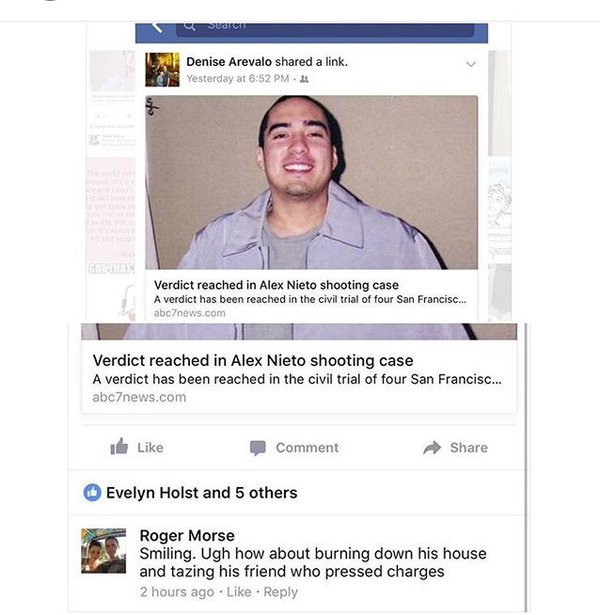 The Facebook post, on the page of Denise Aravelo, who on Facebook and other social media appears to have a close relationship with Morse, is a response to a link to the ABC News story on the verdict.
Here's what follows:
"Roger Morse: Smiling. Ugh. How about burning down his house and tazing his friend who pressed charges?"
Now: Morse could have been, and there are some who tell me he was, responding to this Chronicle story, which states that "Nieto was placed on a psychiatric hold for attempting to burn his house down." I am told that he actually had set a book on fire, which is a little different from attempting to burn a house down. He also allegedly used his Taser on someone in the past.
The judge in the case refused to allow the defense to introduce evidence about Nieto's medical history, saying it was entirely irrelevant. The officers who opened fire knew nothing about Nieto's mental health (and if that had been suspicious that he was mentally ill, they should have followed protocol and asked for a specially trained team anyway.)
I have attempted to contact Morse through his Facebook account, and through his attorneys. The City Attorney's office has no comment.
The Facebook page where this post was published is now locked down. I was given the screen shot by a source. Another very, very reliable source tells me that he has connections with Morse and that this is, indeed, a real image of what was a real post.
If Officer Morse wants to contact me and convince me that this is a hoax, that someone hacked his account, I will immediately report that and apologize.
But for the moment, I have no reason to believe this is anything but what it looks like: A horribly inappropriate response to a tragedy.
Even if you give the officers the benefit of the doubt, and believe their story, Nieto was not a killer. He was not in the middle of an armed robbery. He didn't even have a gun. He was having a burrito before work, and wound up dead. That's terrible, and the officers involved should at the very least understand how tragic this is to the family.
Again, let's give Officer Morse the benefit of the doubt, and say he meant no threat or harm with this post. It's still really awful.
And it says something about the climate at the SFPD these days. I hope Chief Suhr is paying attention.