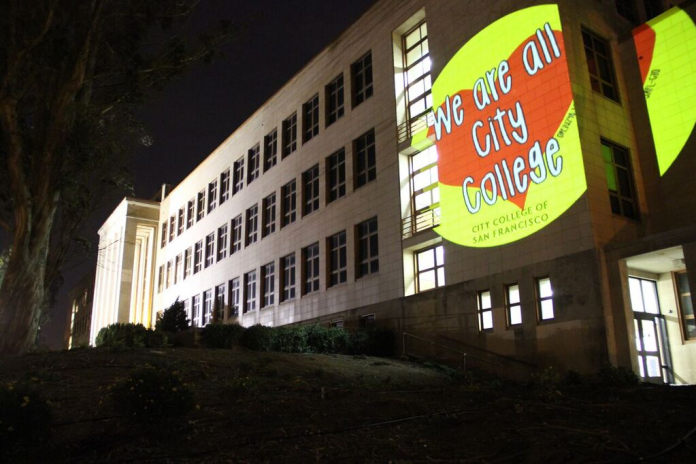 The City College faculty walked picket lines all over town today – with strong community support for a strike that was designed to send a message to the administration that this labor dispute needs to be settled.
"I have been at five picket lines this morning, and every one was packed," Tim Paulson, director of the Labor Council, told me.
The chancellor decided to try to pre-empt the strike by closing the school for the day, but it didn't matter much: No students were going to classes. The student body seems remarkably united in support of the teachers.
So were community leaders and public officials from across the city. Sup. London Breed walked a picket line this morning; Sup. Jane Kim, who is not generally in agreement with Breed, spoke at a large noontime rally.
I think it's pretty clear that if the teachers go on strike, much of the city will be with them, and the College Board and the administration will be isolated.
I spoke with Tim Killikelly, the president of AFT Local 2121, at the noon event, and he made clear that it was community support that was making the difference.
The main issue is that the faculty took a huge cut in 2007, during the Great Recession, and the administration (like public agencies all over the state) has failed to restore that money – much less make up for the huge increasing in the cost of living in San Francisco.
The administration says there's not enough money, which is what administrators always say during labor negotiations. What's really going on is that the school is downsizing, deeply, after the illegal action by a rogue state accreditor damaged City College's reputation.
It's going to take time to repair – but the faculty and the administration ought to be working together on that. And that might mean agreeing to a contract that assumes higher enrollment – than teaming up to make higher enrollment happen.
And there's not a lot of help right now from City Hall. "What the fuck has happened to San Francisco?" Tom Ammiano, former state Assembly member, asked at the rally. "Where is the mayor? Everone is like Pontius Pilate, washing their hands."
I saw only one member of the college Board of Trustees at the rally. John Rizzo has been supportive of the faculty all along. "I'm still hoping we can work out a fair contract," he told me.
So is the rest of the city.