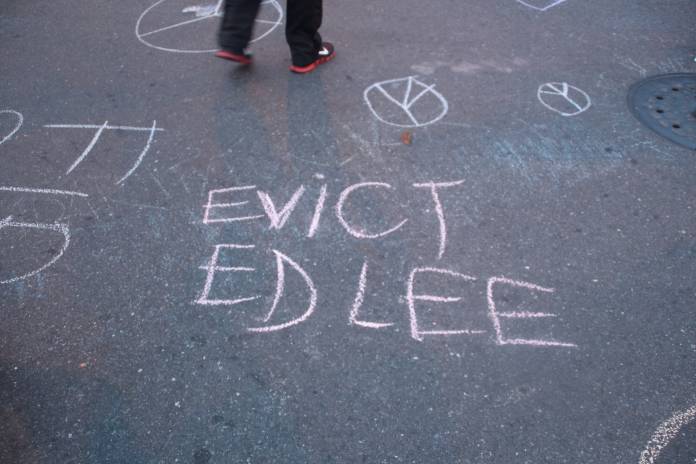 This post is part of our special coverage on the #hungerforjusticesf. Five San Francisco residents are on hunger strike outside Mission Police Station, demanding that Mayor Ed Lee fire San Francisco Police Chief Gregory P. Suhr. Over the past three years the SFPD has shot and killed four men of color; the protestors feel that the hunger strike is the only remaining option to demand an end to police impunity. Read our full coverage here.
The sixth day of the hunger strike against police impunity saw lots of community action as dozens joined in to support the hunger strikers. Activists and community members disrupted a public meeting at the Mission police station and blocked off Valencia street to show support to the hunger strikers.
Around 3 pm, Mission police station Captain Parea led a line of a dozen police officers motorcycles, who drove on to the sidewalk.
As the motorcycles separated the strikers on one end, officers set up barricades against the walls. "We are setting up a perimeter because we have our community meeting this evening," Parea said.
"You told us yesterday that we were violating the law by being on the sidewalk and now you are continuing to obstruct the sidewalk, how's that not breaking the law?" Edwin Lindo, one of the hunger strikers, asked Parea. Lindo and others were threatened with arrest on Monday.
With a red rose bouquet in her hand, Maria Cristina Guiterrez walked in to stand by Lindo and her son, rapper and activist Ilych Sato better known as Equipto. As Lindo squared off in front of the police motorcycles, both Guiterrez and Sato convinced him to leave. "This is an intimidation tactic, I hope you are not proud of what you did gentlemen," Lindo told officers as they passed by and walked back into the station.
"Don't worry, don't worry! This shows they are scared of us, that we are making a difference," Guiterrez said.
Shortly after the confrontation, Guiterrez, Sato, and Lindo, along with fellow hunger strikers IIke Pinkston & Sellassie Blackwell, began to strategize for the upcoming community meeting and rally.
Around 5 pm, dozens of supporters joined in the rally. Captain Parea addressed the crowd: "We will only be allowing 49 people in to the community meeting due to lack of space and fire hazard," he said. Blackwell stood on the gate to usher in people, one by one, as officers and protestors both kept count. Around 80 people stood outside the station doors and weren't allowed in.
As the community meeting began, Lindo got up to address Parea. " Captain Parea, we have a request as a community, you can not fit everyone that's outside into this room.  There are a number of people standing outside that should be in this room to listen to this meeting and to have a conversation with you because that's the case we demand you hold this meeting outside with a community, we have a megaphone for you where you can have a conversation with the community outside. Will that request be met?" he said. Parea then asked Lindo of this was a comment. " No, this is a demand," Lindo replied "Save your demands to the end, as well" Parea shot back. Lindo then proceeded to turn towards the crowd: "All right then, everyone please get up, we are about to arrest Chief Suhr", the room boomed with chants of "Fire Chief Suhr, Fire Chief suhr!"
Daniel Landry, activist leader with the Justice For Mario Woods Coalition, addressed Parea "You have a parking lot, open it up and let's have a bigger meeting there. Come on, man! it makes sense" he said, "There's no other room" Parea said. Overwhelmed Guiterrez made an emotional appeal to  Parea"You go outside everyday to harass us hunger strikes, you can go outside to talk to the people"
Parea repeated "I can't conduct a community meeting, my monthly community meeting, if everyone is going to stand and shout. I'm happy to sit here until 7 and let everyone have your voice heard. This is where we conduct our community meeting and I have been doing this for two years"
Sato, better known is Equipto, pled one last time "You go outside to tell us to move our hammock and our tent, go outside and talk to us, man! Come on, don't be intimidated, you are not scared we need to talk to you. This is not fitting the whole community, brother come on"
"I apologize, but I can't conduct a community meeting with a protest, so if this is going to be what you need it to be, which is a protest, I am here for a community meeting" Parea said. "You are required to accommodate the community members," Lindo responded. Parea then walked off amid the crowd chanting "Fire Chief Suhr, fire Chief Suhr."
Lindo, Guiterrez, and Sato refused to leave the public area of the police station as several officers blocked entry doors and asked protestors to leave. "We are not leaving, this is a violation of our constitutional rights." Fearing a sit-in, at first police officers told protesters that anyone that leaves the public area of the police station would not be allowed back in, and that only one person at a time was allowed into use the toilet.  After a brief confrontation, officers decided that if the protesters agreed to leave the public area people could resume using the toilets as they pleased. Lindo made the announcement to the crowd and everyone immediately dispersed. "I want you all to know that this is a win, this is a win" Lindo said.
Within a few minutes, a few dozen protesters formed a circle and blocked the Valencia and 17th intersection. As police cars stood on each end of the streets and the intersections, forming a perimeter, protesters chanted "Hey, hey! Ho, Ho! The racist police have got to go." Protesters, young and old, of all colors came together to stage the protest. Some sang, some chanted, and others chalked the roads with messages of peace and demands to end impunity. Many protesters brought their children along, and as the evening set in children played on the streets while chants continued: "This is what it looks like when you take back the streets," a protester remarked as activists led chant "Whose streets?" "Our streets!" people responded.
Tuesday's protest was a sight to behold, as several dozen young students came together to reclaim their space. San Francisco State student Shaniece Valencia, has been here all day and planned to stay second night in a row, said: "I am here to stand in solidarity with these hunger strikers. This isn't something that only effects my community but me personally. I am tired of the fear, of the oppression, fearing for my brothers' life and the feeling of being under siege each time I step out of my home." Valencia is one of the many students who volunteer to stay up with the hunger strikers.
In the corner, Max Leung was helping another volunteer storing some chicken broth she brought over for the hunger strikers. Leung had been here all day, making sure that the hunger strikers are well hydrated and warm. "I am here to support my family and to support the movement," Leung said. "I have been here just about everyday aside from sometime when I had to go attend to a death in the family."
Leung is a San Francisco native and small business owner who dedicates a lot of time to support community movements calling for an end to violence against people of color. "I just like to do what I can to speak out and fight for justice as a responsible caring citizen," he said.
Tomorrow will mark a full week of the hunger strike — and five years to the day Chief Suhr was appointed to run the San Francisco Police Department. "We are not backing down, each day will be a new day and each day we will come back with more people, more power. We aren't giving up," a protestor said as he prepared to stand guard while the hunger strikers slept.