You have to go to Tom Ammiano's show to understand it. Some things just don't reflect in print.
Ammiano, the first openly gay public school teacher in SF who served on the Board of Education, the Board of Supes, and in the state Assembly, has a lot of stories. And the way he tells them – with a few dancing interludes and a bit of classic music – have the audience at his one-person show, called "Mincing Words," almost in tears.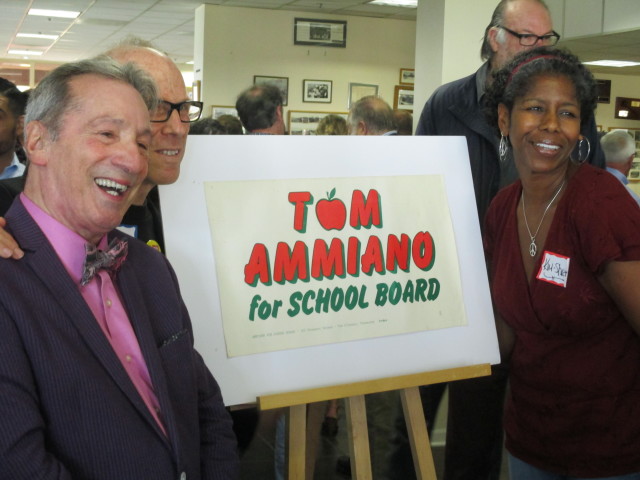 I caught him Saturday night at the Marsh. He started talking about living with "Post Traumatic Sacramento Syndrome" – part of the show is his discussion of "taking the ass out of Assembly." But the early moments are about local history, and although he doesn't take much credit, his role in it.
You have to remember: The late 1960s and early 1970s were a very, very different time, even in SF. Ammiano remembers his favorite bars in the Castro (and how can you resist talking about a place that was named "The White Swallow") but amid all the fun was reality: You could dance in the bars, but you couldn't touch other men. Twice, he was thrown out of a place for putting his hands on another guy's shoulders.
"And then I decided that I was going to dance anywhere I wanted," he says.
At closing time, Castro street would fill up with men laughing and cruising – and then, sometimes, with straight thugs who would try to beat up the gay men. And the cops were late to arrive and often blamed the victims.
It's about that time that he ran into a guy named Harvey Milk, who was running for state Assembly. Milk would show up "like the Jewish cavalry" and demand that the police chase the assailants and treat the victims with respect.
Ammiano was into civil disobedience, marches in the streets, and not so much into electoral politics. "Harvey told me he could do both," Ammiano recalls. "And I said I was with him, but that I would never, ever run for political office."
That was a long time ago, in some ways, but not that long ago in others, and Ammiano does a great job of moving from his days as a gay teacher to his entry into the world of the state Legislature, where, he explains, he tried to teach his colleagues the New Jersey Alphabet: "Fucking A, Fucking B …."
He spares nobody. The gay Republicans ("what's the slogan – we're here, we're queer, we're sorry?"), the egotistical guy who tried to play off their shared Italian heritage ("Uninportino"), the clueless right-wing woman from the southland ("Tammy Faye Bakersfield"), his colleagues who were too dumb to avoid the well-marked drunk-driving checkpoints in Sacto ("Democrats Under the Influence), two governors, legions of lobbyists, Hollywood stars ….
You get the idea.
It's stand-up comedy – but it's also the story of a rebel who goes into a very conservative place and actually gets a lot done. Ammiano, in the end, was widely respected for his courage, his integrity, and his ability to pass legislation that others thought impossible.
Mincing Words reflects Tom's sense of self-deprecation – in the show, he talks about getting married, and shows off his wedding ring, and says "the inscription is very powerful – it says 'do not resuscitate.'" Toward the end of the show, he talks about getting older, and jokes that people ask him about his "bucket list."
No, he says: "I have a fuck-it list" – stuff he never wants to do.
I'll admit I'm biased – Tom and I have been friends for years, and we do a podcast together (the Tom and Tim Show). So you can take that for what it is.
But if you want a lesson in SF LGBT history, a really funny look at Sacramento, and 80 minutes of world-class comedy … check it out.
Mincing Words has been extended through November. Thursday, 8pm, Saturdays, 5pm, The Marsh, 1062 Valencia.  More info and tickets here.