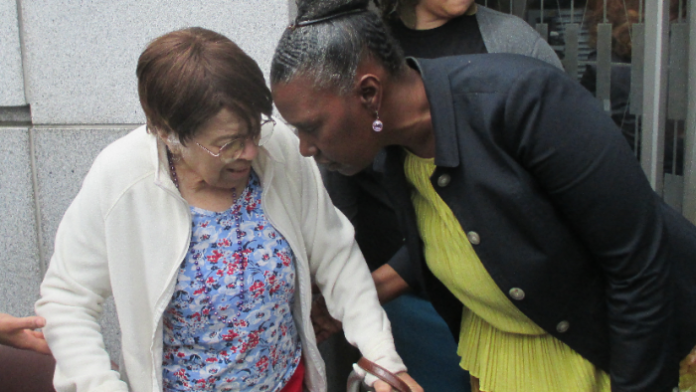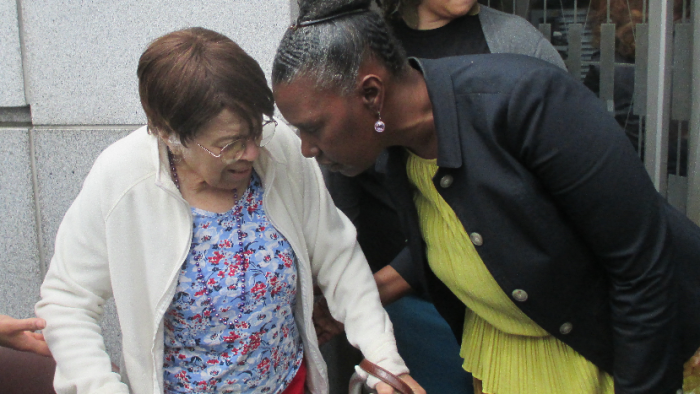 Housing rights activists are urging the Department of Public Works to halt the proposed condo conversion for the six units at 668-678 Page.
The building is the former residence of centenarian Iris Canada, who died on March 25th nearly a month after being evicted from her apartment.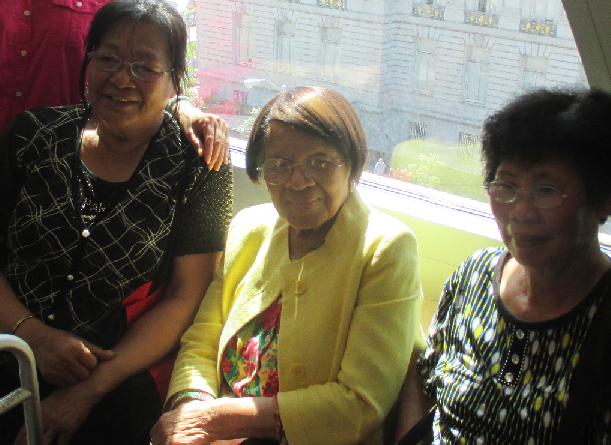 Canada fought an ugly legal battle for two years, with her eviction being delayed several times before the locks were finally changed.
The main motivation for the eviction was the desire of the landlords to convert the building to condominiums, which would make the property far more valuable. There are hundreds of thousands, maybe more, at stake.
But the city doesn't allow condo conversions in buildings where seniors have been evicted.
Tommi Avicolli Mecca of the Housing Rights Committee, which has been fighting for tenants rights and affordable housing here in San Francisco since 1979, alleges that the eviction violations the condo conversion rules of the Subdivision Map Act, the City Subdivision Code, the City Subdivision Regulations and our subdivision application rules.
In a letter submitted to County Surveyor Bruce Storrs, Mecca states that: "Iris Canada, a 100-year-old African American woman who had lived at 670 Page since the 1950s, was evicted in February of this year by the owners of her unit: Peter Owens, Carolyn Radische and Stephen Owens. She was originally served an Ellis eviction by these same owners in September 2002, as were the other tenants in the other apartments in her 6-unit building. She got an attorney at Tenderloin Housing Clinic and managed to stay, until 2014 when Owens, Radisch and Owens filed another eviction against her." 
In 2002, Canada was given a so-called "life estate" designed to let her remain in the apartment for a fixed rental agreement of $700 a month until she died. The non-traditional agreement that was carved out after Canada's then-attorney convinced Owens that it would be hard – and cruel – to force an elderly Canada out.
In 2015, Owens asked Canada to sign a document that would allow him to convert the building to condominiums. Canada refused to sign the application after talking to her lawyers who advised that she would, in essence, be giving up her "life estate."
In April of last year, a judge ordered that Canada could stay in her home if she paid her opponent's legal fees — $160,000. Canada was given two options if she wanted to stay in the home filled with the furniture her late husband made: pay the legal fees or sign documents that would pave the way for a condo conversion. She did not have the means to pay the legal fees and  her locks were finally changed by Sheriff Vicki Hennessy last month. 
"We do not believe that the owners should be rewarded after evicting Ms. Canada by being permitted to condo convert her unit, which will reap them a huge profit," the letter states.
In response DPW asked Mecca to provide the necessary documentation to back up the allegations: "Public Works take very seriously, allegations of violations to the Subdivision Map Act, the City Subdivision Code, the City Subdivision Regulations and our subdivision application rules. In order to further pursue your allegations, please provide me with supporting documentation for your allegations," reads Storrs' response. 
The process of converting a building to condominiums starts with the surveyor, since a conversion really amounts to creating new real estate. The city maps every parcel of land, and the Page Street building is now once parcel. Converting it would create six parcels, and thus a new map for that block.
The city has limited condo conversions to 200 a year, but in 2013 allowed all of the 2,000 or so unit that had applied and were in the backlog to convert — but in exchange closed the window for new conversions for ten years.
The Page Street landlords are going to argue that they were in that queue and should be given pretty much an automatic permit.
Steve Collier, a tenant lawyer with the Tenderloin Housing Committee who has followed the process for many years, told us that, like any change in the city's survey maps, the permit ultimately has to be approved by the Board of Supervisors. So the Housing Rights Committee appeal will at some point come to the board, where it's likely to be a heated political issue.
Most of the condo-conversion maps are approved as routine, although there are exceptions: When Harvey Milk was a supervisor, he voted against all of them as a matter of principle. And in this case, there will be immense pressure on the supes not to allow a landlord who evicted a 100-year-old to make money off the deal.
So the legacy of Iris Canada endures, as her supporters try to make sure that the people who took away her home don't get to profit from it.