If you've ever danced with abandon to Salt-N-Pepa's "Push-It," or jammed out in your room to an extended mix of "Axel F"—and who here among us has not—then you've been touched by genius Bay Area DJ and producer Cameron Paul, who passed away Monday at the age of 60 after an illness. His passing was announced on his Facebook page by his sister, who was helping to take care of him in Tulsa. 
Cameron Paul's importance went far beyond those pop triumphs: To an entire generation of club-goers in the late '70s and early '80s, he was the whole reason to step out to spots like City Nights and the Broadway Power and Light Club—or bop at home to master mixes on KSOL and KMEL.
He was a crucial link between disco (he played the first promo copy of the Saturday Night Fever soundtrack here in 1977) and electro and beyond (his classic version of CCCP's "American Soviets" crushed dance floors from underground gay goth to bougie penthouse)—at a time when "DJ" was becoming more than just a service occupation, and more of an artistic calling. Beyond the incredible DJ, radio, and dancefloor-friendly remixes and medleys he produced through his Mixx-It service, he also pioneered the "how-to" video series for DJs. He worked with almost every local DJ or remixer of consequence in the 1980s, and is still revered for his technical expertise. 
"Cameron was one of my earliest contacts to the SF dance music production scene," says Jim Hopkins, another legendary spinner and remixer, who now heads up the essential San Francisco Disco Preservation Society, which archives classic mixes by local DJs, including the two you can hear by Cameron Paul on this page, both remastered by Jim.
"We both started doing tape re-editing for Hot Tracks DJ remix service around the same time in 1985," said Hopkins. "I was living in Sacramento, CA at the time, While he was in the Bay Area.
"He was the technical guy that I dealt with when I first started submitting my reel-to-reel edits to Hot Tracks. He was the one that told me the gear that I needed to buy to start tape editing professionally. We spoke on the phone quite a bit, talking about techniques. He was an inspiration and gave me some good advice on editing techniques."
The early electro, or "Beat" style—which was actually an eclectic, beyond-niche melding of sounds that were being marketed as freestyle, breakdance, hip-house, New Wave, etc—has been overlooked by many writers and modern-day musical excavators, passed over in favor of the well-worn narratives of hip-hop, house, and techno. But for a few halcyon years, Beat connected dance floors from Dallas to Paris. With Cameron's passing, I'm hoping that the freedom and abandon of these years (if not the hyper-cumulus clouds of AquaNet) will be rediscovered. RIP, Cameron!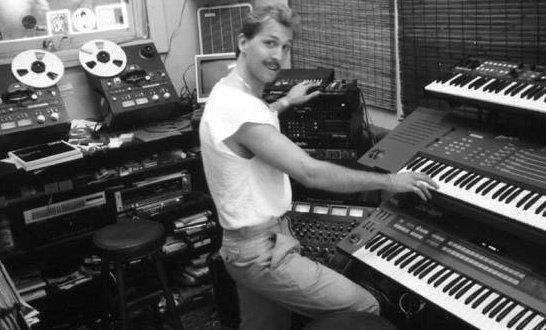 Full announcement from Cameron's Facebook page: 
Cameron Paul 5/31/1957-3/26/2018
Cameron Paul, born and raised in San Francisco, CA passed away in peace with Christ on March 26, 2018 in Tulsa, Oklahoma. Cameron was a music producer and legendary DJ who, under the stage name Cameron Paul, revolutionized club music and introduced the world to a new form of entertainment, "Mixx-It". Cameron's music could be heard on the legendary Bay Area radio stations KSOL and KMEL-FM, and he earned gold records for his remixes of iconic songs like Salt n Pepa's "Push It" and George Michaels' "I Want Your Sex".
In the 1980's and 1990's his music drew enormous crowds to San Francisco dance clubs like City Nights and Studio West where the masses danced the nights away to his unique style of music. Cameron's irreplicable contribution to the music industry resulted in him being inducted into the Legends of Vinyl DJ Hall of Fame, solidifying his reign as an artist whose music will inspire others all over the world for generations to come.
Cameron was preceded in death by his loving sister Laura, and leaves behind his loving parents, Larry and Caroline of San Francisco, CA, his devoted sister Suzanne and her husband Steve, his niece Kirsten, two nephews, Brandon and Jordan, and many cousins.
A simple memorial will be held in San Mateo, CA and will be announced on his Facebook page "Cameron Paul."
Cameron had a compassionate heart and shared his love for animals with his sisters, Laura and Suzanne. In lieu of flowers, he requested donations be made to Alley Cat Allies, a charity that assists shelters in saving cats and kittens around the US. Donations can be made under Cameron's name directly to donate@alleycat.org or to the Porta Caeli Hospice house in Tulsa, Oklahoma where he was lovingly cared for in his final days.