Just inside Golden Gate Park, not far from where Haight Street dead-ends at Stanyan, Alvord Lake offers a quiet, shady spot to relax, walk your dog or watch the ducks. And overhead, there are eight security cameras watching you do it.
The cameras, installed in June by the Recreation and Park Department for $328,000, are there to keep crime at bay, according to department spokeswoman Tamara Barak Aparton. But they were installed without any warning or public process. And one ACLU attorney says they may violate the city's own surveillance laws.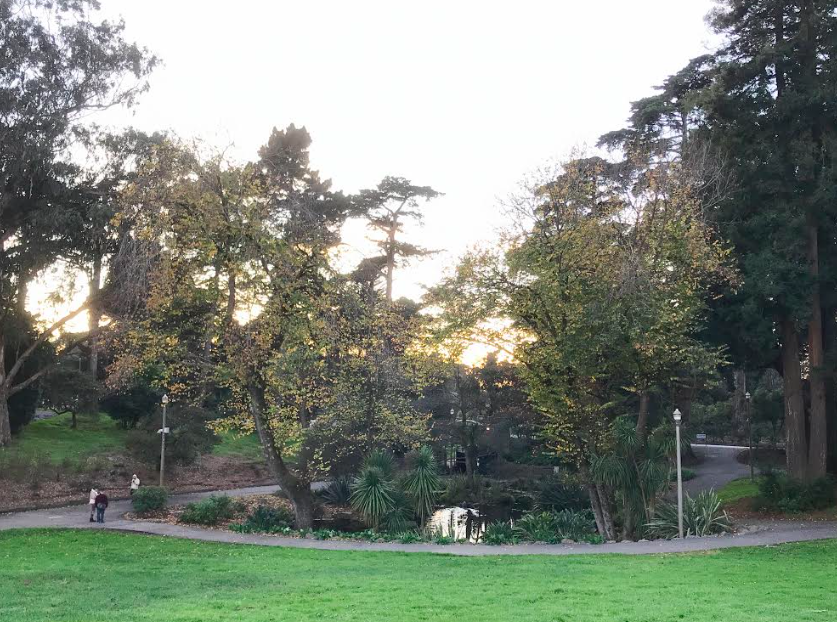 "For years, Alvord Lake had been a problem spot. The torture and killing of a homeless man, Steven Williams, was really the incident that cemented the need for cameras," Aparton told me by email.
Williams' body was found in the lake by a city gardener on May 24, 2016. Police discovered that Williams, 66, had been tortured by a group of transients for three days, culminating in his death, according to a statement from the San Francisco Police Department.
One suspect, 36-year-old Robert Tannehill, pled guilty to felony elder abuse and was sentenced to two years in jail in 2017. The remaining suspects, including Ian Severa, Sahmanntha Rundstrom, Nikki Lee Williams, Michael Grasso and Stephen Billingsley have been charged with murder, and their preliminary hearing is ongoing, according to District Attorney's Office spokesman Max Szabo. 
The cameras around Alvord Lake record video (but no audio) 24 hours a day, seven days a week. Footage is only reviewed when a crime or other misdeed is reported, Aparton said. Then, only the District Attorney's Office and the park rangers are allowed to look at the recordings.
Since the cameras were introduced at Alvord Lake, park rangers say their calls to the area have reduced by 80 percent, though the closure of the McDonald's at Haight and Stanyan also helped, Aparton said.
Some locals were surprised by the cameras' appearance over the summer, and that they were not given a chance for public comment before they were installed. Aparton confirmed that the cameras did not go to the Rec and Park Commission for a hearing, because their cost was below the $600,000 threshold that would trigger one.
"I don't see that there is any need for this kind of surveillance at this location," Haight resident Bruce Wolfe told me by phone. "There's been some considerable other work in general that has helped clear out a lot of the issues they have around homelessness and people hanging out — if you've been there over the past year, it has been fairly vacant of homeless people."
San Francisco's video surveillance law, adopted in 2006, says city-run camera systems can only be installed in areas experiencing significant crime, and must be approved by the Mayor's Office of Criminal Justice. If that office approves cameras, they must go to the Police Commission for consideration within 60 days, according to the ordinance. Before that hearing, signs must be posted in the area around the proposed camera installation, letting visitors know about the proposal, and once cameras are approved and installed, more signs are required to alert the public that they're being recorded. The footage may only be reviewed by "sworn members of the San Francisco Police Department holding the rank of Inspector or higher."
"The City of San Francisco should not be deploying surveillance technology in secret," said Matt Cagle, technology and civil liberties attorney with the ACLU, pointing to the city's camera ordinance. "The law has not kept up with San Francisco's expanded surveillance networks and new available software that gives authorities the power to identify and track people by scanning their faces without consent."
But Aparton said Rec and Park's cameras aren't governed by the ordinance, because they're there to protect the department's property and aren't pointed at streets, sidewalks or public housing. The department has adopted a separate policy for its cameras — which are installed at 14 sites around the city, including Dolores Park, McLaren Lodge, Coit Tower and the Palace of Fine Arts — that requires an internal annual review and equipment inventory. But there's nothing mandating that the department share that information with SFPD or the Board of Supervisors.
"I won't discount the value of cameras," Wolfe said. "But in this case, for it to be always on, 24/7, seems a little oppressive when there doesn't seem to be a need for it at this particular level."