The four members of storied SF  Kronos Quartet are in their studio in the Inner Sunset, struggling to perfect the piece they're playing. Should they go a little higher here? A little slower there? 
"Why don't we just run the whole piece again?" asks David Harrington. "We have time."
Even after playing together for more than four decades, you still need to rehearse. This morning the quartet—Harrington and John Sherba on violin, Hank Dutt on viola, and Sunny Yang on cello—are running through a piece for this year's Kronos Festival (Thu/30-Sat/1 at SF JAZZ), one they will perform with Malian griot singer Hawa Kassé Mady Diabatén whose work is inspired by a tradition of girls' handclapping songs in Mali. 
This is the fifth Kronos Festival. Along with Diabatén's music, it will feature the experimental duo CocoRosie, a piece celebrating singer Mahalia Jackson, and composer and bassist Jherek Bischoff over three days. 
Some of what they're playing came out of last year's festival, Harrington says over hot chocolate after the rehearsal. His daughter is a teacher, and another teacher friend of hers mentioned last year that it would have been Pete Seeger's 99th birthday. That means this year would have been his 100th birthday. And that's something to celebrate, Harrington says. 
"How many musicians are there that just keep getting larger and larger and larger?" Harrington asked. "He's one of them. His love of music and love of community… to me it's just the best." 
Last year, Harrington involved Martin Luther King's speechwriter, also a musician, in the festival. King was good friends with Mahalia Jackson, Harrington said, and when the civil rights leader was feeling depressed, he would call Jackson and she would sing to him. At this year's festival, there's a piece by composer Stacy Garrop with conversations about race with oral historian Studs Terkel and Jackson.
Harrington gets so excited talking about the festival that lots of stories come out, tripping over each other. The first Kronos Festival happened because the group wanted to celebrate the 80th birthday of composer Terry Riley, a frequent collaborator and a good friend to the quartet. At this year's festival, participants, including writer Rebecca Solnit, will perform parts of Howard Zinn's "Voices of a People's History." Performing with Zinn years ago was one of the greatest experiences of his life, Harrington says, and he looks forward to hearing his work performed by people like musician Meklit Hadero.
"So how do you put a festival together?" Harrington asked. "You try to relate to what you've done before and make sure the level of inspiration is hotter and try and get the most wonderful people to join in."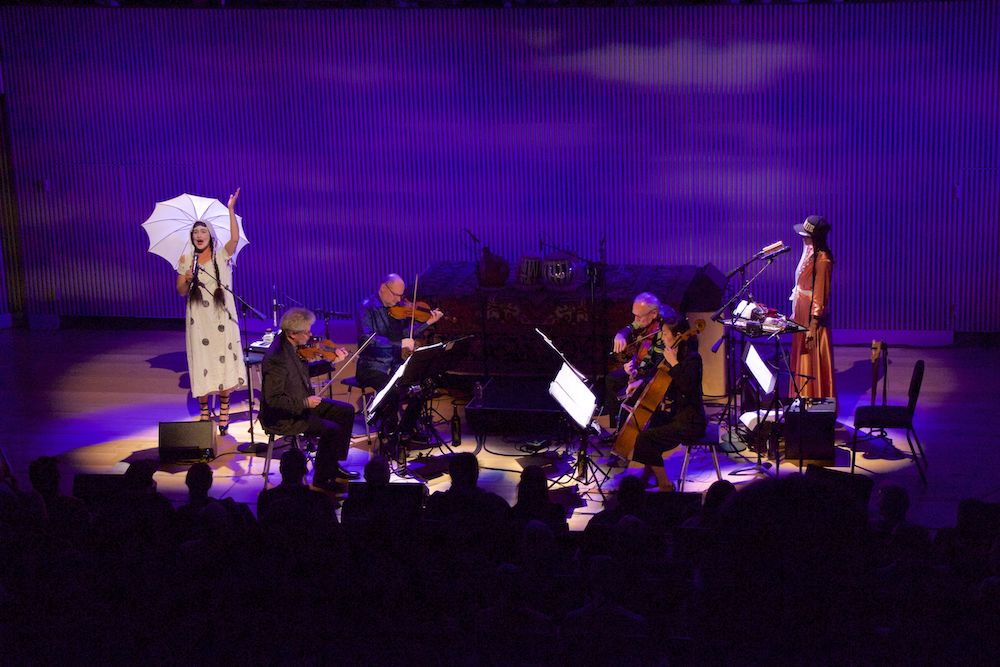 Harrington has been committed to collaboration since he started Kronos in 1973. He'd grown up hearing Mozart and Shubert, and at the time, Jimi Hendrix was in the air. He heard "Black Angels" by avant-garde composer George Crumb on the radio and that brought it all together for him.
"I had the piece I needed to play, and in order to play it I had to be a group that rehearsed every day," he said. "What I've done my whole life is to follow my ears. And that's led to adventurous things."
Harrington ears led him to Valérie Sainte-Agathe, artistic director of the San Francisco Girls Chorus, and this year's artist in residence for the festival. Kronos has performed with her many times and Harrington calls her "one of amazing lights in music. Valérie is larger than music. She's like Pete Seeger. Her contribution to our community keeps getting bigger and bigger."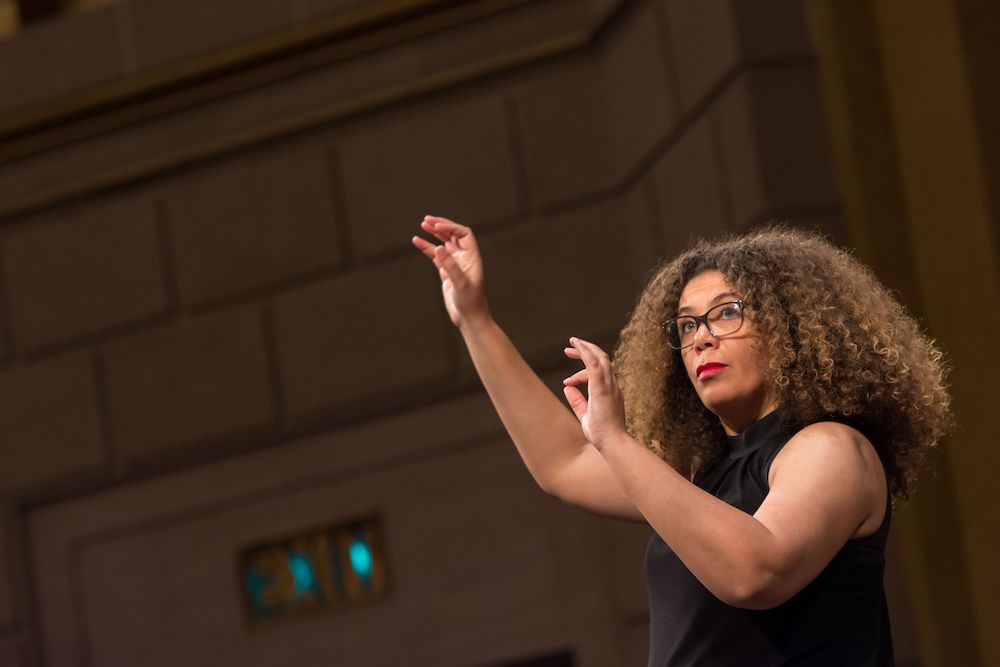 Sainte-Agathe is thrilled to be part of the festival, and she has strong ideas about bringing in diverse voices. 
"First of all, I want to make sure women are heard. It's not only about music. I want them to show their power and training," she said about the girls in her chorus. "I love to see diversity and inclusion of artists. I'm from the Caribbean, so that includes Europe and Africa and India, and all those cultures and languages." 
Along with hearing music from different countries and language, Sainte-Agathe wants a diversity of musical eras. The girls in her chorus sing baroque and classical music as well as contemporary. 
"My forte is to work with young performers," she said. "We adults, we're not doing such a good job, so need to make sure future generations are OK."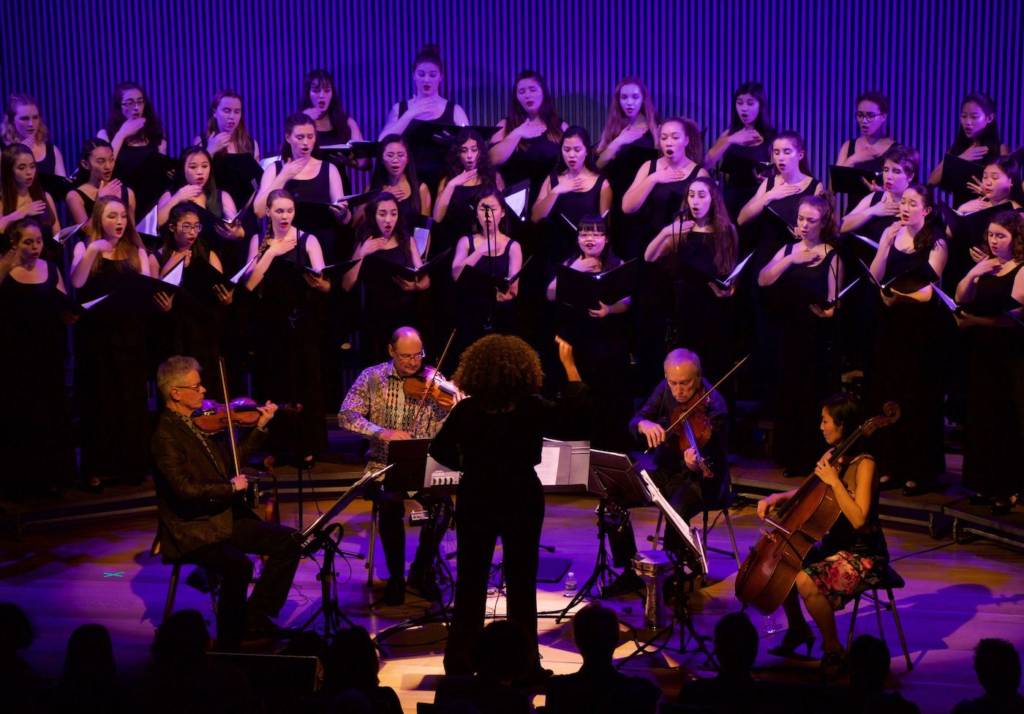 During the festival, Sainte-Agathe will lead a free talk and performance, "Big Five of Bayview," highlighting the legacy of women activists in Bayview–Hunters Point, with a performance by a newly formed chorus of girls from the Bayview. She looks forward to listening to people from the neighborhood, she says.
"When you decide to work with different communities, you don't just arrive and say, 'I know what it is,'" Sainte-Agathe said. "I'm from the Caribbean, and I know what it is to have people come and say, 'This is what to do.'"
It's not only about music for Sainte-Agathe. She wants the girls she works with to be curious, because that's what leads to creativity, she thinks. 
"I'm not training only singers—some of them will be doctors and lawyers, and they'll make a difference because they won't be like everybody else. They're going to bring their own stone."
KRONOS FESTIVAL 2019
May 30, May 31 and June 1
SFJAZZ Center
Tickets and more info here