Seniors and their allies rallied on the steps of City Hall today to push for legislation that would address a serious, often hidden crisis in affordable housing:
The minimum income for a lot of "affordable" projects is high enough to bar most seniors living on fixed incomes to even qualify.
Sup. Norman Yee noted that 24 percent of the seniors in the city live under the poverty line – and 50 percent of people entering homelessness are seniors.
And with rents in some affordable senior housing set at more than $1,000 a month, Anni Chung from Self-Help for the Elderly noted, "low-income seniors are just not able to afford it."
A chart that was presented at the event said it all: The majority of seniors who live alone don't qualify for the majority of affordable senior housing.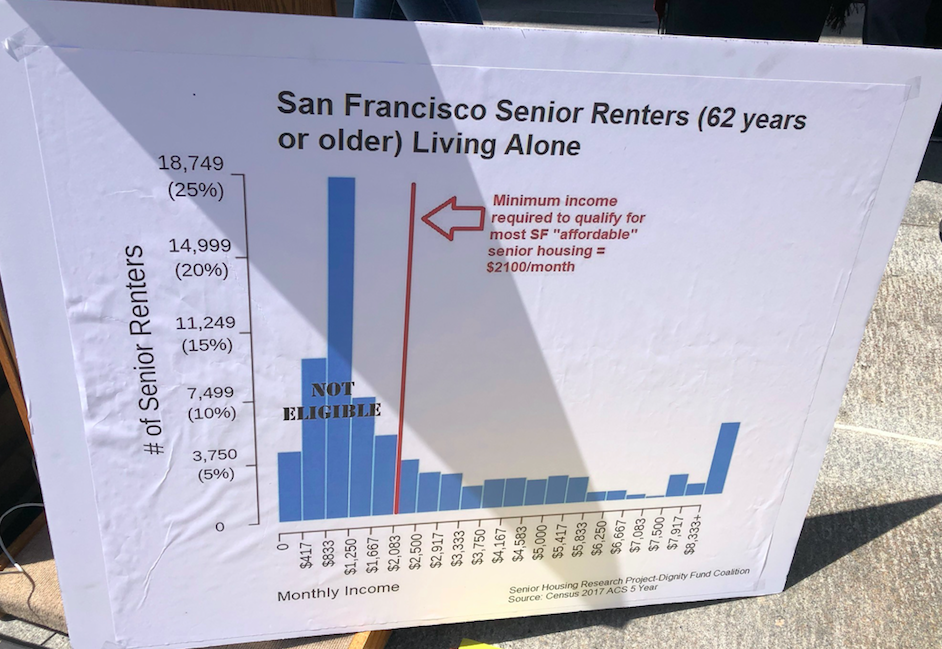 The nonprofits who build affordable housing need a certain amount of income to make the projects work. Yee's solution: A $5 million program to subsidize rents, with the city making up the difference, so that no low-income senior is paying more than 30 percent of their income on rent.
Rent subsidies are a really cheap way to prevent homelessness. The money Yee is proposing is just a tiny fraction of what the city currently spends on services for homeless people.
Yee's proposal is the second significant idea to come out of the current progressive board in the past week. Sups. Hillary Ronen and Matt Haney just released a comprehensive plan to provide mental health services for all San Franciscans– a version of former Sup. Tom Ammiano's Healthy San Francisco – that would make major changes in the city's crumbling and ineffective mental-health system.
These two measures could go a long way toward addressing the root causes of homelessness – the loss or unaffordability of housing and the mental-health challenges that cause and are caused by the lack of a place to live.
The Mayor's Office is putting forward a $600 million housing bond this fall, which is way too small. But right now, the bold ideas are coming out of the board.