ART LOOKS Pati Navalta Poblete grew up in Vallejo. But after her 23-year-old son Robby Poblete was shot there in 2014, she had such severe PTSD she couldn't go bring herself to go back there. She had moved to Fairfield about a year before he was killed, and when driving home, she would go well out of her way to avoid going near Vallejo.  
The first time she did go back after her son was killed, it was to meet with a group of elected officials to present her idea for a foundation to honor her son—and to combat gun violence. Her idea was for the foundation to promote career development, gun buybacks, and making art from the guns. Navalta, who has a background in editorial writing and communication for national and international nonprofits, had put together a three-year strategy plan. 
"What they saw was a mother in grief, and I could see them thinking, 'She's suffering—does she know what she's doing?' and one said, 'You know, you're not the first woman who has lost a child to gun violence,'" Navalta said. "I said, 'We're innovative. We're going to create career pathways for ex-offenders.'"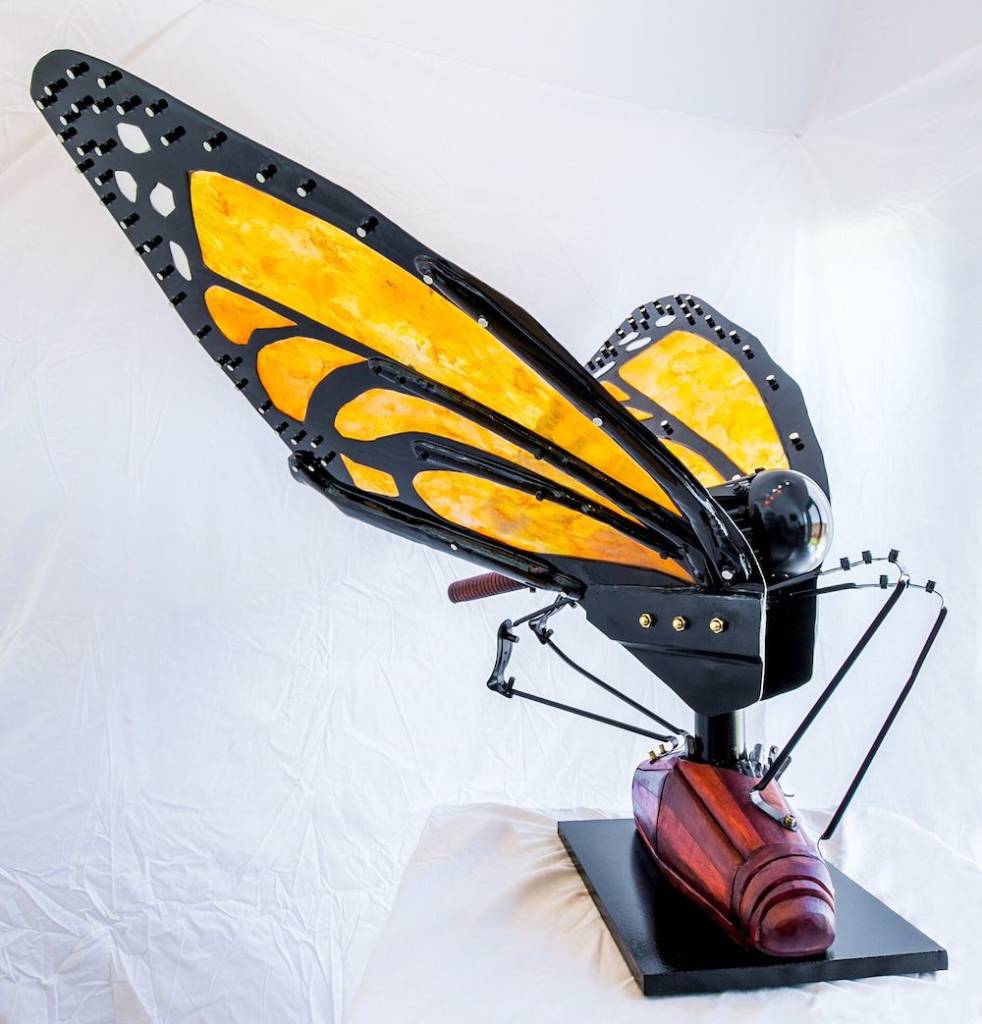 They did listen and she started the Robby Poblete Foundation. The organization has now partnered with Yerba Center for the Arts and United Playaz, a violence prevention and youth development organization, for a group exhibition Art of Peace, opening July 23 at YBCA. 
A friend in law enforcement told Navalta that guns taken off the street were destroyed. She wanted some kind of transformation for them. And she says her son inspired her to make them into art. 
"My son's DNA is in every program in the foundation," she said. "He was working at Genentech learning to weld, and he wanted make art."
Navalta says she thought the vocational and gun buy back programs would be the most tangible parts of the foundation since the number of guns taken off the streets and jobs people get can be quantified, but she then she saw the impact on viewers of transforming the guns.
"If you use art as a vehicle, you move people emotionally," she said. "Once you're able to touch the heart, you have a chance to shift the mind."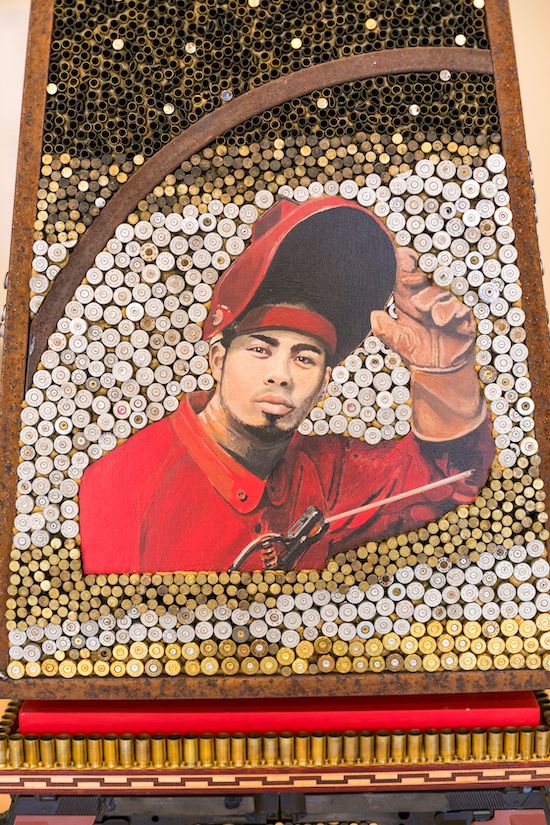 The theme of the show at YBCA is "transformation." Navalta says artists can interpret that any way they want. Many of the pieces take the form of nature: a monarch butterfly, a solar fountain, and a tree made of rifle stocks and shell casings. 
The founder of United Playaz, Rudy Corpuz, also loves having an exhibit where the pieces are made from guns.
"The spirit in the art is what's so powerful, I think," he said. "It sends a message that can be so damaging and destructive can be also be so amazing and beautiful."
In December 2018, United Playaz members collected 244 guns in a buy back, which have been repurposed by 10 artists into sculptures. 
"Twenty people were collecting the guns—10 ex-lifers and 10 kids—and we buried one of the kids today," Corpuz said, speaking about 15-year old Day'von Hann, a member of United Playaz who was shot in the Mission district earlier this month. He will be honored at the exhibit's opening. "He died from the same thing he was trying to stop. That's why we do what we do so nobody has to go through all the excruciating pain I saw his mother going through today."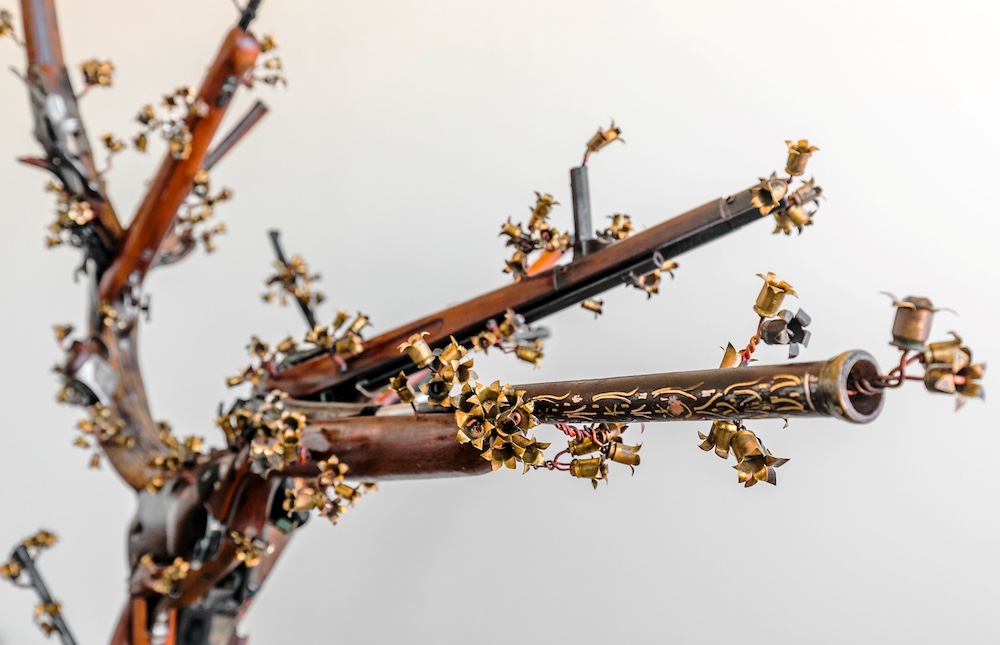 His daughters, Mookie and Selena, attended the funeral with him, Corpuz said. 
"Selena is 12 years old," he said. "She's supposed to be going to kick it at the park, not to funerals for her friends."
United Playaz is now in New York and the Philippines as well as San Francisco. They have violence prevention programs, after school programs, and workforce development. They, like the Robby Poblete Foundation, have taken thousands of guns off the streets. 
Navalta says when she started the foundation, she had planned for a year to get community buy-in, then focus on gun buy backs and making art the second year, then start workforce development programs. But all that happened in the first year. 
"I'll never again underestimate the power of one," Navalta said. "Now people in Congo and Argentina and Europe are reaching out and wanting to do something similar. All that comes from just one mom in Vallejo."
ART OF PEACE
Yerba Buena Center for the Arts
July 23- August 25
Opening reception Tue/23 at 6pm
Tickets and more information here