ART LOOKS Artist Isaac Haney-Owens lives in San Francisco, in the Rincon Hill neighborhood. He likes walking around. He likes the skyline. He likes the diversity of people. He likes the different architectural styles. He likes taking photos of things he finds interesting.
So Haney-Owens was a natural to curate the new Cityscape show at Creativity Explored, a nonprofit art center and gallery for artists with developmental disabilities.
"I like doing art about cities because I love cities," Haney-Owens said at the opening of the show, where he was sitting behind a table with copies of the zine, Whipper Snapper Nerd, featuring his artwork. "I love the urban environment. There are all these different sounds and always something new to see."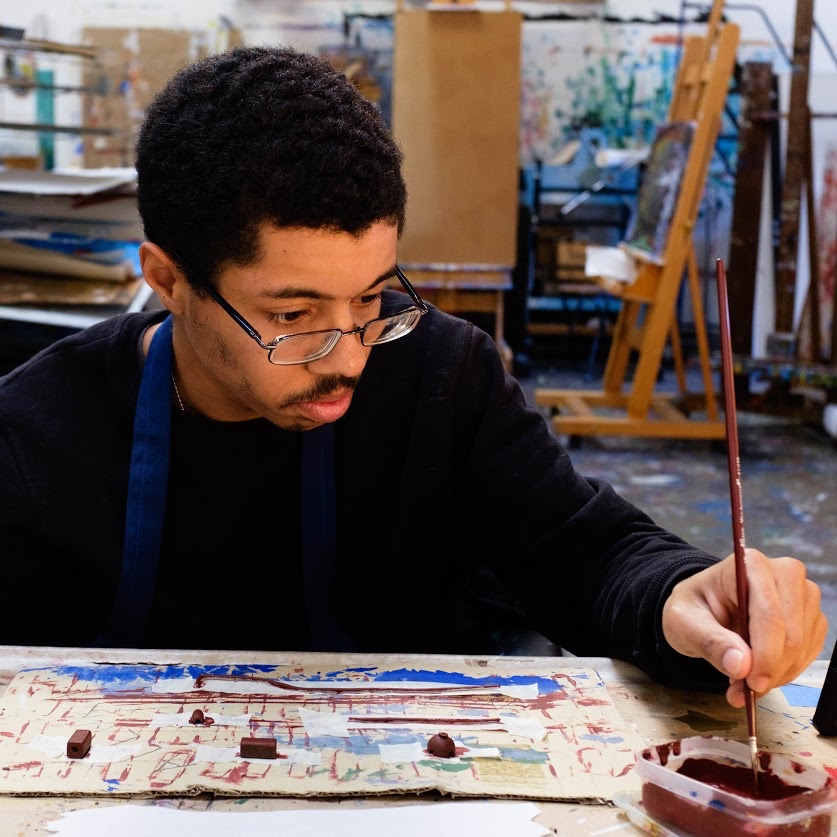 The Cityscape show has paintings, drawings, and sculptures of the city by Haney-Owen and other artists, including Lance Rivers' watercolor of the Marriot Marquis and Coit Tower, Kate Thompson drawing of people walking around the city, Isaias Gomez's graphite drawing of AT&T Park, and a colorful sculpture of a house by Lucinda Addison.
For the show, Haney-Owens also worked with Francis Kohler, the studio manager at a second Creativity Explored location in Potrero Hill, to transform the desk at the 16th street gallery into a newsstand.
Haney-Owens' work in the show includes his recreations of signs from small businesses, in lots of detail, such as Al's Cafe and One Stop Auto Parts. He's also done digital drawings of San Francisco landmarks like SFMOMA, the Ferry Building Marketplace, and the Transamerica Building.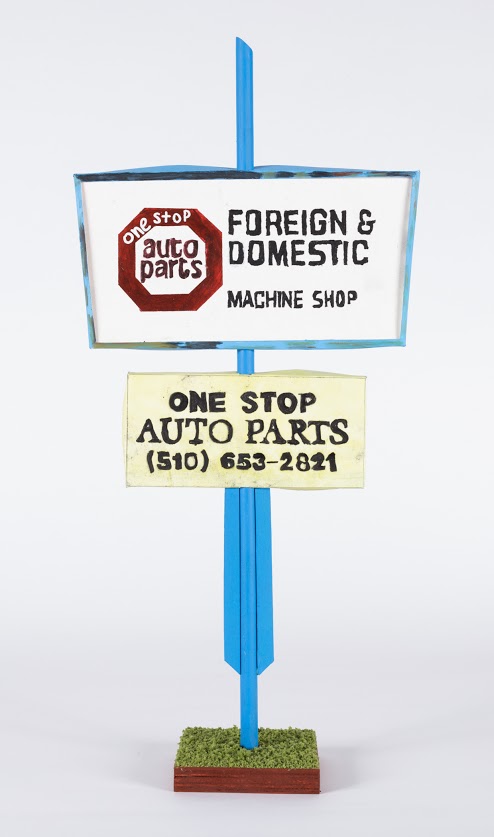 A couple years ago, those images were deliciously edible when they adorned chocolates from Recchiuti Confections. Jacky Recchuiti, who founded the company with her husband Michael, has been working with Creativity Explored for years, putting the artists' work on chocolates, and Haney-Owens' drawings of iconic places in the city have been the most popular, she says. 
Jacky says they used to live nearby and in walks around the neighborhood got interested in the gallery and in the artwork there. They wanted to be involved and ended up in a partnership where they to use some artists' work on their chocolate, with a portion of the profit goes to Creativity Explored.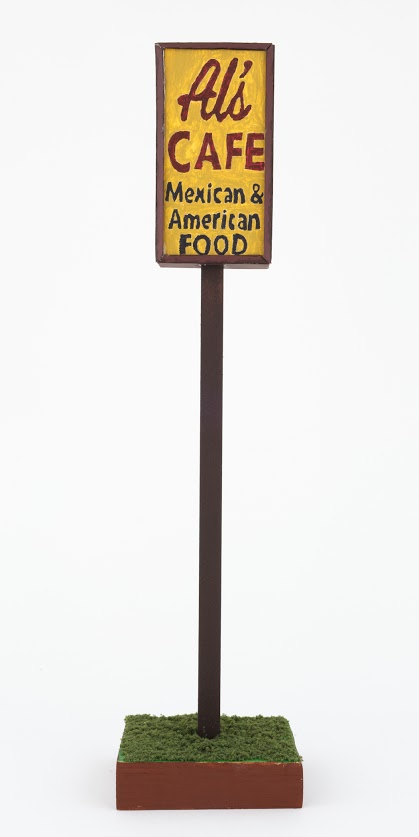 The benefits go beyond money, Jacky says.
"It brings awareness to our audience of this great organization that supports the art community," she said. "This organization really opens us up to accept all artists."
Joaquin Torres, the director of San Francisco's Office of Economic Workforce Development was also at the opening. The office has given $7.1 million to 36 organizations in the past two years, he says, and almost half of that went to 19 arts and culture organizations. These organizations create jobs and make the city more vital, Torres says, with arts organizations generating $1.45 billion in economic activity a year.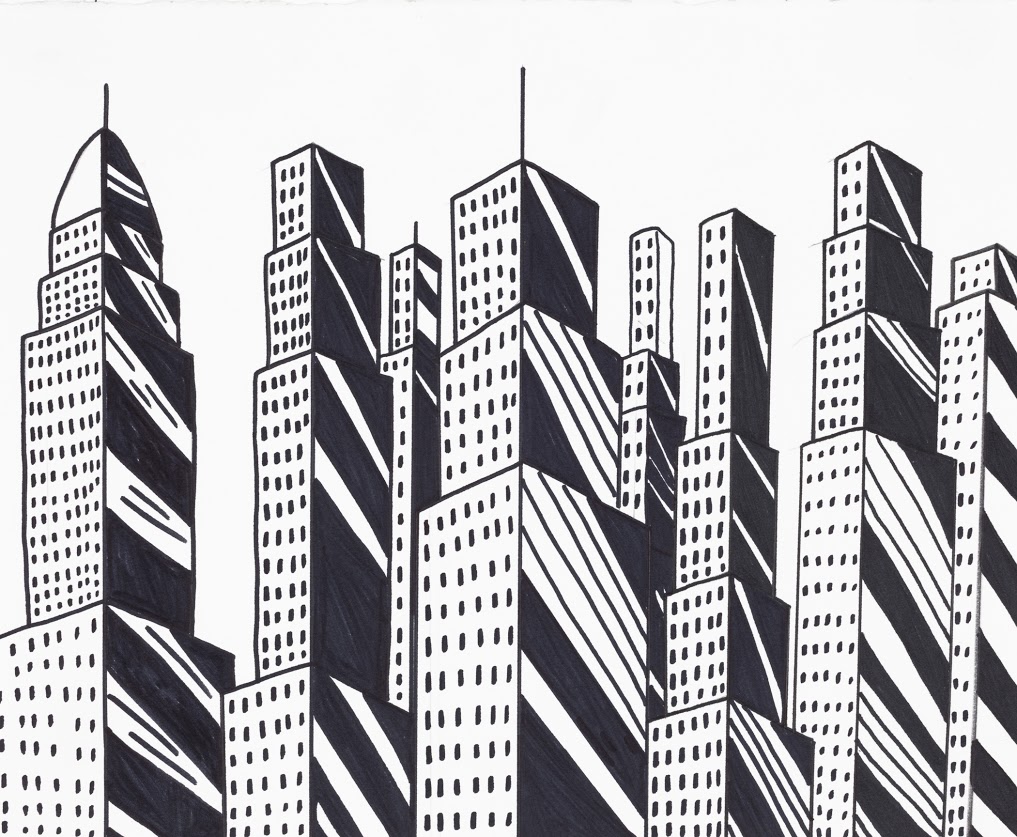 Torres' mom has been blind for 10 years, so he says the work Creativity Explored is doing means a lot to him on a personal level. 
"It's exciting and really moving to me how much care and attention and detail was spent creating this space for people with disabilities to allow their identities to be defined by their art," he said. "And it gives us so much. To look at the work on the walls and be able to view the city through their artistic lens is really powerful and potent."
Kohler, the mentor for the exhibition and one of the teacher/facilitators there, calls Haney-Owens a great artist and a "powerhouse," and Kohler felt curating a show was a good next step for him. He was firm about not wanting to be a co-curator for the exhibit.
"I just wanted to support Isaac's vision," Kohler said. "That's why we're here."
CITYSCAPE, CURATED BY ISAAC HANEY-OWENS
Through September 5
Creativity Explored, SF
More info here.