With Cloud Nine in 1979 and Top Girls (through October 13 at ACT) three years later, Caryl Churchill shot to the front ranks of living British playwrights—a great fraternity in the sense of both excellence and gender, in that before her, it had been pretty much an exclusively male club. These adventuresome plays, with their imaginative mix of history, humor, political critique and narrative experiment, would have made a splash under any circumstance. But that conceptual boldness being framed in an equally confident perspective of feminism (and gender-role inquiry in general) made them successes of a unique nature, so startling and original that they were produced all over the world.
Churchill has remained a leading dramatist, one whose works have regularly had local premieres at Berkeley Rep and more recently at ACT. The latter is starting its 52nd season with a new production of Top Girls, which provides an occasion to note how much-imitated this play's innovations have been in the nearly four decades since its first staging, and how its perspectives on social injustice are now theatrical commonplaces, robbing them of some original potency. (Jabs that might have seemed envelope-pushing in the early 80s today get the kind of knowing, self-congratulatory laughter with which an audience assures itself it's the choir being preached to.)
Still, its overall themes are as relevant as ever. So it's a bit puzzling that this kickoff to Tony Award winner Pam McKinnon's second season as artistic director (Carey Perloff retired from that post last year) should make so muffled an impression. Directed by Tamilla Woodard, who last fall here did another all-female-cast play very much indebted to Churchill—Jaclyn Backhaus' Men on Boats—this Top Girls has its incisive moments. But it's not presented as enough of a period piece to preserve the original cultural context (near the start of the Thatcher era), and Woodard's rather broad, flat interpretation doesn't make this play seem fully refreshed for the 21st century, either.
Top Girls is often described as if it consisted entirely of what's really just its first (albeit longest) scene: An impossible dinner party at which modern career woman Marlene (Michelle Beck) is celebrating her promotion to management at a London employment agency. She's invited five friends, all of whom happen to be famous women of history and/or art. Duly pontifical Pope Joan (Rosie Hallett) is the woman who purportedly disguised herself as a man to rise through the 9th-century Church hierarchy, until pregnancy exposed her ruse. Lady Nijo (Monica Lin) was a 13th-century concubine to the Japanese emperor turned memoir-writing Buddhist nun. Isabella Bird (Julia McNeal) was a pioneering British naturalist, author and world explorer of the 1800s. Dull Gret (Summer Brown) is the peasant who leads an army of women storming Hell itself in a famous 1563 painting by Bruegel the Elder. Late-arriving Patient Griselda (Monique Hafen Adams) is a folkloric figure of endless, idealized self-sacrifice immortalized in one of Decameron author Boccaccio's tales.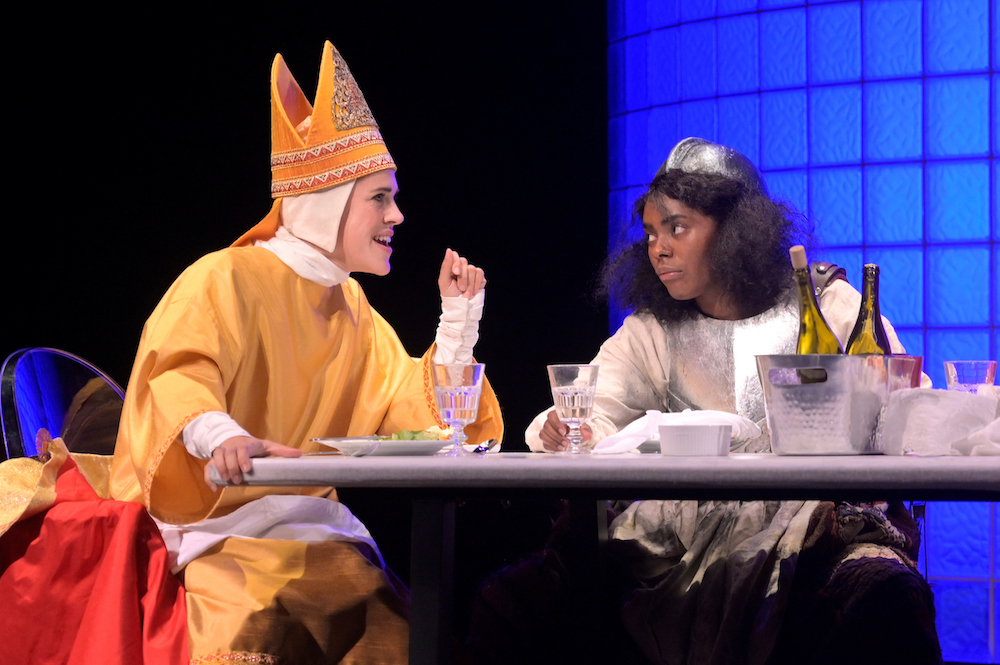 These are all extraordinary women, and like many high achievers of any gender, they mostly like to talk about themselves—often, obliviously, over one another. Yet despite so much achievement over the centuries, their stories reveal the high personal cost that exacted, even if none are able to see beyond the cultural norms of their era. Lady Nijo and Griselda take it for granted that their duty was to obey, no matter how cruel or demeaning the things asked of them. Joan seems untroubled by the fact that she was eventually stoned to death for the crime of being a woman. Even crude, monosyllabic Gret reveals a tale of abused woe when she finally opens her mouth for something other than stuffing food in. Often unknowingly, all reveal the anxiety and risk attendant with a woman daring to rise "above her rank"—and later scenes suggest that even supposedly liberated Marlene is not free from those hazards.
Seen at her sleek modern office, she's both applauded and backbit for her promotion by female coworkers, while regarded as a usurping "ballbreaker" by the (unseen) male colleague mortified that a woman should be advanced above him. A series of brief staff interviews with job applicants provide different perspectives on gender in the working world, from the overqualified woman who's found her reliability and deference mean she never gets promoted, to unqualified youths with unrealistic expectations.
Meanwhile, Marlene's troubled young niece Angie (Gabriella Momah) lands on her doorstep, having run away from the working-class mother (Nafeesa Monroe as Joyce) whom Marlene is semi-estranged from. When the two adult sisters meet in a lengthy final scene, Top Girls abandons its more fantastical and comic sides for a bluntly realistic confrontation over the class issues that only worsened under poverty-shaming "Iron Lady" Thatcher.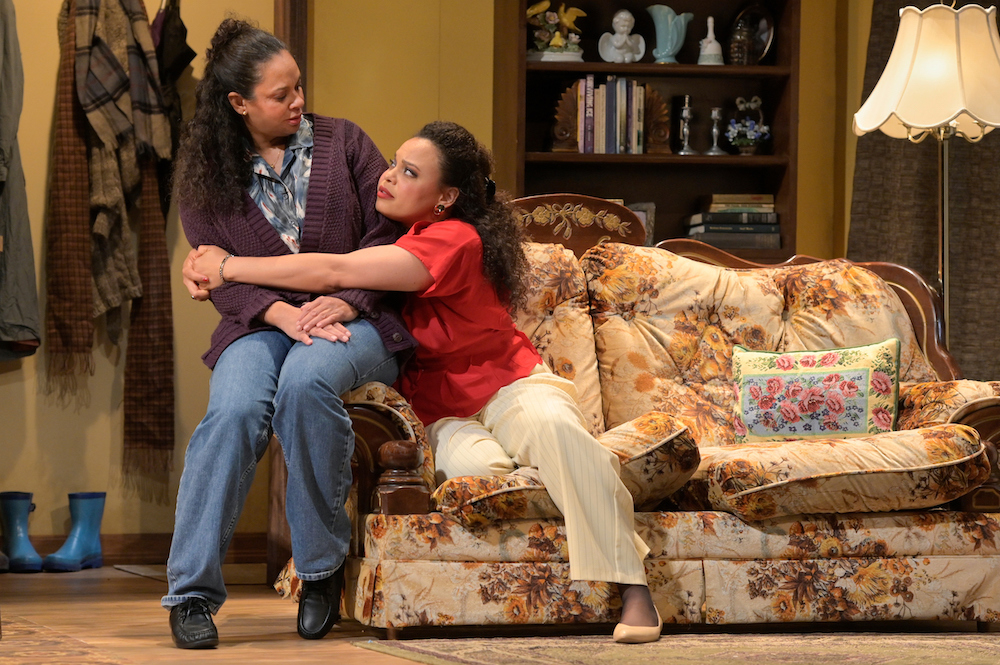 It's an unpredictable progress that somehow feels more awkward than ingenious in Woodard's staging, with Nina Ball's set designs and Jake Rodriguez's sonic one not adding much cohesion of style or commentary. The Geary Theater, with its high balconies, often has a tendency to make performers sacrifice nuance for broad strokes. This production is no exception—at least parts of Top Girls require an intimacy and naturalism that prove elusive here.
Still, there are inevitable moments when Churchill's text comes through with sharp impact, as when ambitious, self-centered if unfulfilled Marlene exults that "The 80s are going to be stupendous." She further channels the Prime Minister's pitilessness towards the less-fortunate with "This country needs to stop whining." (A few years later, the playwright would deliver an inspired satirical tribute to go-go Thatcher economics and ladder-climbing with the semi-musical Serious Money.) A complex work whose analyses hardly withhold women from criticism, Top Girls isn't simplistically "man-bashing." Yet there's a stinging truth revealed when one of Marlene's coworkers tells an employment seeker "Men are awful bullshitters. They like to make out jobs are harder than they are"—to keep women from feeling they're capable of those jobs, of course.
Thirty-seven years on, Top Girls holds few revelations, but the blowback from #MeToo, a reliably misogynist Trump administration, "incel" culture, and more has certainly helped maintain its pertinence. This uneven, too often uninspired production isn't the best representation of that staying power, however.
Top Girls
Through Oct. 13
ACT's Geary Theater, SF.
Tickets and more info here.