It's a Thursday night at The Uptown in Oakland, and people are filtering in for the opening set. Six black women take the stage, and the crowd goes from zero to enraptured—pulled by sheer magnetism towards the stage—in about 60 seconds. A man in front of me shouts to his friend, "See, this is why I always come for the opener!"
I appreciate the sentiment, but I want him to know: The Onyx is not just some opener. You're watching a super-group of Bay Area musicians who went from playing jam sessions to opening for T-Pain at the Black Joy Parade in just over a year.
The Onyx put out their first, self-titled EP last month, so they won't fly under the radar for long. The EP packs a lot of the band's riches into just three songs—including single "Black Girl Magic"—each written and performed by one of its three lead singers: Dan'Nelle Emerson, Yunoka Berry, and Maya Vilaplana. Richelle Scales on keys, Rhonda Kinard on bass, and Genesis Valentine on drums round out the group. You can catch them and their new music this Saturday at the 12th annual Life is Living Festival at Bobby Hutton Park in Oakland. 
In Rhonda's words, "We're just spiraling up, up, up when we're playing together." The same might be said of the way they talk. Their two-hour interview ranged from laughter to tears as they described the chance encounters that brought them together, the freedom they've found, and their mission to share it with the next generation of young black women.  
48 HILLS I heard that you all came together for the first time by chance at a jam session at The Starry Plough. What brought you all there that night? 
RICHELLE SCALES (KEYBOARDIST) We had a friend that was moving to Louisiana, and she played bass, and she wanted to have an all women's musician jam at The Starry Plough. 
DAN'NELLE EMERSON (VOCALIST) We had already been playing together, a few of us, in different capacities, but it was making it official. I reached out to Yunoka, 'cause me and Yunoka had already been in conversation about singing together. And then, that night, we killed it. Once all those pictures and videos hit Facebook, it was like: this is what we've been talking about. Why not do this right now?
RICHELLE We were getting booked off of just that night! So we needed a bass player. 
RHONDA KINARD (BASSIST) And that's how I found out about the group. I'm like, "What are all these videos? And their bass player is leaving?" And it was all black women on stage, except for the bass player. So I literally reached out Dan'Nelle and asked if I could be in the band. Like, "I can come and audition, whatever you need. I can do this. I want to do this. Please let me do this." 
48 HILLS At that point, you already had two powerhouse lead singers with Dan'Nelle and Yunoka. Why did you decide you wanted a third?
DAN'NELLE It was a jam night the day after Thanksgiving: kind of a house band, but rotating singers. And we had never sang with Maya [Vilaplana], but she said she had a song, and we just backed her up, so naturally. We just found the pockets and got in them. That was like magic that day. 
48 HILLS How do you tell the difference between a fun jam session and the kind of spark that means you need to form a band and really make a go of it?
DAN'NELLE I think we all realized how important our presence was in our community, in the music community—in every community that we all are part of.
RHONDA And contextually, you're talking about the first year of the presidency that we're currently in. We are all very good at what we do, and it's revolutionary to own that, as women. It was incredible to be making that kind of statement just by showing up together and doing what we do, so well, in that political atmosphere.
YUNOKA BERRY (VOCALIST) Then our first real show was [at] Bar Fluxus.
RHONDA That's where we got that magical reaction to "Black Girl Magic". You had all the finance bros who were coming there after work and they're singing, "No shade! No shade!" at the end of that song. They loved it. So, I'm like, "Okay, so if this isn't actually our target demographic, and they are reacting this way, there's something here."
48 HILLS The lyrics of "Black Girl Magic" are all about affirming yourself, and then at the end, it flips, and you start repeating the words "No shade!" over and over. The first time I heard that, I thought, "Oh God, how awful." To be singing about how amazing you are as a black woman, and then have to do the work of clarifying for a white audience: "But not to take anything away from you."
YUNOKA I'm glad you caught that. That's intentional. I've worked in a lot of spaces that were predominately white. And I think as I got older, I stopped code-switching and just started being exactly who I am. I can love myself and be black and proud, but that doesn't take away from you or your beauty. 
48 HILLS What does being in an all-black-female band mean for each of you?
RHONDA For me, it's been amazing to exist in this space as fully who I am, without having to tamp down anything. It's amazing for me to just to be in a room, regularly, with all black women. That's something I haven't experienced since I was sitting in my grandma's kitchen getting my hair pressed as a kid. 
YUNOKA I don't think you should ever hide who you are, or where you come from. Like, if you from the 'hood, you from the 'hood—but we exist in other socio-economic spectrums as well. And I think this group brings that. I think it has helped us to relate and learn things about each other and learn what it means for blackness. 
RICHELLE I moved here from Atlanta. I didn't know anybody. I experienced this timeframe of loneliness, isolation. And so Onyx really brought a family for me here. Especially us as black women, we all have our own little introvert vibes. We're a little weird, little nerdy, little geeky in our own little ways, but we're allowed to express that.
DAN'NELLE: It was just a passion to have a band of all black women so people can see that we exist, we get along, even though we're so different. 
When I think of us, I imagine action figures or dolls. And imagine a little black girl gets to pick and choose which one of these six dolls does she want to get? We're not like some of the older R&B groups where all of them kind of looked alike. It was like: "Everyone needs to be this kind of pretty, or very feminine."
YUNOKA Or they gotta be all one skin tone.
DAN'NELLE Exactly.
GENESIS VALENITINE (DRUMMER) I saw this quote: "Be the person that you needed when you were younger." Growing up, all I saw was Brandy—Brandy was my idol. I remember seeing Raven Simone in a movie, and I'm like, "Oh, my God, the black girl! That's me!" And sometimes I feel like I wasn't really represented. 
DAN'NELLE I don't think everyone understands how important it is for that little black girl to be like, "The black one. That's me!" I remember bein' that little girl. And [with] this band, they don't have to say that because you can be all of us. 
48 HILLS Going back to this image of you as a group of action figures, what does each one of you bring to the band—what's your superpower?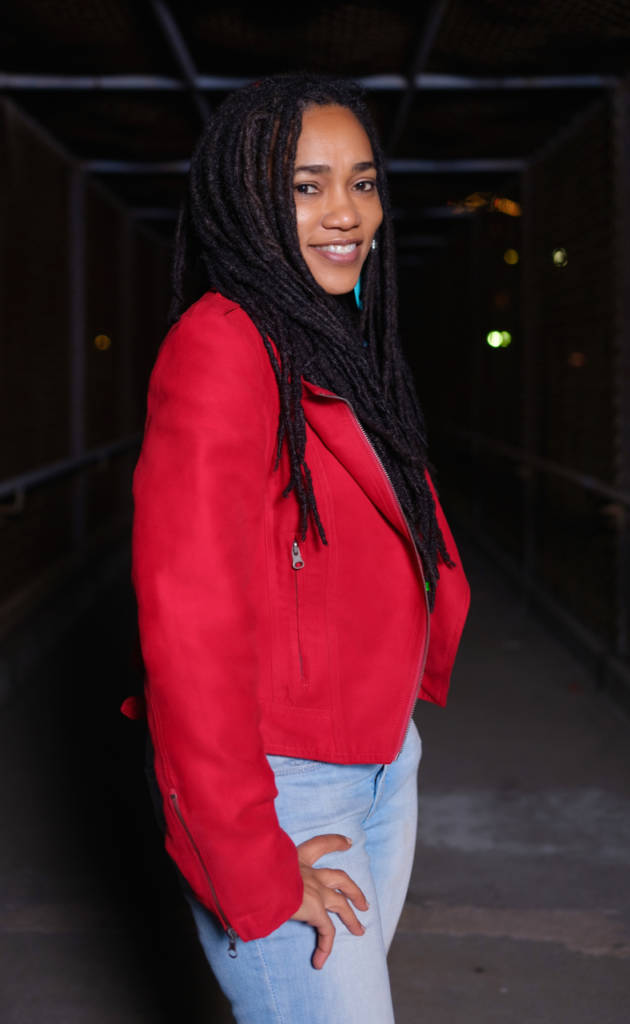 On Richelle:
RHONDA I think Richelle brings that Southern charm. Even when things get kind of heated, Richelle pipes up, and it's like salve on a burn. 
RICHELLE I'm also the oldest member of the group. So I'm just like, "You know, is it life or limb?" If it's not, we can work it out. 
RHONDA What are your musical influences, Richelle, just out of curiosity?
RICHELLE I love classical music. Beethoven is one of my favorites, obviously: heavy bassline. And just to segue into that: Rhonda, you're a perfectionist—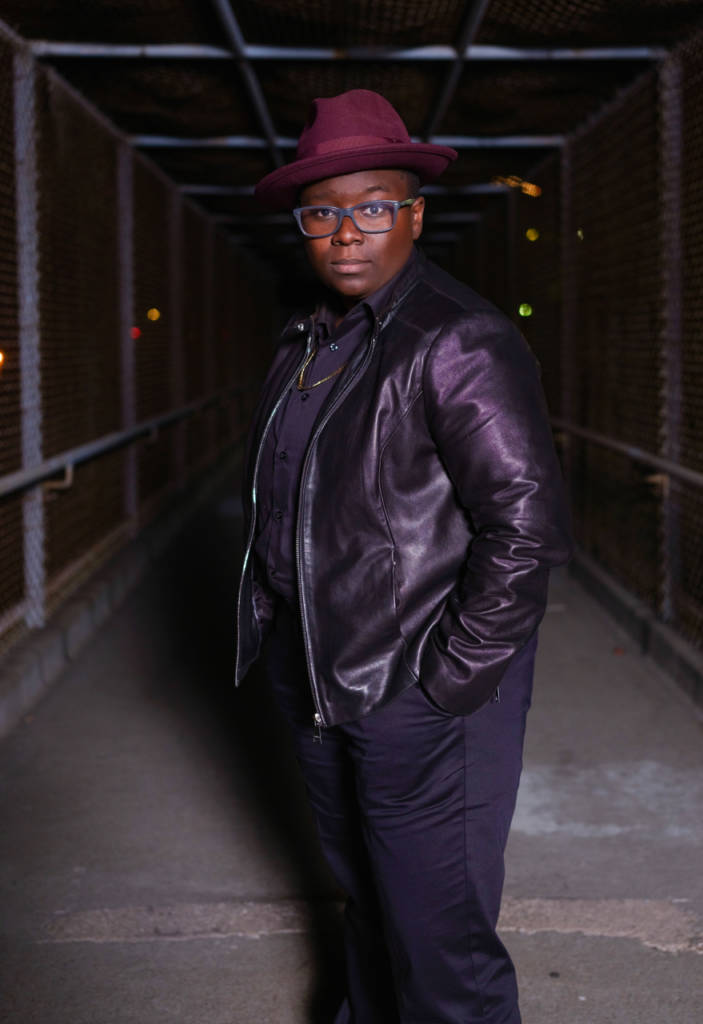 On Rhonda:
YUNOKA Damn, bassline is just sick! It don't make no sense, sometimes! 
RHONDA I don't solo—I improvise on the groove. That's my thing. Gospel is a huge influence of mine, and anything Motown: James Jamerson, the bassist—unsung hero of so many Motown hits—is just my favorite musician of all time.
DAN'NELLE And then, when we all get a little scatterbrained, Rhonda's the one who's like—
YUNOKA "Guys, what are we doing? Because I need us to focus." [Laughter]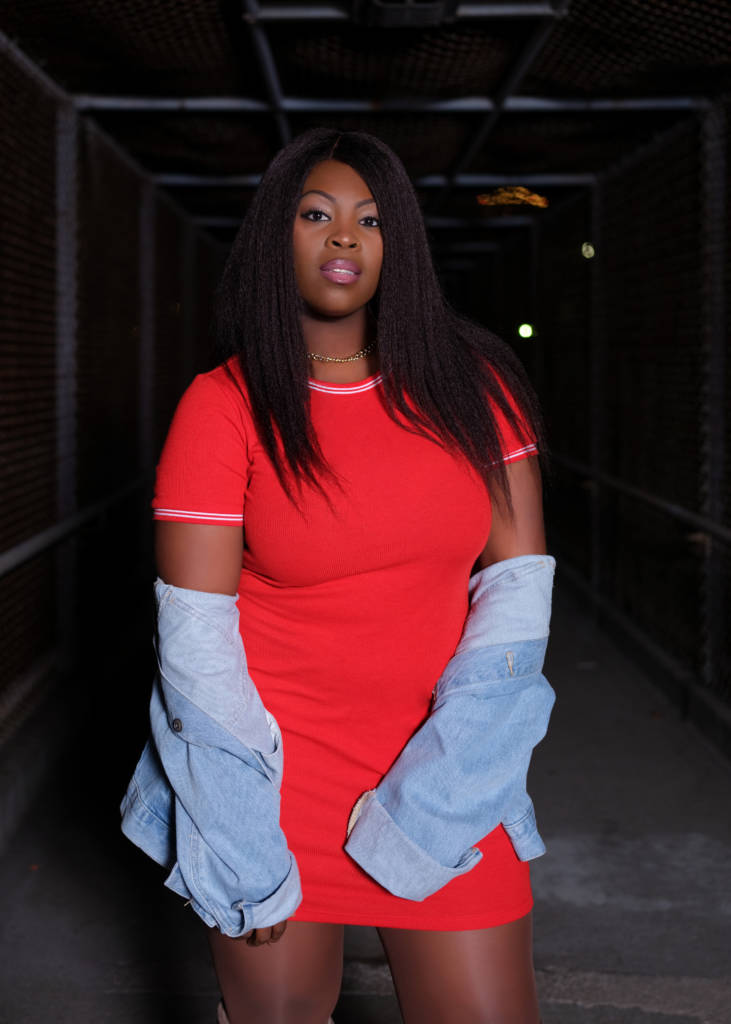 On Dan'Nelle:
RICHELLE I mean, your dedication. Your heart is so pure in this thing, and that makes you vulnerable, but that vulnerability really opens up the level of creativity that you bring. 
YUNOKA I moved here from Chicago, and especially for me, coming from a hustle and bustle kind of place, meeting somebody that had the same drive and goals and dreams that I had—it's just been a crazy ride. 
DAN'NELLE As far as music-wise: like Rhonda, Motown was a big thing for me. Chaka Khan—and that really got me into a funk also. Also that R&B soul. And then energy on stage.
But I just love visuals, and in the day and age we're in right now, it's about more than just the music. If we could say anything to someone coming behind us, it's like: take your music seriously from the jump, invest in yourself, and start your marketing early. Don't wait until someone asks you for a picture. Have it ready to go.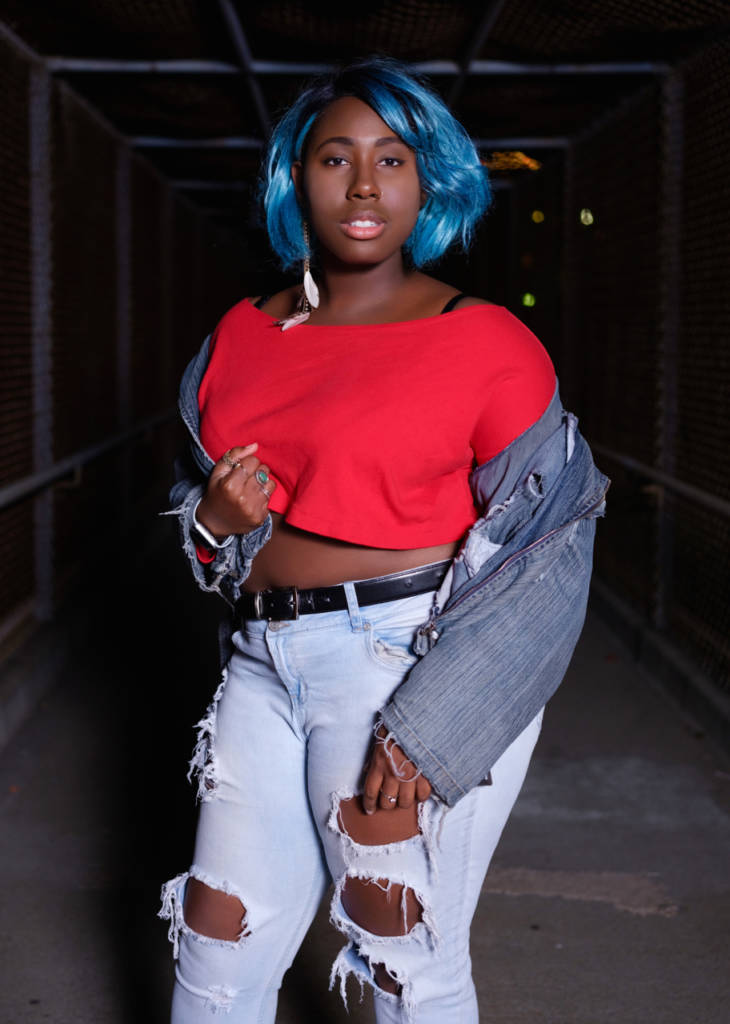 On Yunoka:
RICHELLE Let's just start with "Black Girl Magic". That's the one you brought to Onyx, and it became the Onyx theme song. 
DAN'NELLE She's just always writing—basically a true musician. When it's like, "It's time for us to write," she has a song in her pocket already.
YUNOKA I mean, I got this new one if y'all want me to sing it….
RHONDA And she's a wild woman onstage. I've never seen somebody be so fully themselves onstage the way Yunoka is. 
YUNOKA I think a lot of that fiery energy comes from Millie Jackson. She was a bad girl, in her day! And I was really influenced by rock music. I'm a classically trained singer, and my degree is in music business. I'm really big on contracts and figuring out where our money goes.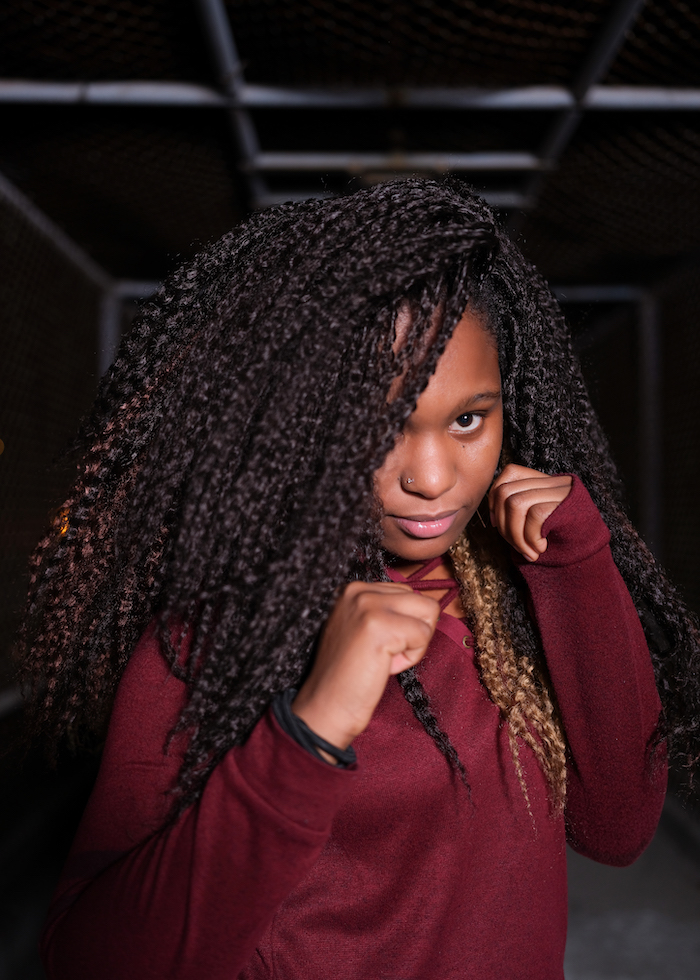 On Genesis:
RICHELLE Genesis, auditioned—we needed to find a drummer, right away. We had a recording date.
DAN'NELLE A friend of mine had a video, and I don't even know how she found you, but she sent it to me and said, "This is gonna be your new drummer." And when you play, everything from your little stick twirls—
RICHELLE The showmanship on stage! 
RHONDA It was really hard before to be the only dorky person in the band. [Laughter] I feel a nerd kinship with you on a slightly different level than the rest of the band—as we should, as the drum and bass. 
GENESIS As far as my influences, I grew up in church. My mom was a choir director, so she was like, "Okay, Genesis, you want to sing, or you wanna play the drums?" So then I learned to play when I was like five or six, and that was it.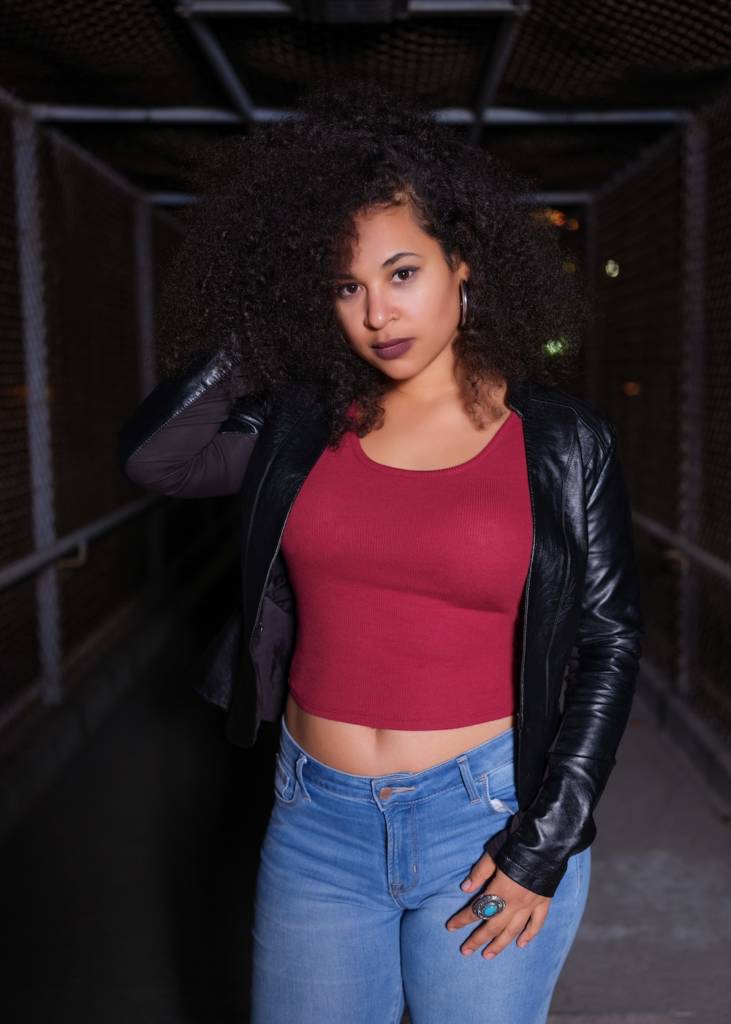 On Maya:
DAN'NELLE Sometimes myself and Yunoka's energy could seem like a lot next to Maya. But Maya's, it's different than ours, but it's still giving you her.
RICHELLE It's captivating.
48 HILLS This question is going to become a regular feature of my columns: How are you making it as an artist in the Bay?
YUNOKA I live with an aunt and work a day job, and I'll take on a bunch of other jobs: I work at a boutique, I go give an English test, I go give Postmates, I house-sit, I dog-sit. There's no job that's beneath me. I've been raised like that.
GENESIS Yeah, I'm the same way. I'm a full-time musician, so I've done so many different jobs. I just picked up a job doing window cleaning for these mansions in San Francisco. I've done busking, playing on the streets for money with my bass player. And it's really cool because it's like another way to market yourself. 
DAN'NELLE [Gasps.] That's how my friend—she said she saw you in San Francisco. She was getting on BART. She saw your Instagram, and then she sent it to me later.
48 HILLS And that, friends, is how you go from busking on BART to opening for T-Pain and releasing your first E.P. in less than a year.
THE ONYX
Life is Living Festival
Sat/12, 3pm, FREE
Bobby Hutton Park, 1651 Adeline St, Oakland
More info here.