Woe betide the Bay Area movie lover equally enthused about South Asian cinema, transgender screen expressions, and amateur porn—because this week the signature local festivals for all those categories are happening at the same time.
It's year seventeen for the SF International South Asian Film Festival, often known as 3rd i (the name of its producing organization), which plays the Castro and New People Thurs/7-Sun/10, then moves to Palo Alto on Sat/16. Highlights include Rima Das' opening-night Indian coming-of-age tale Bulbul Can Sing, standup-comedy documentary American Hasi, gritty B&W drug drama Cat Sticks, outre romance-slash-body-horror opus Ravening, Prasanna Vithanage's acclaimed colonial-era period piece Children of the Sun, multinational animated feature Bombay Rose, and more, including shorts and a master class with documentarian Nishtha Jain. More info here. 
On the same dates (not including the 16th), the Roxie will host the SF Transgender Film Festival, which began life as Tranny Fest 22 years ago and has been an annual event since 2005. (Read the 48 Hills interview with festival head Shawna Virago here.) Its six programs this year (the first two close-captioned, with live ASL interpretation) run a gamut from opening night's sci-fi omnibus feature Transfinite to StormMiguel Florez's full-length nonfiction The Whistle, plus numerous short-form documentaries, narratives, animations, experimental works, foreign films (like Popo Fan's Chinese The Drum Tower), and ones of particular local interest (including Daryl Jones' Tender, about three black trans women in the Tenderloin). Going beyond identity politics, subject matter here sprawls unexpectedly to encompass such diverse terrain as skateboarding, autism and electronic music-making. More info here. 
Meanwhile down the street at the Victoria, this weekend and the two weekends after it will be required to contain the 15th HUMP! Film Festival, which Savage Love advice columnist and activist Dan Savage started in Seattle in 2005. Though the internet certainly was already alive and well back then, at the time the notion that ordinary people might make and show porn movies in a raucous public setting seemed, er…unlikely? Yet HUMP! has proved so successful that it now operates annually in five West Coast cities, offering a pornucopia of variably serious films about every imaginable kink, preference, body type, story concept, and so forth—the glue being that there's "creative sexual expression" under five minutes in length, made by "people who aren't porn stars but want to be one for a weekend." Running Fridays and Saturdays (plus one Sun/17 "industry night") through Nov. 23, these shows are 21-and-over only. More info here.
Other openings this week run a gamut from the big 'n' bombastic to the very small-scale. (We'll review two of the most highly-anticipated, The Irishman and Doctor Sleep, separately later in the week.) On the noisy end, no doubt, is Midway, a WW2 combat action movie from generic-popcorn-blockbuster veteran Roland Emmerich (Independence Day, White House Down, etc.) that hopefully will at least be less dull than the 1976 Charlton Heston movie of that same name and subject. Also arriving on Friday is another large-canvas war movie, Kriv Stenders' Danger Close. Though only playing locally at the 4-Star, its "boots-on-the-ground" portrait of the Battle of Long Tan (a 1966 Vietnam War confrontation between Viet Cong and Australian troops) has gotten some admiring early reviews. Likely to involve less artillery but not promising much inspiration are wide-released romcom Last Christmas and family comedy Playing with Fire.
On the low-budget and comparatively low-key end, the Roxie is opening Richard Levien's modest but topical Collisions, in which two San Francisco children are thrown into the negligent care of their estranged uncle (Quinceanera's Jesse Garcia) when their immigrant mother (Ana de la Reguera) is seized by ICE. The 4-Star is also premiering independent, B&W Chinese crime thriller The Amateur Killer.
Outside the realm of commercial cinema entirely, an event of special note is Other Cinema's Sat/9 benefit for the Barbara Hammer Lesbian Experimental Filmmaking Grant at Artists Television Access. This event will see the late great SF-based film/video trailblazer's legacy continuing in the form of posthumously completed collaborations with other significant artists including documentarian Lynne Sachs, who will also screen some of her own recent solo work. http://www.othercinema.com/calendar/index.html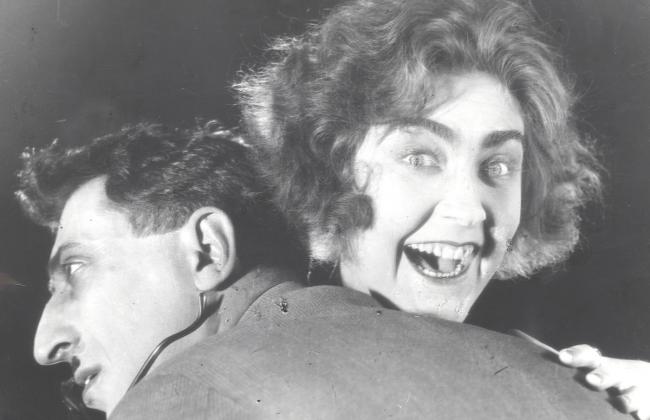 SOVIETS AND SURREALISTS AT THE PFA
Two short but sweet series running this week only at the Pacific Film Archive underline how far the celluloid vocabulary was being stretched 40, even 90 years ago.
Limited to just three programs, Strange: Surrealist Tendencies in Cinema provides a complement to City Lights Books' multimedia "Magnetic Fields: Surrealism at 100" celebration taking place at various area venues throughout November. Such a cineaste's delight that it was distributed in the U.S. under Francis Ford Coppola's aegis three years after premiering at the Berlin Festival in 1977, Kidlat Tahimik's Perfumed Nightmare (Wed/6) is a Filipino phantasmagoria about a jeepney driver who dreams of space travel; its other fans included both Werner Herzog and Susan Sontag.
The "Still Raining Still Dreaming" bill on Fri/8 encompasses shorts from Joseph Cornell's classic pastiche Rose Hobart(1938) to Phil Solomon's titular 2008 work. On Sun/10 there's a program of works by Sidney Peterson, who taught San Francisco Art Institute's first film courses. Four of his late 1940s avant-garde films will be shown—movies whose humor, lyricism and imagination remain remarkable, though he never attained the fame of many subsequent experimentalists he blazed the trail for. More info here. 
More expansive, but also running just Wed/6-Sun/10, is Soviet Silent Cinema: Peter Bagrov on Treasures from the BAMPFA Collection, in which the Russian archivist turned curator at the George Eastman Museum will lecture on and show seven features plus a few shorts from one of cinema's greatest epochs. Of course any film buff who knows their stuff is familiar with the likes of Eisenstein, Dovzhenko and Dziga Vertov. But this series demonstrates how much remains to be discovered from the USSR's silent era by Western audiences.
Perhaps most surprising is the number of comedies—despite all humorless-Communist stereotyping, funny movies were being made here during Chaplin and Keaton's heyday, too. Relatively well-known is Kote Mikaberidze's 1929 farce My Grandmother (Wed/6). But you may not have seen the marvelous 1925 short Chess Fever (on the same program), or Nikolai Shpikovsky's A Familiar Face (Sat/9), a surprisingly antic large-scale tale of wartime deprivation involving one endlessly black-market-hustling man and his camel in the southern Ukraine.
Other impressive finds (both playing Thurs/7) include Yuri Tarich's 1926 Wings of a Serf (Thurs/7), in which a peasant inventor who yearns to fly lands in mad Ivan the Terrible's court; and the same year's seriocomedy Katka's Reinette Apple, a sometimes documentary-like tale of city life in which a poor but honest couple are preyed upon by a second pair of incorrigible (and eventually criminal) bourgeoisie.  More info here. 
SYNONYMS
Every year at the major European film festivals, there's at least one movie that wins a major prize, then has nearly everyone save a few critics rolling their eyes at how exasperating, pretentious and pointless it is. Nabbing the Golden Bear at Berlin last winter, Policeman and The Kindergarten Teacher director's Nadav Lapid's French-Israeli production is that movie for 2019. It begins with protagonist Yoav (Tom Mercier), a tourist in Paris just released from military service back home, running around in a state of very naked hysteria—having finished bathing to discover all his belongings stolen from the Airbnb rental he's staying at.
This goes on so long, in a fashion so mannered and annoying, you may begin to wonder if the whole movie is going to be an excuse to show off Mercier's body—which is indeed quite nice, esp. as he seems to be permanently (ahem) "standing at attention." Will an actual plot ever arrive? How many scenes will we get of Yoav wandering the street, reciting obscure French words? (His extensive but archaic second-language vocabulary seems largely derived from literature.) He's more a construct than a character, theatrically spinning stories (duly seen in flashback) of his life in Israel, refusing to speak Hebrew even with fellow expats, casting a seemingly unconscious spell of hypnotic sexual magnetism on his privileged local benefactors, an ostensibly heterosexual couple (Quentin Dolmaire, Louise Chevillotte).
For a while this seems like The Square of global Israeli identity politics, using absurdist comedy to probe how that nation sees itself and how it's seen by others. Lapid's movie is one murky metaphor, though after a while we get the gist: Israel may be in profound moral conflict with itself, but by contrast the concerns, stakes and values of citizens in a place like France seem trivial, mere affectation. Yoav is a Francophile and a refugee of sorts, having run away from his native land like a traumatized child fleeing an abusive parent. Yet it's so hard for him to take his new country seriously.
While Synonyms can itself feel random and frustrating, there is nonetheless a certain charm to its flakiness, whether in the occasional witty line ("Boredom structures me," Dolmaire's frivolous aspiring writer opines), Yoav's eruptions of impotent rage, or the sudden dance fever triggered at a party by an old Technotronic cut.
I'm not sure what exactly Lapid is going for here—though driving us a little crazy may be part of it—but his movie isn't just a stunt, it is a work of art. Whether it's a good or bad one is another question entirely, perhaps best asked a few years down the line. Opera Plaza. Shattuck Cinemas.