With Native Art Department International (NADI), Jason Lujan says he and Maria Hupfield try to collapse distinctions and treat other artists in a way that would have been helpful for them starting their careers. Lujan says he has often been asked to participate in shows about Native art where the organizers ignored his experience and talents.
"Usually the way it went is they'd say, 'I wanted to put together a show about Native artists, so I Googled it and your name came up,'" he said. "We wanted to prioritize what artists were doing as opposed to just who they were."
The wife and husband, who now live in Toronto where Hupfield is from, started NADI when they were living in Brooklyn.  Their latest show, Bureau of Aesthetics, is now at KADIST, a nonprofit art organization. Mercer Union curated the show, and the artist-run center in Toronto is the first institution to take part in KADIST's Art-Space Residency in San Francisco. Both NADI and Mercer Union focus on collaboration and collectivity, which they explore in this show. 
For example, KADIST's windows to the street and their library displays examples of Bay Area collectives including Borderline Art Collective, ONE+ONE+TWO, Slingshot, Street Sheet/Coalition on Homelessness, and 3.9 Art Collective.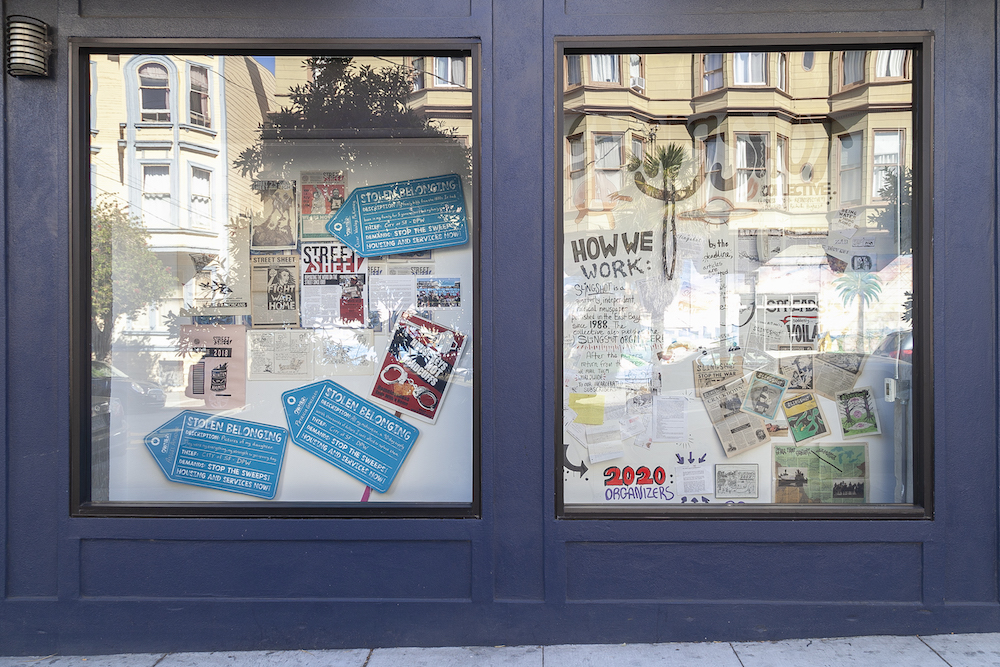 Lujan says working with these collectives meant a lot to him and Hupfield. As an urban Native artist, he finds that often institutions are more interested in including rural Natives.
"What you'll have is a community of Natives in an urban area like this, but then they'll bring someone in from Alaska to talk about being from whatever community," he said. "So, we're hyper-conscious when we're brought in, we don't want to be the kind of artists who are parachuted in, utilize resources, and then leave. Because we've seen it on our end many times."
Lujan says he asked KADIST to put him in touch with artist collectives in the Bay Area. He met with them and asked them about their experiences. 
Some of the members of 3.9 Collective, a group of African American artists in San Francisco, told him about what had happened when there was an exhibit of Black artists from the southern United States in San Francisco. 
"I asked them, 'How were you utilized as part of Black community here?' and they hadn't been utilized at all," Lujan said. "When there was programming here, they found that there were Black artists here from the South who were passed over because the museum decided to fly in people from Georgia. That was exactly the kind of thing we don't want to do."
Along with the work from collectives in the window and on the bookshelves, pieces in the show include Double Shift, two hoodies sewn together with painted canvas connecting them that Hupfield and Lujan used to do a performance at the Nocturne Festival 2018 in Halifax, Nova Scotia; Drink for Two, five sake bottles with a pink lightbulb; and Walk the Walk (Sam Durant), with neon Walk/Don't Walk crosswalk signs over the text "You Are On Indian Land Show Some Respect." 
The exhibit also includes There Is No Then and Now; Only Is and Is Not, a video of Dennis Redmoon Darkeem a Black member of the Yamassee Yat'siminoli tribe, dancing in an empty theater, dressed in powwow regalia.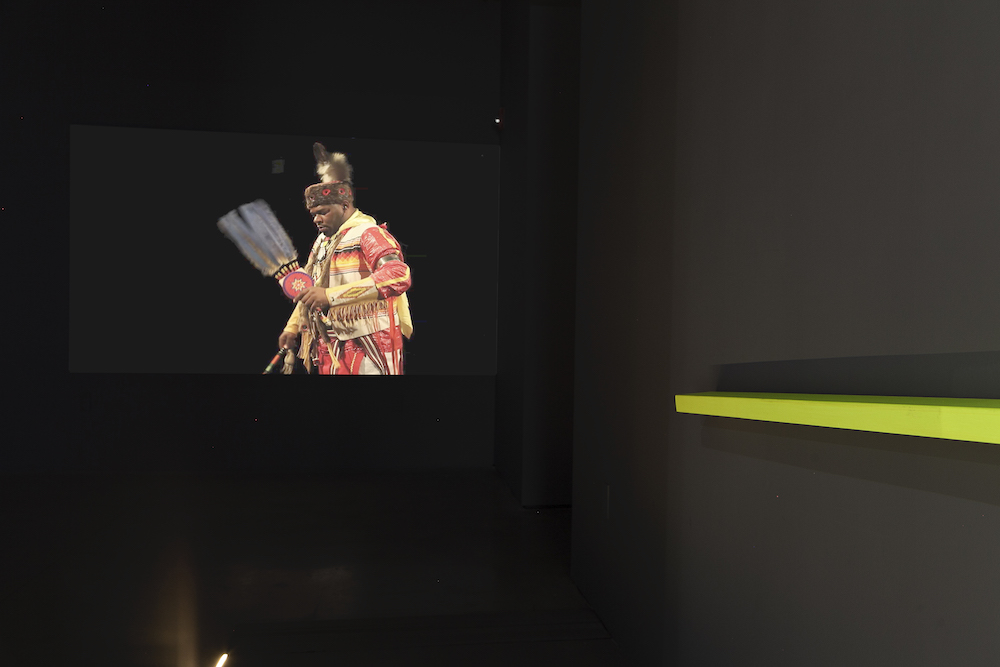 Hupfield says they included this piece in an exhibition they were invited to take part in, On Whiteness, at New York's The Kitchen.
"We kind of complicated the space because we came in with this piece that wasn't just about Native Americans dealing with whiteness and the privilege of passing but looking at the way that race affects our communities. You can be white and passing but if you're codified in another way as Dennis is, there's a denying that he could be Native."
Hupfield says working together, she and Lujan have done different kinds of things, including film screenings and curating shows. Collaborating is a kind of strategy, she believes. 
"We wanted to present ourselves as standing shoulder to shoulder with other artists," Hupfield said.  "Being together we have a lot more power to create the types of opportunities that we were looking for that we weren't finding."
BUREAU OF AESTHETICS
KADIST, SF
Through January 25
More information here