On paper, "Summer: The Donna Summer Musical" (through December 29 at Golden Gate Theater) doesn't have much going for it: another jukebox musical in a sea of them; a corny script that reads like a Hallmark Wikipedia Page of the Week (yes, you will witness "Love to Love You Baby" sung to an actual baby); and a somewhat tired gimmick, with three different actresses playing Summer at different times of her life, who are often on stage at the same time. Even the title isn't lifting a disco finger to set this production apart. It's refreshing to see a big show center an extravagantly talented Black woman whose career stretches through the '70s and '80s—but look out, here comes Tina Turner.
While Summer herself could be an effusive storyteller onstage and possessed a blazing personality, she's remembered now more for her sensuous vocals and a sphinx-like glamour than colorful outbursts and a make-it-or-break-it life story. To contemporary minds, she's more Sade than Lizzo. The people behind "Summer" have a lot of work to do to convince us that we wouldn't just be happier at a tribute concert.
Here, for better and worse, they ramp up Summer's Sassy Diva mode and sometimes uncomfortably paper over her weaker moments (more about that in a bit), sanctifying her as everything from Today's Independent Woman Corporate Ball-Buster to Jesus-Powered Super-Matriarch, Sacrificing It All For Her Family. Her life, as breathlessly traced here from shy Boston gospel choir member to Queen of Disco, is a wild rollercoaster ride—and don't think they don't actually say that out loud in the play, either. Some of it sweeps you up, much of it is a bit much.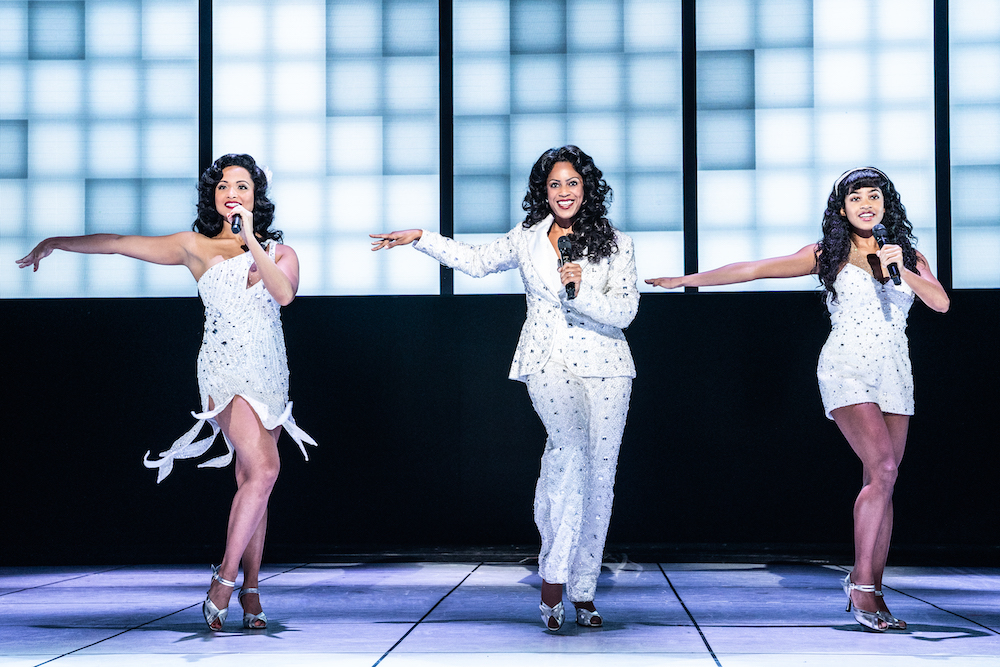 But oh, those songs. Underestimating the awesome power Summer's songs still hold over a theater full of middle-aged queens would be like thinking you could harmlessly step into the headlights of an oncoming Mack truck. Most pop divas would thank their lucky stars to record two or three songs that could outlast the trends of several decades. Summer has at least a dozen, from 'I Feel Love," which still rules underground dance floors from Berlin to Beijing, to eternal anthem "She Works Hard for the Money," a canny update of "Bad Girls" for Ladies of the '80s feminism that is still one of the best examples of subtextual subterfuge in the American canon.
So Summer's story here is broadly inspirational and "Summer" makes a solid case that she broke down several barriers in the industry and society. But once that thumping beat hits, it's over, honey. Nothing else matters.
Which of course was the point. Summer offered ecstatic, self-obliterating communion on the radio and in the clubs. In one of the few comments on her actual music in the show, the mature Summer, aka Diva Donna (a strong, declamatory Dan'yelle Williamson) talks about the magic of "I Feel Love," an electronic breakthrough that "was built on a bass line" and foregrounded a drum-machine beat that equalized the dance floor, celebrating a diverse crowd with a new kind of expression. That climax comes early in the play, but except for a fun vignette that shows Disco Donna (Alex Hairston, lovely) writhing gamely on the floor in Giorgio Moroder's studio to record "Love to Love You, Baby," and a meet-cute moment later during a recording session, there's barely any exploration of the depth of her music, let alone her songwriting process.
But the songs, interspersed throughout her life story, are the real stars here, and all three Donnas (including charismatic young Olivia Elease Hardy as Duckling Donna) deliver what they know you came for. The frantic choreography, inventively minimal sets, and flashy costumes (a visual symphony of unforgiving '70s fabrics), as well as the story itself fade in the presence of the music, played lovingly by a live band and given more life by the excellent ensemble, made up almost exclusively of women. "Heaven Knows," sung with Summer's eventual husband, played by hunky Steven Grant Douglas, and "MacArthur Park" just sound incredible from the stage, as does "No More Tears (Enough is Enough)," with Donnas doing double duty in the duet, absent Barbra Streisand.
Some of Summer's best songs don't make the cut. I thought for sure "State of Independence" would fit right in, as well as "Spring Affair." You can guess which number closes the show. (Hint: It rhymes with "fast pants.") And added music, while maybe appropriate for the story, seemed a distraction. I know Summer fatefully went to Munich for a production of Hair, but did we really need an enthusiastic rendition of that musical's icky "White Boys" as she finds herself the center of multiple romantic attentions? (A pleasantly unexpected inclusion, on the other hand, was Summer's '40s pastiche "I Remember Yesterday," representative of that weird post-modern Star Wars Cantina mish-mash of jitterbug, sock-hop, and film noir aesthetics that was her Casablanca Label's default style.)
It's a shame that just as the musical really catches fire and the Donnas begin to draw us in emotionally , we're subjected to its most manipulative scenes. Diva Donna, late in her career, sits at a piano and explains away (to her gay friend, natch) her comment that "God created Adam and Eve, not Adam and Steve," at a 1983 concert, which many fans took to be homophobic—not a huge stretch since Summer was deep in a religious revival and often intertwined preaching into her act. (You can see the context of this comment here, during a song called "Woman" when her gay male fans often drowned out the women of the crowd Summer encouraged to sing along. In the play, she says that's what prompted the "bad joke.")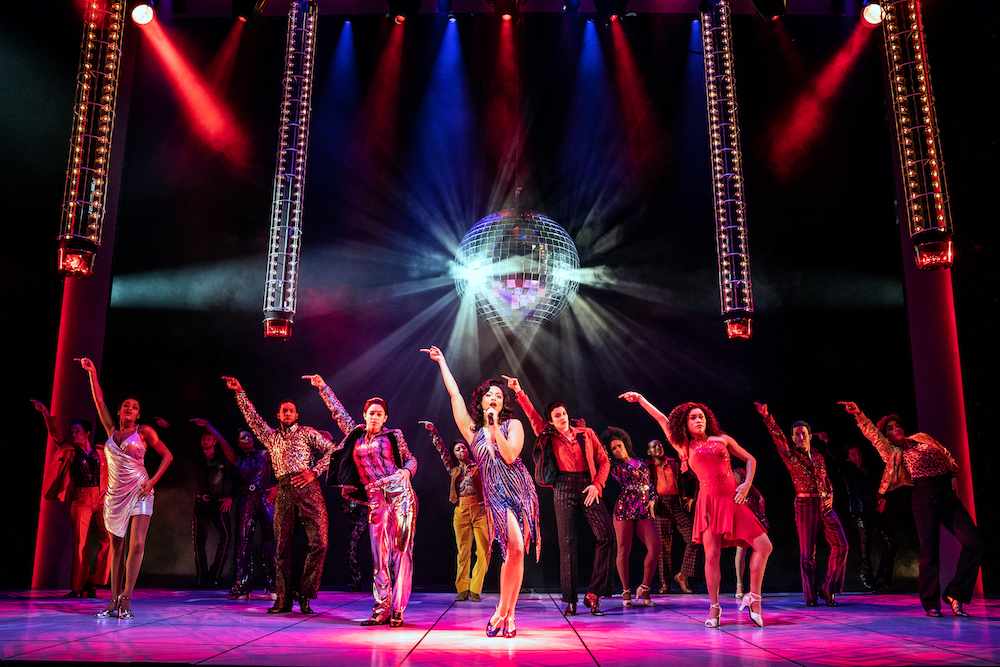 Looking back, it all may have been taken out of context, but her failure to confront and address the controversy properly was probably her biggest professional flop. Rumors of homophobic comments, including that AIDS was divine retribution, dogged her for the rest of her career, despite a much later apology. But wait! Then we're treated to the tearjerking deep cut "Friends Unknown," with black and white photos of frolicking gay men descending from the rafters. This after Summers says "I've lost so many friends."
If your gut isn't forcefully punched into tatters at this point, Williamson winds it all up with a balcony-aiming wallop of a climax. I was kind of mad about it all afterwards—the whole thing just sat funny—but was entranced while it was happening.
Anyway, you get it. And at least we're spared a deathbed scene. (Summer passed away from lung cancer in 2012, at the age of 63.) "Summer" is well worth seeing for the music and the cast—and the feeling you've stepped back briefly into the Trocadero Transfer. But it works a little too hard to earn your unconditional love.
SUMMER: THE DONNA SUMMER MUSICAL
Through December 19
Golden Gate Theatre, SF.
Tickets and more info here.