"Now we rise, now we stand, for our safety, hand in hand!"
These are the words that more than 100 students from Aptos Middle School chanted during a student walkout Friday to demand increased safety and wellness. Planned by the school's sixth-grade students, the walkout is a response to incidents of bullying and violence and a lack of a safe and supportive school environment.
Students rallied on the school's front lawn with a mic, holding signs and wearing orange armbands. Dozens of parents watched from the sidelines, passing out fliers about the "Aptos Middle School Peaceful Walkout."
Demands from students included crisis management, training for security guards and staff, fair rules and consequences, and more wellness staff, including therapists, social workers and nurses.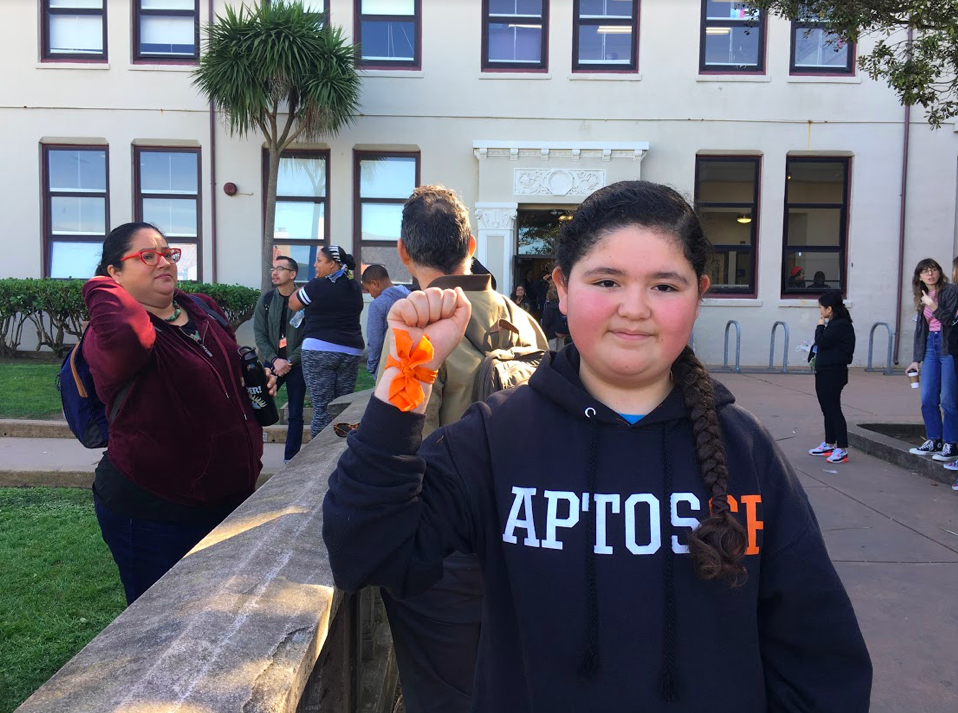 "We want to improve wellness at school, and we want it to be accessible," said Alyssa Tello, a sixth-grade student who is a part of the walkout's planning committee, which she says has eight student members and support from parents. "People should be able to just go to the Wellness Center when they need to."
She said that while she doesn't feel unsafe, other students who have been getting bullied do.
"There was a point when I was bullied and I didn't want to go to school, so I get where the sixth graders are coming from and I get their pain," said Briseis Portillo, an eighth grader who voiced support for the walkout. "If they're getting bullied and they don't want to come here, what's the point of going to school?"
Although Aptos is located in one of San Francisco's wealthiest neighborhoods, more than half of Aptos students are socioeconomically disadvantaged, nearly one in five students is an English-language learner, and a number of students are homeless or in foster care, according to school district data.
Rene Ly, a peer resources teacher at Aptos who has worked in the school district for five years, said that she appreciates the students' demands and sees a need for the school to work on restorative practices when addressing instances of harm like bullying.
"Those who have harmed also need to be centered as part of the healing. That gets lost."
While Aptos students, parents, and staff all seemed to agree on the need for increased social and emotional student support, some disagreed with a recent San Francisco Chronicle column and podcast depicting the middle school as chaotic and overrun by aggressive students that adults had "no control over."
Although the walkout was planned before the story was published, students clearly wanted their opinions on the story to be heard. One student held up a sign that said, "People who don't know us can't have an opinion on us!"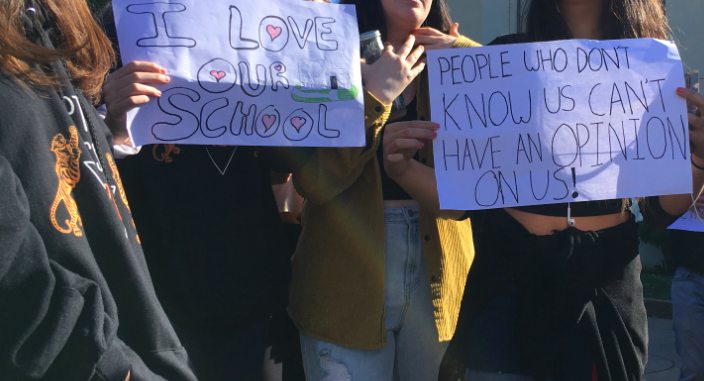 "I like chicken," read another, a reference to a description of unruly students ("shoving each other, punching each other, yelling, eating chicken") that has been called out for its racial undertones; for Coleman Advocates, a youth-centered nonprofit advocacy organization, it was another instance where Black and Brown students were criminalized and scapegoated for the failure of the school district to create a safe and supportive school environment.
"I kinda felt targeted," said Tello. "I used to live on the Southside, which is poorer. This [school] is the wealthy side. It seemed like they were trying to say poor people are the problem and should be cut out of school."
Instructional Reform Facilitator Bianca Woods, one of the 20 educators that spoke to the Chronicle about school conditions, argued that aside from the "racist connotations," the story was an "oversimplification and peripheral at best" in depicting school life. Woods discussed the solutions that Aptos will be implementing, including training for staff in restorative practices, and noted that many administrative staff and teachers were in their first or second year.
Said seventh grader Marquez Davis, "We are not perfect, but it is nowhere near as bad as she [the columnist] makes it seem."
Many pointed out that, at the end of the day, Aptos faces the same issues as public schools across San Francisco: There just aren't enough resources to support students or teachers.
Aptos recently lost $190,000 in federal funding due to a recent change to a wealthier student population and is already stretched thin with only one social worker for a student body of more than1,000. School Board member Allison Collins worries that Aptos will lose even more funding if future enrollment shrinks as a result of negative press.
The San Francisco Unified School District faces a budget shortfall of $31.8 million, and the next fiscal year could double the deficit. Teachers recently received letters notifying them of cuts and possible layoffs. For now, it's unclear where, and when, San Francisco's public schools will receive more funding.
For Jason Wyman, a teaching artist at Aptos, one thing is certain — he'll be using this as an opportunity to teach sixth-grade language arts students how to unpack media bias and understand media literacy. "Heather Knight's article has a real impact on real lives and how young people perceive themselves and their school."
Since the article was published, Wyman has shifted his curriculum so that over the next seven weeks students will critically examine Knight's writing and learn how to craft stories about their own experiences at Aptos.
"Young people have a more complex worldview than we ever give them the opportunity to show," says Wyman. "This is an opportunity to show them they can be in control of the narrative."