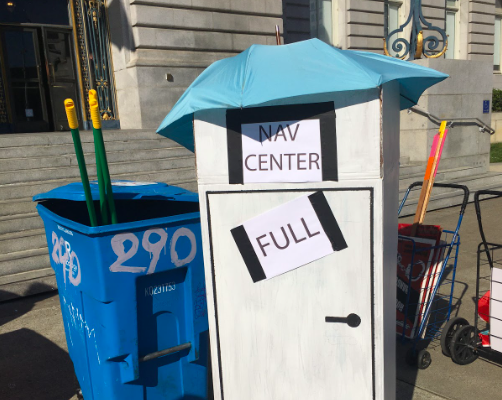 Unhoused San Franciscans, service providers, and community members took over the steps of City Hall with bubbles, brooms, and tents to protest the city's homeless sweeps, which have involved the destruction of personal belongings and routine eviction from public space.
The action took place ahead of a special Local Homeless Coordinating Board meeting discussing the Healthy Streets Operation Center, the city's coordinated interdepartmental effort to address street homelessness.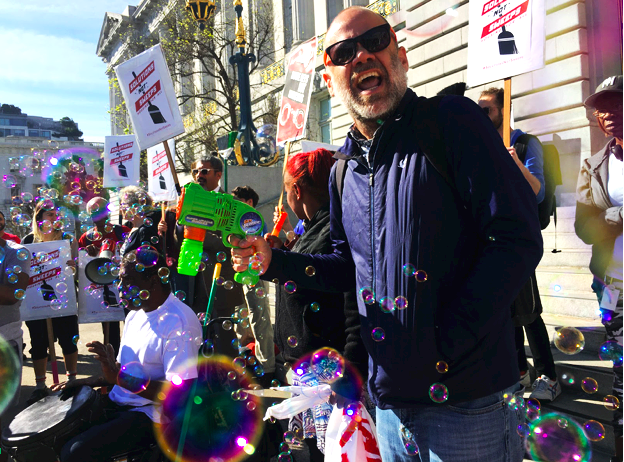 Since its creation in January 2018, the effort — led by the Police Department and the Department of Public Works — has been criticized by advocates as a complaint-driven response to homelessness focused on removing homeless people from public space, rather than providing them with services and housing.
Data revealed at the meeting showed that efforts by HSOC have been largely ineffective even around HSOC's own goal of decreasing visible homelessness. Tents increased 31 percent from January 2019 to October 2019. Inhabited vehicles increased 24 percent from April 2019 to October 2019.
Further, the vast majority of homeless people being removed by HSOC aren't receiving services: Only 2.4 percent of police encounters and 17 percent of Homeless Outreach Team encounters resulted in service connections.
But it's not just about the availability of services, like shelter beds; those who do receive a bed aren't in it for long. Of the 650 clients placed into shelter by HSOC, more than 95 percent returned back onto the streets, according to data from the Department of Homelessness. Homeless people are placed into short-term shelter — sometimes lasting for only a week — just to return to the streets, only now without many of the belongings they had used for survival, including tents and tarps to stay warm and dry.
"These sweeps are systematic and only serve to further destabilize unhoused people," said TJ Johnston, a member of the Stolen Belonging project, which documents the destruction of homeless people's personal property by the city.
As a result, Director of Homelessness Jeff Kositsky says HSOC will be changing its strategy. During the meeting, he said, "We've lost some trust and credibility amongst people on the streets. This approach eroded trust on the streets — all the data shows that. Now we're going to go back to what we know works."
Starting in mid-March, Kositsky said, HSOC will begin focusing on zones where homeless people reside; these zones will be determined based on need rather than complaints, although HSOC will still respond to complaints. Kositsky said he is hopeful that the zone-focused approach will allow Homeless Outreach Team workers to build relationships and engage more deeply with homeless individuals, rather than scattering across the city to respond to 311 calls.
There will also be a working group to increase community engagement and transparency — something that advocates have been asking for since the agency's inception.
A large coalition of homeless people, physicians, frontline service providers, and faith communities has formed under the name Solutions Not Sweeps to address homeless sweeps. They have presented their demands, which include replacing the complaint-driven and law enforcement-led response to homelessness with an evidence-based approach aimed at connecting people with their needs, to the mayor and the Board of Supervisors.
Says Armando Garcia, Human Rights Organizer with the Coalition on Homelessness, "We can have policies that address homelessness without criminalizing homeless people."