With her career, dream house, and Ken counterpart all in place, RuPaul's Drag Race All Stars Season 3 winner and real-life Barbie doll Trixie Mattel is finally — at least by societal standards — a full-fledged adult.
So the Billboard Heatseekers #1 charting country, folk, and Americana artist; costar of two Web series (UNHhhh and I Like to Watch); and founder of Trixie Cosmetics had every right to boast a little by titling her latest live touring show "Trixie Mattel: Grown Up."
Coming to San Francisco's Regency Ballroom Fri/8, Mattel's evening of music and comedy will feature more gay jokes than ever before, Mattel told 48 Hills, as well as new music from her upcoming double-sided Barbara disc, which drops the same day.
A little bit country, a little bit folk, and a little bit '60s mod, the highly personal eight-track album chronicles Mattel's journey from a young Barbie to a more mature Barbara as she navigates the ups and downs of relationships, the challenges of achieving sexual intimacy, and the obstacles to feeling one's best.
Mattel (born Brian Michael Firkus) opened up to me about gettin' grown, her private relationship with David Silver (who produced her festival favorite documentary, Trixie Mattel: Moving Parts), and her crush on actor Jesse Eisenberg.
48 HILLS Do you finally feel grown-up?
TRIXIE MATTEL I just turned 30, bought a house, have a partner of three years, and in a lot of ways, I'm kind of grown-up. But as gay people, we don't have the same checkpoints or rubric for growing up like the baby or the normal job. We sort of never grow up, so I think there's this limbo where you're like, "I'm not a 21-year-old idiot and not a tasteful-nude-art-owning, turtleneck-wearing guy. So who am I?"
48 HILLS How does adulting figure into the new show?
TRIXIE MATTEL It's like what about your life makes you feel grown-up? I've been doing drag since I was 18, so even though now I'm doing giant world tours, I'm doing what I was doing when I was 18. So there are a lot of ways where I don't feel grown-up.
Of course, I make more money and have a house. I also decorated my house and it's floor-to-ceiling pink and I have hundreds of Barbies in my house and a room for just wigs. Does that sound like an adult to you? I still play my PlayStation all the time. But I think a lot of us don't want to give ourselves the responsibility of, "Oh shit, now I have to have my shit together."
But this show, in a lot of ways, encourages you to never get your shit together because there's no proof in that, like "OK, I've done it. I'm an adult now." Especially for gay people, because we're not normal. We go on vacation to suck dick in the woods.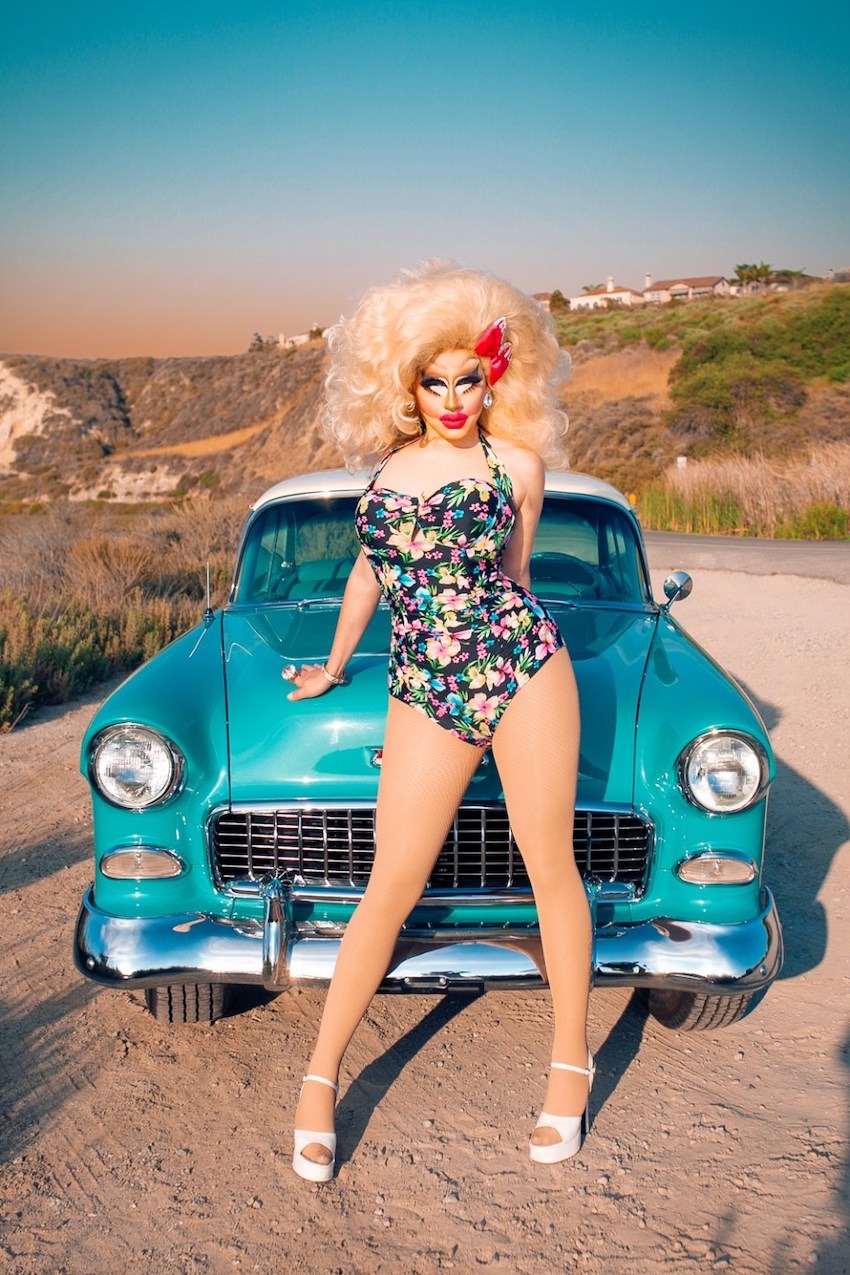 48 HILLS You seemingly tour all the time. What are the challenges of being on the road so much?
TRIXIE MATTEL It sometimes puts a strain on my relationship. I love my boyfriend. He's really my world and he comes on tour and stays on the bus with me. But our relationship matured slowly because I spent our entire relationship touring. Especially in the formative months of our relationship, I'd be gone two months at a time, then come back and then be gone. There was a chunk where we were starting to get serious when I did All Stars and then The Trixie & Katya Show on Viceland, so I didn't see him for four months.
You fall out of touch with friends because the bus and the audience and the people you perform with become your world. But for me, getting to dedicate myself to a performance every day and make it all about the show, really makes me my best performer and best self. I go to bed feeling artistically fulfilled and it's made me and everyone else on the bus a little money, so it feels good.
48 HILLS Tell me about your boyfriend.
TRIXIE MATTEL I'm pretty private about him. I don't post a lot of pictures, but I definitely write songs about him. There are songs about him on this record. Like "Girl Next Door" is literally a song where I moved down the street from him and was literally saying, "Just come over and fuck me."
I write a lot of jokes about him. The entire relationship section of this show is about him. He hates that I tell jokes about him, but I draw from my real life and being with him is my only experience in the last three years. We're also kinda open, so there are jokes about that. He's really good at letting me pull from our real life. He doesn't love it. I have a joke about his dick that he definitely didn't like.
48 HILLS What's the joke?
TRIXIE MATTEL It was a joke about how I was 29 at the time and my dick was not the same as it was when I was 18. The joke was that I need a lot more to get that real hardcore erection compared to when I was a teen. My boyfriend's four years older than me and he has the physical sexual health and vitality of a teenager. The wind can blow and he'll get fully hard.
So there was a joke section about that and he said, "Please don't say that in front of my mom." I'm like, "She knows we're gay. Does she think we're gay so we can share clothes? Does she think we're gay as a form of contraception? We're gay and she knows it."
48 HILLS Is marriage on the horizon?
TRIXIE MATTEL There is a section in the show about how this past year I went to a gay wedding as a guest and also performed at my first gay wedding and both experiences really shook me and made me be like, "I never dreamt of getting married. Why not?" Because I didn't think I ever could. You don't spend your life dreaming of a white dress, so weddings don't mean anything to you.
I know it's not cool to say, but I don't need to get married because I don't feel pressure to participate in this antiquated heterosexual and anti-woman thing where she's dolled-up property to be put on a pedestal to be sold in a way.
Obviously people should get married if they want a party or a promise, but doing these weddings made me think, "Everyone my age is getting married and am I old enough to get married?" That also fed into "Am I an adult? And if I am, what does that mean? Has anything changed?"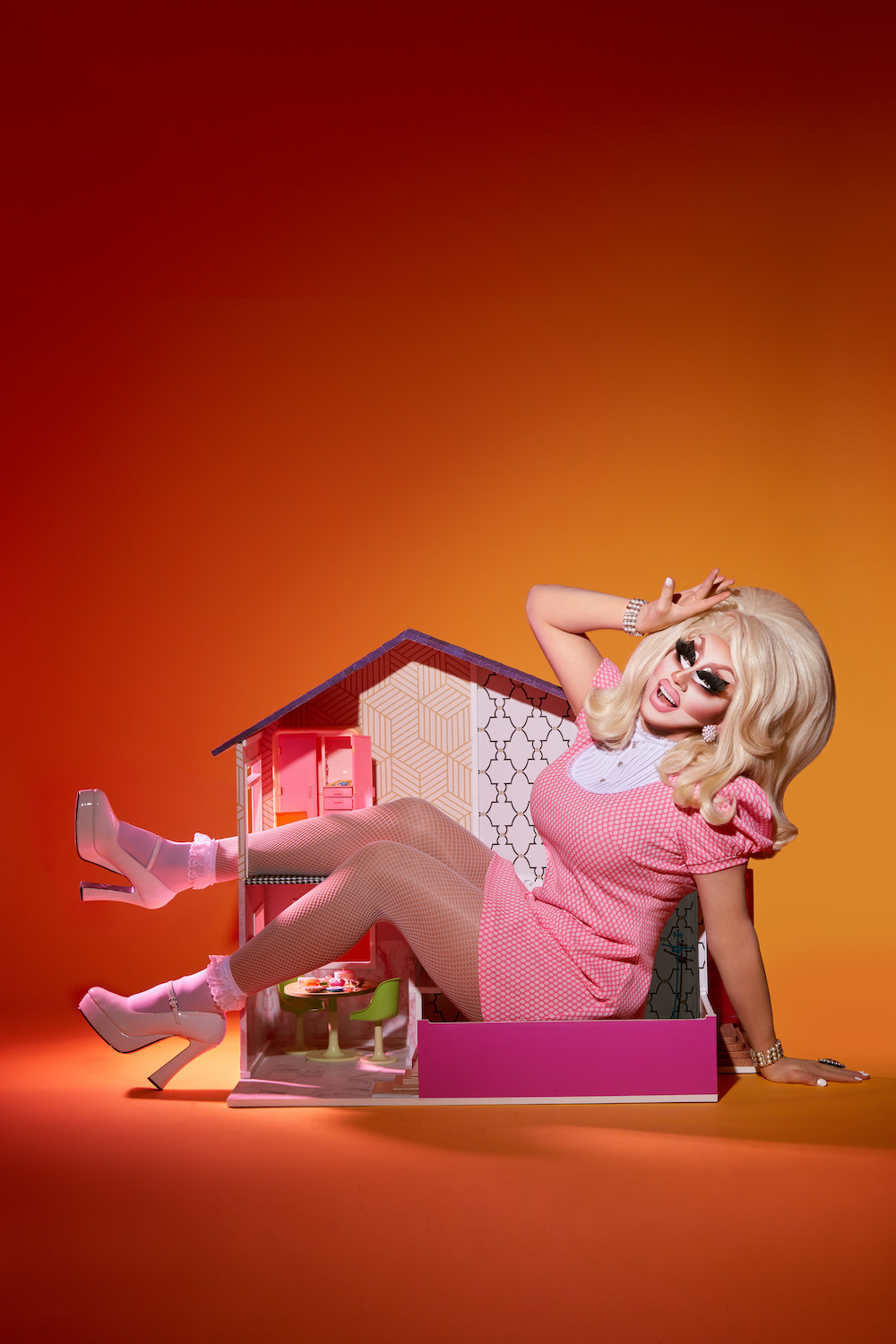 48 HILLS What is it about Jesse Eisenberg that made you want to dedicate a song, "Jesse Jesse," to him?
TRIXIE MATTEL I think he's gorgeous. I think he's a great actor. There's something about him that I'm so attracted to. I always have been.
I saw Zombieland: Double Tap recently and it totally reminded me of how sexy he is and how good an actor he is and I just wanted to write a song about him.
48 HILLS Talk to me about covering Lavender Country's "I Can't Shake the Stranger Out of You."
TRIXIE MATTEL That was written in 1971 by Patrick Haggerty from Lavender Country. This was the first gay country band and he got blacklisted from music for being a gay country singer.
I flew up to Seattle and recorded in the studio with him there, because I wanted to hear more about his experience coming out 50 years ago and why he wrote the song. He had a really good fuck with a guy and I think the guy was kind of closeted. This song is basically a warning, saying, "Yeah, I'll fuck you. But just so you know, I could get  emotionally attached, though I know you won't."
To me, this song is about how gay guys are even now.
48 HILLS How were you and your boyfriend able to achieve a deeper intimacy?
TRIXIE MATTEL When my boyfriend and I opened up, I was like, "Do I have erectile dysfunction?" Not only could I not perform, but I also was not interested. And I was like, "Oh right, the reason I'm so attracted to my boyfriend is that I know him."
I'm not one of those people that can have transactional sex, because I'm just not that into it. I don't need to marry you forever, but I do need a little bit of a rapport. You have to be somebody that I have a fondness for, and with app culture, you don't know who the person is till you both come and then start talking. It's crazy.
But 10 minutes into our first date, we were just talking and laughing and vibing. And when you have a real connection with someone, that is when you want to jump someone's bones—when you are so connected to them. I knew I wanted to date him, he was so great.
TRIXIE MATTEL: GROWN UP
Fri/7, 8pm, $39.50
The Regency Ballroom, SF
More info here.