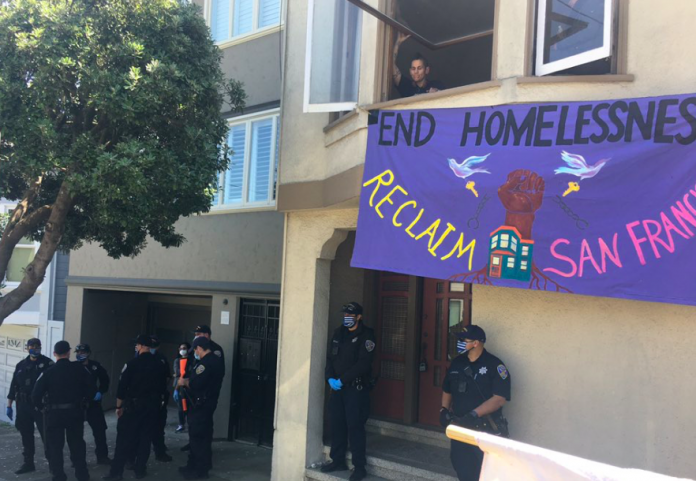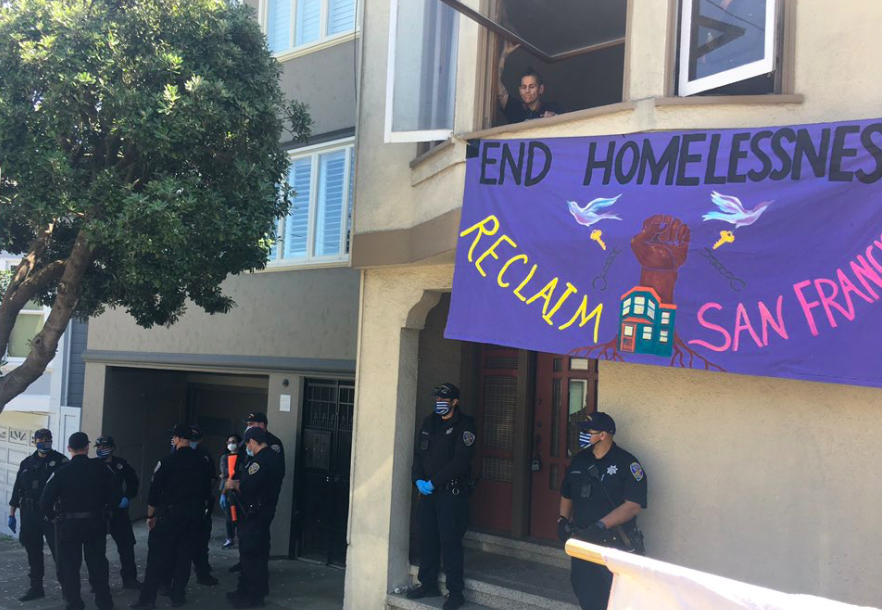 Two unhoused women took over a vacant building in the Castro today, sparking a massive police response, at least one arrest – and renewed attention to the large number of vacant properties in a city that has thousands of people living on the streets in a public-health crisis.
Couper Orona, a disabled firefighter who is known all over the city as a street medic who helps homeless people, and Jess Gonzalez, who was evicted because she wouldn't give up her service dog, moved into 4555 19thStreet around 11am.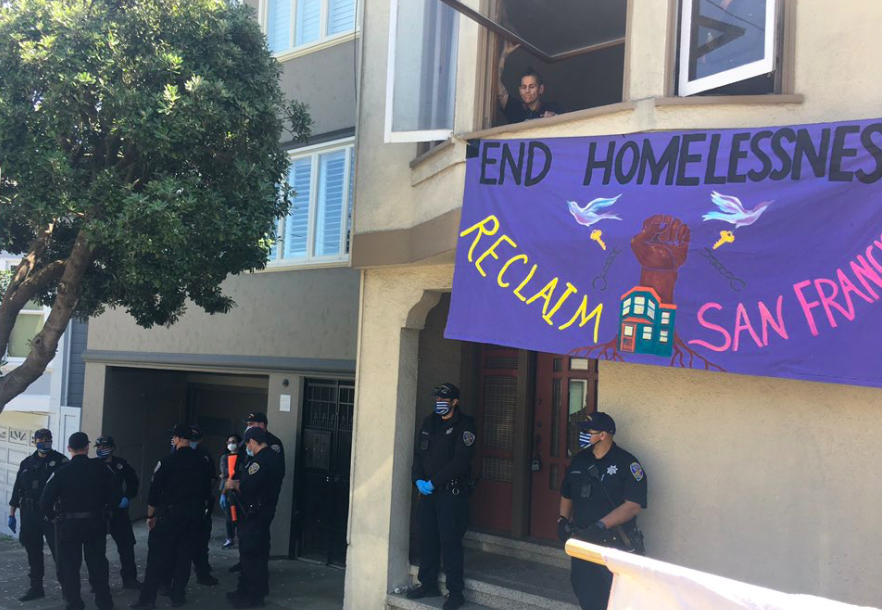 The women, part of ReclaimSF, took their inspiration from Moms4housing in Oakland, a group of women who moved into an empty building that was part of a speculative investment and drew national attention.
In this case, the building has been vacant and abandoned for at least several years, according to documents on file with the Department of Building Inspection.
Records show the place has been cited by the Department of Public Health and that the Water Department has a lien on it, most likely meaning there are unpaid water bills.
A January, 2020 complaint to DBI notes:
This house has been vacant for a couple years now. All the windows are open. Lots of opportunities for critters to grow and get into the back yard.
The current owner appears to be something called 4555 19thStreet Trust, which took over the property from Citadel Real Estate and Investments in a Trustee sale.
Because trust documents aren't public record in California, it's not clear who actually owns the place.
But there are no current permits on file with the Planning Department or DBI, so there is no indication that the owner has any immediate intent to fix the place up.
The two women stayed in the property until late in the afternoon, when the cops told them they would be forcibly removed. The incident ended peacefully when the two left, and at this point they are facing no criminal charges.
San Francisco police are out of pocket for violently detaining someone like this.

All for a house that's been vacant for four damn years.

I'm deeply concerned and am following @Reclaim_SF for updates. pic.twitter.com/C1WAJvMYsq

— Jackie Fielder (@JackieFielder_) May 1, 2020
But the move raised a critical question: San Francisco has, by most estimates, more than 10,000 vacant housing units, maybe more. While the supervisors are pushing the mayor to move more homeless people into hotel rooms, should vacant housing units also be part of the strategy?
That's what ReclaimSF is talking about:
"The only difference between us and someone who is housed is they have a roof over their head we don't, but we are all San Francisco residents! We should be treated as such," said Orona. "I love my city and I am there for my community, but the way our leaders have ignored our pleas for support is heartbreaking. We need permanent housing, and we need it now. We can't wait another day."
Police cleared the streets of protesters (and the media) before the two women left the house. There was one arrest of a supporter who, according to a video, was thrown to the ground by the cops.
Sup. Rafael Mandelman, who was on the scene, said that he agrees "that city has done an excellent job of meeting the housing needs of very wealthy people, and that is a public-policy failure."
He said that if this particular site follows the pattern, "if will become a single-family home for someone with incredible wealth." He said the protesters have "my complete and total sympathy."
But he stopped short of supporting ReclaimSF's call for an emergency move by the mayor to seize vacant housing units, saying that "in concept" it makes sense, but that the logistical challenges would be daunting.
"I'm not sure we can do that" with the city's current staffing and the competing priorities in this crisis, he said.
The cops who were on the scene were wearing "blue lives matter" masks, which I am told were provided by the Police Officers Association, an organization that has fought against even reasonable reforms in the department.
The symbolism in the masks is seriously problematic. The idea that cops all over the city are wearing them is, I have to say, more than a little disturbing.