Music fans spent $7.1 million dollars the last time Bandcamp waived its 15% sales fee, on Friday, May 1st That's a new daily record for the locally-based site, and almost double the $4.3 million that fans spent via Bandcamp on March 20 when the company did its first fee-waive sale. Around 800,000 releases were purchased on May 1, which works out at 15 times the usual amount sold on a Friday, according to the platform. (Bandcamp was so busy its site went down several times.) These fee-wive days were so successful that Bandcamp decided to dedicate the first Friday of the month to them—the next one is June 5.
But the world has changed, and Bandcamp has also decided to put its more where its music is. The recent killings of George Floyd, Tony McDade, Sean Reed, Breonna Taylor, Ahmaud Arbery, and the ongoing state-sanctioned violence against Black people in the US and around the world are horrific tragedies. Bandcamp (and we at 48Hills) are standing with those rightfully demanding justice, equality, and change, for Black People and people of color everywhere who live with racism every single day.
So starting this Juneteenth (June 19, from midnight to midnight PDT) and every Juneteenth hereafter, for any purchase made on Bandcamp, the platform will be donating 100% of their share of sales to the NAACP Legal Defense Fund, a national organization that has a long history of effectively enacting racial justice and change through litigation, advocacy, and public education. Bandcamp will also be allocating an additional $30,000 per year to partner with organizations that fight for racial justice and create opportunities for people of color.
Here are some Bandcamp suggestions for this upcoming Friday and beyond. FIGHT THE POWER!
RYAN PORTER, LIVE IN PARIS AT NEW MORNING (WORLD GALAXY RECORDINGS)
There is a non-performative sincerity that always leaps from Ryan Porter's trombone and personality. Recorded in France on October 16, 2019, one day before the late great Roy Hargrove's birthday (RIP), his new project, Live in Paris at New Morning, sees the Los Angeles player exploring works from his last two full-length albums, The Optimist and Force For Good. Digitally it's out June 12th, but you can purchase the single "Madiba" and pre-order the recording.
Joining Porter were Kamasi Washington (tenor saxophone), Jumaane Smith (trumpet), Brandon Coleman (piano; keyboards), Miles Mosley (upright; electric bass), and Tony Austin (drums). This was Porter's first voyage into Europe with his own band. Once he describes the song "Madiba" as a dedication to the way Nelson Mandela would walk to work, the added meaning gives more weight to the song. Then, over an 11-minute performance, you experience West Coast Get Down, and feed off the energy reset they provide as a collective. Bandcamp link here.
THEE SINSEERS, "WHAT'S HIS NAME" (COLEMINE RECORDS)
As part of the Brighter Days Ahead campaign from Colemine Records, this new single "What's His Name" represents the retro doo-wop soul accent Joey Quiñones has fortified. His project, Thee Sinseers, is the premier band in Southern California's "souldies" scene. He produces, writes, and plays nearly everything under this moniker. Keep on the lookout for more of this time-traveling project. Bandcamp link here.
KAITLYN AURELIA SMITH, THE MOSAIC OF TRANSFORMATION (GHOSTLY INTERNATIONAL)
"I guess in one sentence, this album is my expression of love and appreciation for electricity," declared west coast composer, artist, and producer Kaitlyn Aurelia Smith in The Mosaic of Transformation liner notes, her most recent release. It's the type of statement that makes a wisecracking cynic believe the kombucha Smith is sippin on, may have gone bad. And we're talking past SCOBY bad, for all you Bucha' heads.
But this is serious listening for times that benefit from concentrated meditation. Since 2013 the Los Angeles musician has continued to explore the endless possibilities of electronic instruments as well as the shapes, movements, and expressions found in the physical body's relationship to sound and color. This pursuit brings about a weighty labyrinth of synths, blankets of textures, and overall repetitive, calming sense of center-lowering blood pressure by the second—for any non-believer in such New Age pursuits. As weird as this audio presentation may sound to the non-yoga set, The Mosaic of Transformation works first as a coping mechanism settling the caustic nature of these disparaging times. Then, for those seeking ambient compositional pursuits of the avant-garde nature, a disarming sonic pattern unfurls itself, in vivid technicolor for the futuristic devotee. Bandcamp link here.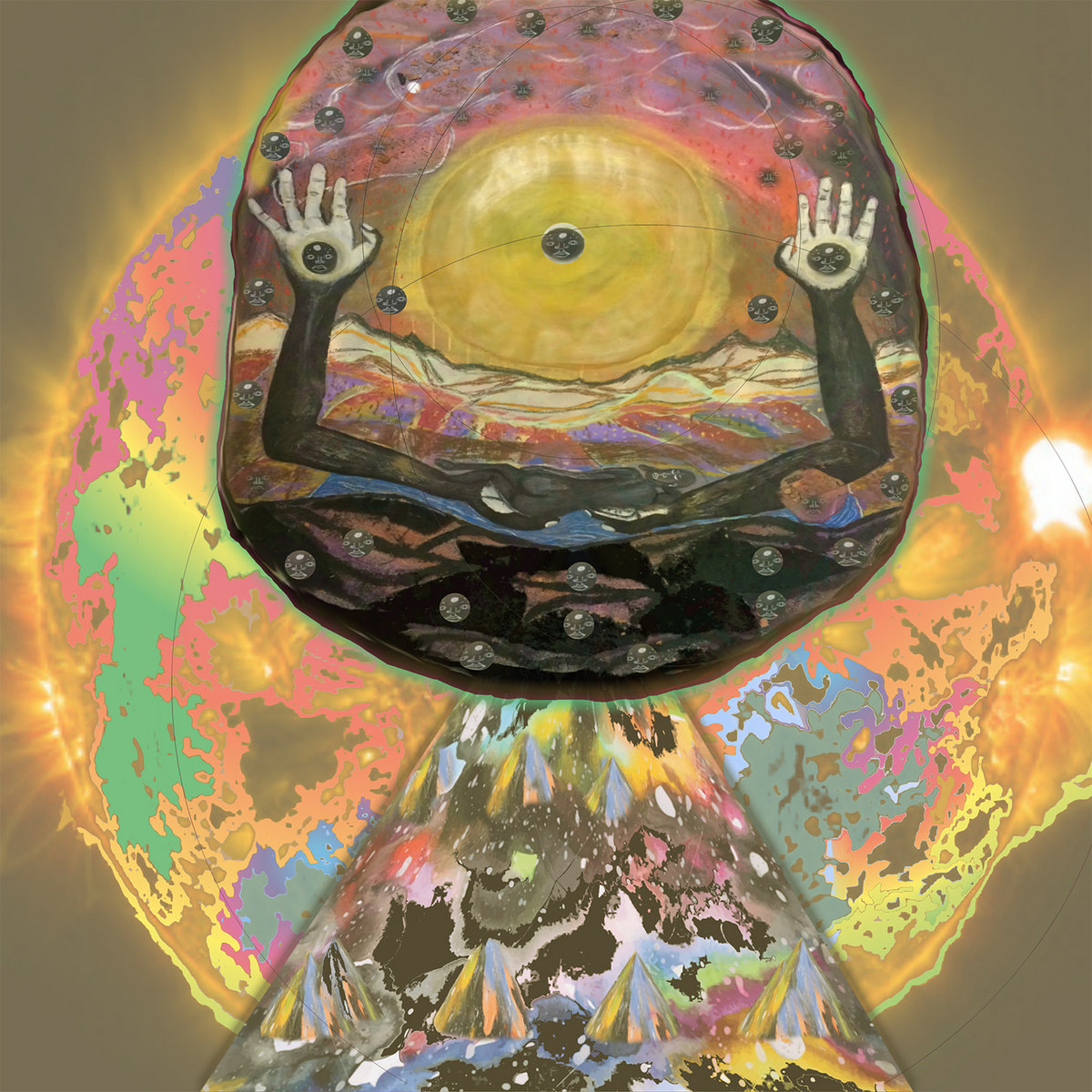 MOOR MOTHER AND NICOLE MITCHELL, "OFFERING – LIVE AT LE GUESS WHO"
MC/poet Camae Ayewa, aka Moor Mother, released this week a performance recording from Le Guess Who Festival in Utrech, the Netherlands in 2018. Understand. ANY release from Ayewa is always worth our time on this swiftly tilting planet. Her command of the written word, vocal presence, and musical output-from punk rocking free jazz to space electronic transmissions-puts the Philadelphia native in rare distinction. Offering – Live at Le Guess Who is an auditory science fiction experience piped directly into your subconscious by noise musician Moor Mother and the indefatigable flutist and composer Nicole Mitchell. Get ready to lock-on. Bandcamp link here.
BENT ARCANA, "THE GATE" (CASTLEFACE RECORDS)
Ever since John Dwyer used to conduct jam sessions in his living room during his San Francisco days, he always had a factory-type plan for releasing music. (Coming back from DJ gigs, work, or just snagging a taco, I would hear those living room rehearsals from the first floor of his 17th Street apartment in the Mission. It let me know I was home.)
Dwyer, who now lives in Los Angeles, has crafted this Motown machinery delivery system for his roster of musical projects. While Oh Sees remains the ultimate breadwinner, Damaged Bug, OCS, and the newly formed Bent Arcana represent different projects he chooses to release music under. This new supergroup, which features modular synthesist Kyp Malone, another former SF resident, (of TV on the Radio), drummer, percussionist, and vocalist Ryan Sawyer, electric and double bassist Peter Kerlin, saxophonist Brad Caulkins, keyboardist Tom Dolas, guitarist Marcos Rodriguez, violinist Laena "Geronimo" Myers-Ionita, tenor saxophonist Joce Soubiran, and percussionist Andres Renteria, promises to be yet another special occasion to check out what Dwyer got going on.
Bent Arcana are releasing their self-titled debut LP on August 21 ("The Gate" is the first single). Self-described as "very much on the ECM / '70s hard fusion / prog-kraut tip," it provides more templates of the ever-expansive universe of sound Thee Oh Sees keep on stretching out towards. "This is the first interstellar transmission from five days of electrified & improvised sessions recorded at Stu-Stu-Studio, edited down to 40 minutes for your earballs," Dwyer said in his statement. "Bent Arcana is the inceptive chapter in what I hope to be several releases showcasing these types of off-the-cuff musical compositions. So you can try your fry on and turn off. It is a many-pronged weapon, swung by the spontaneous sentinel." Right, thee fuck on, Dwyer. Bandcamp link here.