Saturday, Saturday, Saturday! Get ready for something truly compelling to watch while you continue your quarantine: Bay Area monster rap legends E-40 (Earl Stevens, 53) and Too $hort (Todd Shaw, 54), armed with their greatest hits and anecdotes, will appear together as "competitors" on the 22nd edition of a battle series called Verzuz TV.
Music producers Timbaland and Swizz Beatz launched Verzuz in March with their own friendly five-hour war of beats conducted over an Instagram Live broadcast. Subsequent events have averaged around two hours, with the participants taking turns playing significant songs from their catalog.
Many of the Verzuz events have involved rappers, though there have been a few curveballs — most notably, September's glorious Patti LaBelle and Gladys Knight battle, where shoes actually came off! (An event with Ashanti and Oakland's own Keyshia Cole was scheduled for Dec. 12, but was postponed until 2021 when Ashanti tested positive for COVID.)
The idea of a battle is loose in that there is no declared winner during the broadcast, but viewers definitely register their choice via memes and other social media commentary. Verzuz events tend to center on good-natured creative competition, but if you happened to catch the last one in November, when Jeezy and Gucci Mane commandeered Atlanta's Magic City strip club and brought up the time when Gucci real-life killed Jeezy's associate (in what was ruled as self-defense), you'll know that it's not without an occasional nail-biting moment.
Our Earl and Todd aren't taking their Verzuz to be a serious battle, in any case — they've been friends since they were kids and collaborators for years. They are looking forward to celebrating their multi-platinum selling careers and talking ish on Saturday. Neither initially found the idea of doing Verzuz appealing, but came to realize that it could be a memorable cultural moment, they explained during an interview with New York City's syndicated radio show The Breakfast Club on Monday.
After E-40 vs. Too $hort popped up on some wish lists, "I brought it up to Todd one day," E-40 told the show's hosts DJ Envy and Charlamagne Tha God. "I said, 'If they ever asked us to do Verzuz, would you do it?'"
"I wasn't interested," Too $hort replied, "'Cause I've said, I've got this body of work that I did, why should I step up or show off or prove anything? I'm like, bruh, I did mine! I got a cold run in — a rapper wishes he could get in the run I did."
"A rapper wishes he could have one of your runs," E-40 retorted. "I was on the same page as him, the same way — like, what do we have to prove? Then, I was like, you know what, man? This is for the culture, this is for hip-hop. I know they'll love to see it and we feel like this is a celebration."
"The main reason I'm excited is 'cause I always feel like the Bay Area doesn't get the proper respect it deserves in hip-hop, even though y'all influenced so much," said Charlamagne Tha God. "So, one thing I see Verzuz doing is it not only reminds people, it wakes people up, like oh s***, that came from that? That was them?"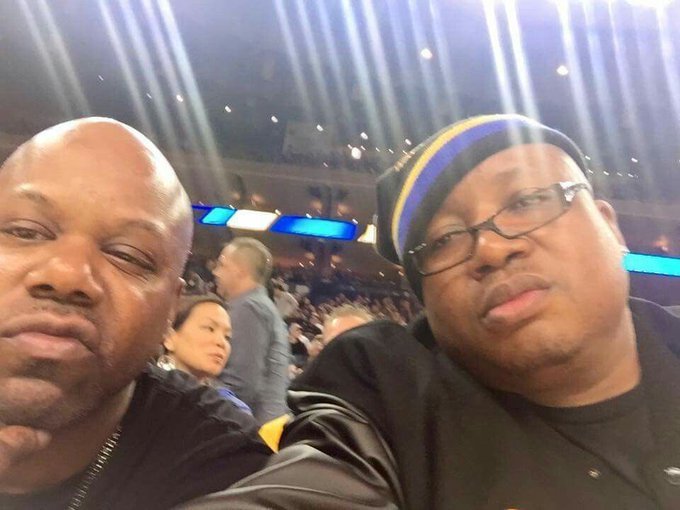 Even though it's going to be a friendly event, we can still indulge in a bit of pre-game analysis, a pursuit that has already become a sport in itself among Bay Area hip-hop fans this week. First, a note on my biases: My perspective includes a lot of fortunate personal observation of and affection for these two artists and businessmen. I've interviewed each of these architects of the Bay Area independent hustle multiple times for various projects over the past 16 years (when they were already considered veterans in the rap world), and they've both been incredibly generous with their opinions and memories.
One of them wishes me a happy birthday every year, and the other once sent me a thank you note by snail mail. I even got to sit on the floor behind a cameraman on Too $hort's iconic "Blow The Whistle" video shoot in Oakland in 2006 and inhale some true hip-hop history.
In terms of mainstream markers of music success, Too $hort has six RIAA platinum-certified albums (for sales in excess of one million) and three gold albums (for sales over half a million). They both began their music careers in their teens — Too $hort is the one who started first, and who influenced the other as a mentor to a "young mustache" soaking up game. Too $hort undoubtedly helped shape E-40 in his formative years.
For his part, E-40 has three gold albums, one platinum album and had a platinum-certified single as recently as 2018 with "Choices (Yup)," which is a certificate that Too $hort has surprisingly never gotten, despite the continuing ubiquity of "Blow The Whistle" over a decade after its release. E-40's hyphy anthem "Tell Me When to Go" was certified gold in 2016, 10 years after it came out.
E-40 now has a more robust catalog of albums and has maintained an ambitious release schedule for years. He used to describe it as, "making like a pregnant lady and coming out every nine months," but he is far more prolific now — he's dropped multiple albums in a single day on more than one occasion, and may have more name recognition with younger listeners from recent guest appearances on other artists' songs.
When it comes to the stories they'll tell on stage, it should be a draw — and quite page-turning! They'd both tell you that E-40 employs a more extensive vocabulary and varied lyrical delivery in his songs, but there's no underestimating how much Too $hort has put one word — his favorite word — into circulation, not to mention Shorty The Pimp's prevailing subject matter.
If we're considering attire, there's a reason that E-40 has been known as Mr. Flamboyant since the Eighties. Expect him to sweep the event with something special, like some eyeglasses made out of the Hope Diamond or a robe from the Versace Spring 2025 runway show.
Though E-40 and Too $hort have always spent a lot of time in their own studios making music, they've been particularly productive while in quarantine and will both release new music on Dec. 18, the day before the Verzuz event. It's a joint double album: Too $hort's is called Ain't Gone Do It, while E-40's is called Terms & Conditions.
They've also spent time in 2020 collaborating long distance with their buddies Ice Cube and Snoop Dogg, the scope of which we may hear more about in time. And E-40, who has spent the past five years at the helm of his own beverage empire, is about to venture into the world of packaged foods as Goon with the Spoon.
If you want to be real cute about how you consume E-40 and Too $hort's Verzuz event, which starts at 5pm, Sat/19 (watch live on Instagram or via Apple Music, which archives the audio), grab a bottle of Sluricane and get ready to toast Mr. Flamboyant and Shorty the Pimp — Earl and Todd, as they represent the Yay Area.