Tommy Oliver, the filmmaker of 40 Years a Prisoner, cannot remember how old he was when he first learned about MOVE. In his hometown of Philadelphia, the Black liberation organization founded in 1972 that espoused animal rights and a back-to-nature philosophy under the leadership of its founder John Africa was woven into the fabric of city lore. 
Two horrifying incidents defined the group's history. In 1978, police surrounded MOVE's home, precipitating a stand-off that left one cop dead and nine MOVE members facing life in prison. Seven years later, the police firebombed the rowhouse MOVE occupied, killing six adults—including John Africa—and five children, and setting off a conflagration that consumed 65 houses.
"I didn't know what it meant," says Oliver. "I don't know who they were. I knew there was some sort of group, there was some sort of bomb, and that was it.
"A long time after that, I wound up finding myself going down the research rabbit hole. and I read book after book, article after article. I watched everything I could and I went back to Philly to the Temple University archive, where they have boxes of stuff [on the group], and I went through much of it."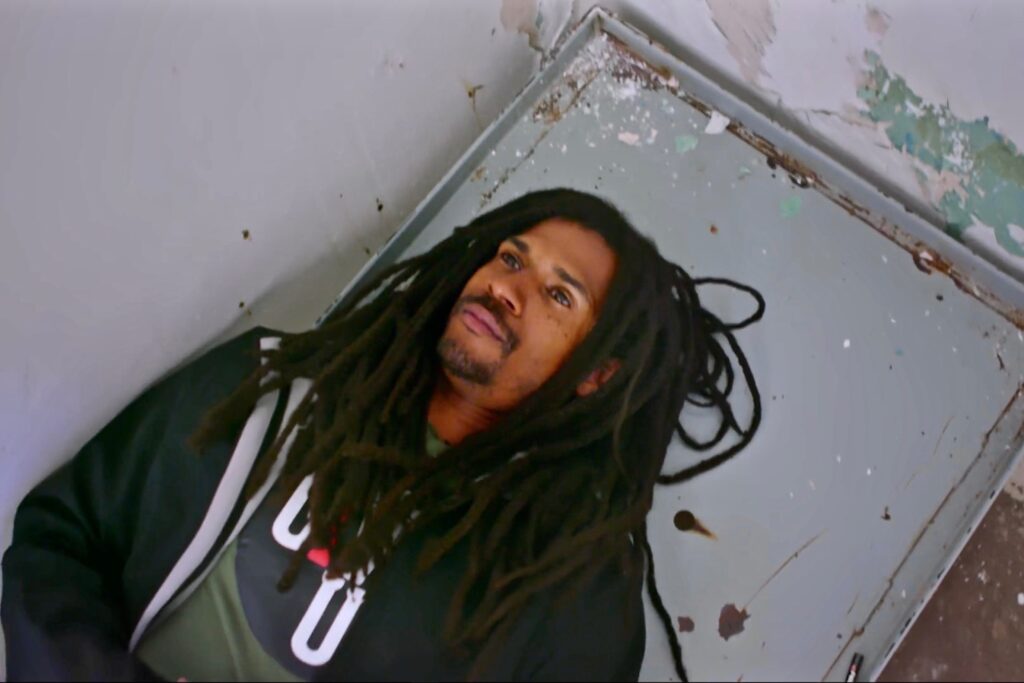 That intense research led Oliver, whose work includes the 2013 drama 1982 and the Oprah Winfrey Network docuseries Black Love, to make 40 Years a Prisoner. The documentary made its world premiere at September's virtual Toronto International Film Festival and was the opening night selection of SFFILM's DocStories ahead of its Dec. 8 HBO debut.
The filmmaker keeps his focus narrow, stepping clear of an exhaustive history of MOVE to focus on the 1978 stake-out and the MOVE 9's decades in prison.
"There was no road map," says Oliver. "There was none at all. There was no definitive account of what happened and it really came down to wanting to tell a balanced story, wanting to tell an honest story, and one that looked at the complete picture. That is very different than how things were portrayed in the '70s and how the media represented or misrepresented the situation. That was what I wanted to do and that was what I was going to do."
As part of his research, Oliver met MOVE members, including Ramona Africa, who introduced him to Mike Africa Jr. The two men became fast friends, discovering they shared the experience of childhoods marked by absent parents and a deep yearning for a father's love. Mike filled in gaps in Oliver's knowledge, teaching him that seven of the MOVE 9 were still in prison—and that two had died there.
Nor had Oliver heard the story of his new pal's birth, which took place in a cell a month after his mother Debbie Africa was jailed. Mike Africa Jr. spent his life shuttling between the prisons where his parents were incarcerated. In his early middle age, by then a father himself, his dedication to seeing his parents and their confederates did not flag. That drive became the emotional core of 40 Years a Prisoner.
"To learn that he had committed his entire life to getting them out was a lot," says Oliver. "And all this from a person who was happy and positive and didn't have a shred of bitterness about him despite having every reason to be bitter and angry.
"I found that really beautiful because ultimately he was just a kid who wanted his parents home."
40 Years a Prisoner unreels along two tracks: Mike Africa Jr.'s fight on behalf of his mom and dad, and the story of what happened at the house at 311 N. 33rd Street in West Philadelphia's Powelton Village neighborhood on August 8, 1978. MOVE members, journalists, lawyers, and police who were on the scene that day are among the people Oliver interviews in his search for the truth of the matter. In the film, history comes alive, and is given a beating heart by Mike Africa Jr.'s passionate struggle.
Oliver's film arrives in a year that saw the murders of Breonna Taylor, George Floyd, and other Black people at the hands of police, events that led to massive protests in the midst of a worldwide pandemic. The filmmaker acknowledges that 40 Years a Prisoner mounts the world stage at a seemingly auspicious moment, but he cautions that the 2020 killings, the actions against MOVE, all the injustices that have accumulated over the years are part of a continuum.
"It's an interesting thing, because Black lives don't matter anymore to me today than they did a year ago, or five years before that, or 10 years before that," Oliver says. "They just seem to matter to other people or to the media more, so this film didn't change as a result of what was happening. This is a film that I was making before all of what happened. and I would have made regardless of if those things happened or not. My preference would have been for them not to have happened.
"There is a real sadness around the fact that this film is as relevant as it is. But the truth is unless we do something, unless we start to address the systemic issues, this film will continue to be relevant, and we will look up and it'll be 15 years from today and we'll be like, 'Man, I can't believe how relevant this film is. And if that happens, that is a failure.'"
Watch 40 Years a Prisoner on HBO Max.