The national media landscape seems more like a hellscape when it comes to the essential local reporting that underpins democracy—more than 11,000 journalists lost their jobs in the first half of this year, and newsrooms have shed half their staffs in the past 12 years. And now that we've witnessed what can happen when news is weaponized, rebuilding local newsrooms is a vital mission in reviving trust in journalism and restoring actual facts to their rightful place at the forefront of any necessary discourse. We've got a lot of work to do.
So it warms my heart to read the list of 15 independent local media outlets coming together in the new Save SF News donation campaign, which is raising funds over the next month to help us all continue reporting on the local stories and issues. It reads like a gleaming map of the city, an illuminating patchwork of deep local reporting, community news and arts, and overall SF spirit:
Bay Area Reporter
Broke-Ass Stuart
El Tecolote
48 Hills (that's us!)
FunCheap
Ingleside Light
Nichi Bei Weekly
Noe Valley Voice
Potrero View
Public Comment
Richmond ReView
San Francisco Bay View
Sunset Beacon
Westside Observer
Wind Newspaper
Spearheaded by Alex Mullaney, publisher of Ingleside Light, this is the first time something like this has been attempted. Donors to the newly formed SF Independent Press Association have a choice of specifying an individual publication to support or giving to the general fund, which will be split between us. Mullaney was inspired by a similar effort earlier this year in Chicago, which generated $160,000 for more than 40 newsrooms.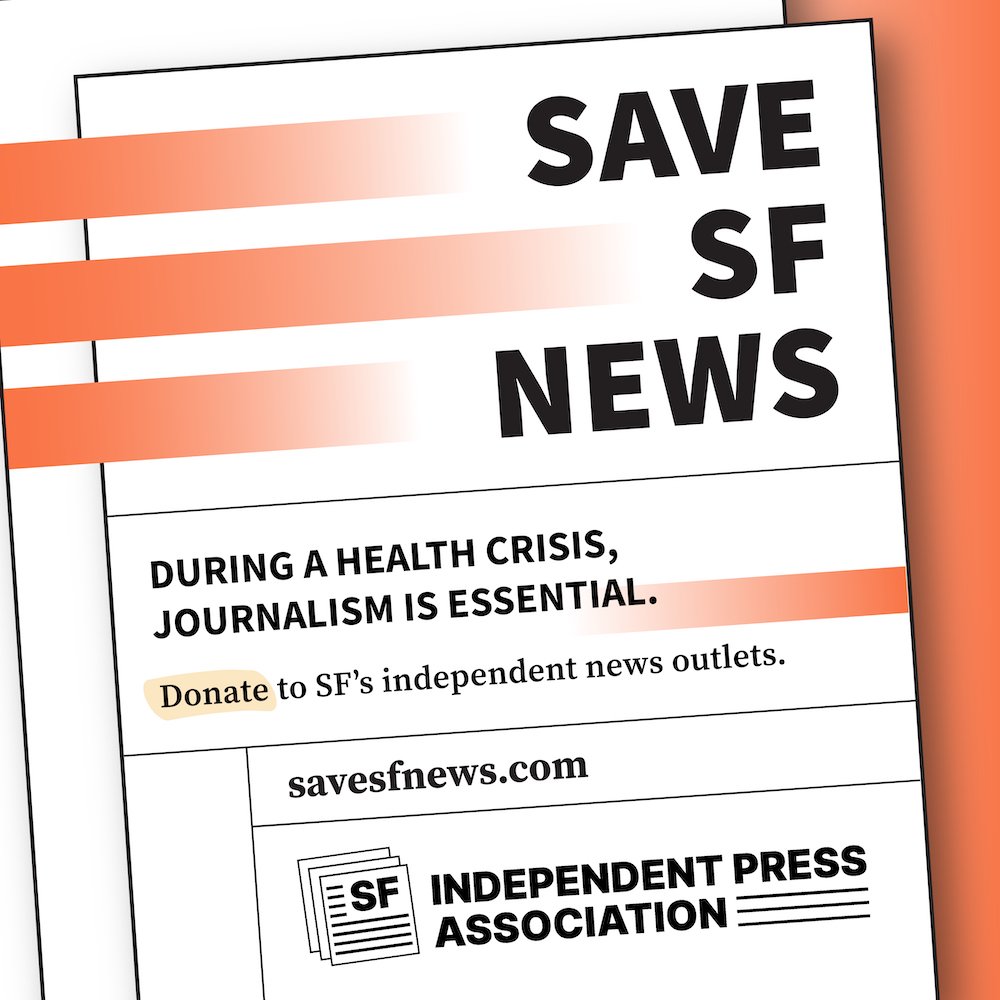 As the Save SF News press release puts it:
Local reporting has been essential during the shelter-in-place public health orders and local and national elections, highlighting issues that matter and institutions that needed help. Local publications acted as community resources that readers turned to when they needed assistance of their own.
In the past decade, many San Francisco press outlets have closed, reduced output and changed ownership, and consolidated. The tech boom has not led to a renaissance for the city's local media.
"San Francisco's independent press fights for the city — its art, culture, people, businesses and institutions," says Mullaney. "A rich city needs a rich variety of journalism."
I hope it's the start of a long collaboration to keep our local news diverse, independent, and shining through.
You can donate to help us all out here!