At the end of 2020 and into 2021, we're publishing our Best of the Bay 2020 Editors' Picks, highlighting some of the tremendous people, places, and things that made the Bay Area shine during one heck of a year. View the growing list below—and see our Best of the Bay 2020 Readers Poll winners and our Readers Stories of Resilience here.
Have you wandered yet through the Old Oak Woodlands of Golden Gate Park, the lovingly sculpted, perfectly clandestine trail through groves of San Francisco's only indigenous trees? Steeped in history, the Woodlands—with their quiet and winding paths—were an almost perfect substitute for actually travel this past year. They lift you, at least for a moment, out of the city and into another, anciently shaded time and landscape, a more-than-welcome unfamiliarity.
The Woodlands trail is new (it opened in early 2019), but it's just one of the dozens of joys that we discovered and rediscovered, as Golden Gate Park became the city's prime locus for exercise and fresh air during the travel-discouraging pandemic. The park even seemed to expand under the weight of this new enthusiasm—it seemed you could spend entire weeks visiting fluffy buffalo, funking out to roller disco, comparing impossible ferns, and observing how other humans were adjusting to lockdown life.
Of course, the big news was that 2020 was the 150th anniversary of the great park's opening—although a planned grand celebration was prevented from full realization. While the glorious Ferris wheel stood idle, however, the park did its best to perk up tired souls and accommodate pent-up energy. Psychedelic projections covered the Conservatory of Flowers every evening, transforming it into a Flower Power music box, and new art pieces sprang up, like the lovely Entwined, in Peacock Meadow, with its lightbox-tipped metal trees.
In a disorienting inversion, the park stood in for downtown's normally bustling streets: Along its sun-drenched, car-banned streets—can we keep this permanent please—you encountered every type of San Franciscan doing every type of San Franciscan thing. (Another inversion: Without tourists, or regular contact, our neighbors provided fascinating people-watching.) A retro logo design hailing the park's birthday became the must-have "I went to the big park in my own city and all I got was this lousy t-shirt" faux-souvenir of the COVID year. It was pale-but-cute consolation for the cancelled Hardly Strictly festival and other big events, and transmitted civic pride.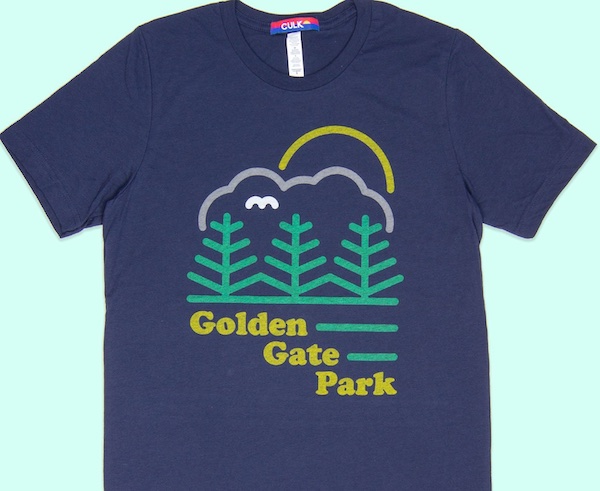 Parks of all sizes became such essential outlets this year, re-introducing everyone to the importance of outdoor public space—and the instant feeling of community that comes with it. Golden Gate Park's anniversary celebration may have been muted, but its importance and beauty shone bright nonetheless. —Marke B.