When a photographer focuses a lens on whatever fascinates them in the moment, and the moments change as much as they have in the past year, images become a time capsule. For over a year, Oakland photographer Lisa Levine has been working on a series called Virtually No Place Like Home, an exploration of personal identity that has taken on new meaning since the early days of shelter-in-place. Levine's photographs of solitary houses speak of physical and social isolation, loneliness, and imposed exile while exploring our sense of safety and comfort. 
"Exteriors become the only way to signal to others just who resides within the walls and what might be important to the inhabitants," Levine said. She looks for unique qualities that are expressed in the exteriors—what makes them homes, not just houses, and what is invested in them. Elements are revealed and made evident through vestiges of culture which uncover the origins and personal identities held within.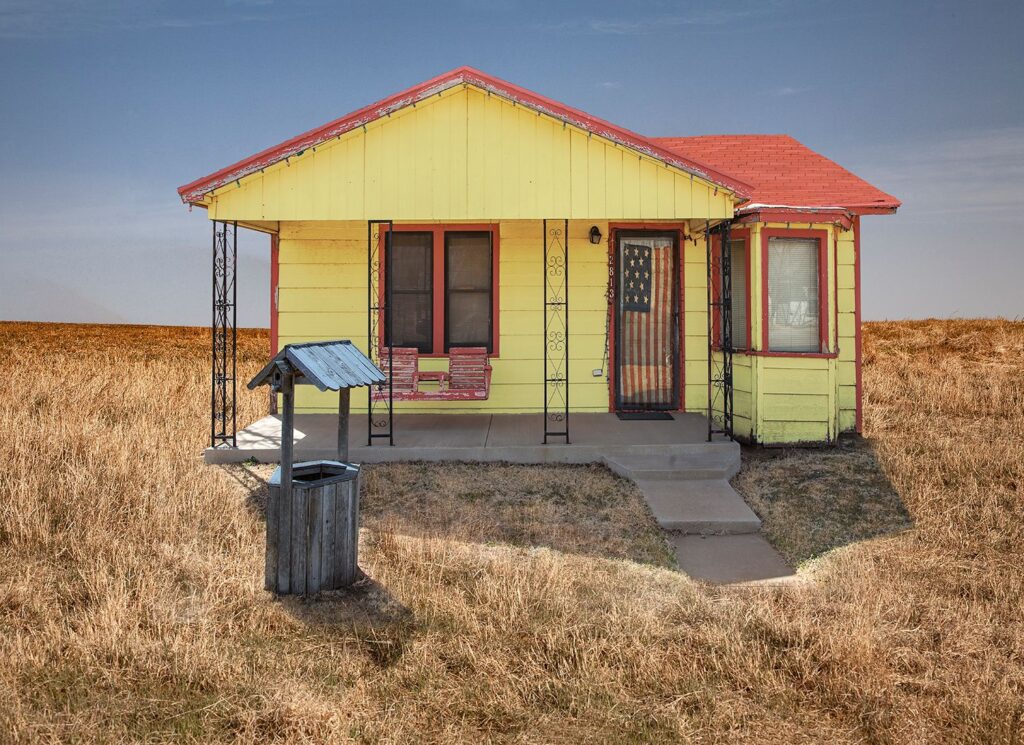 The project also investigates the Americana of small towns that are potentially at pivotal points due to the pandemic. As migration has begun with people moving away from highly populated urban areas and resettling in areas of lower density and affordability, Levine bears witness to the opportunity for renewal in places that have been economically depressed and the inevitable transformations that will occur, welcome or not. "Many of the houses I photographed for this project will eventually be torn down and built anew as these small towns become new destinations for those seeking change," she said.
Levine lives in Alameda and has maintained a workspace in the Ford Street Studios in Oakland's Jingletown neighborhood for nearly thirty years. A native of Brooklyn, New York, she moved to the Bay Area for love. Her first encounters with photography were in childhood. "My brother and I turned the bathroom of our small Brooklyn apartment into a darkroom. Balancing trays of chemistry over the little sink, we would make contact prints of negatives from a Brownie camera," she said.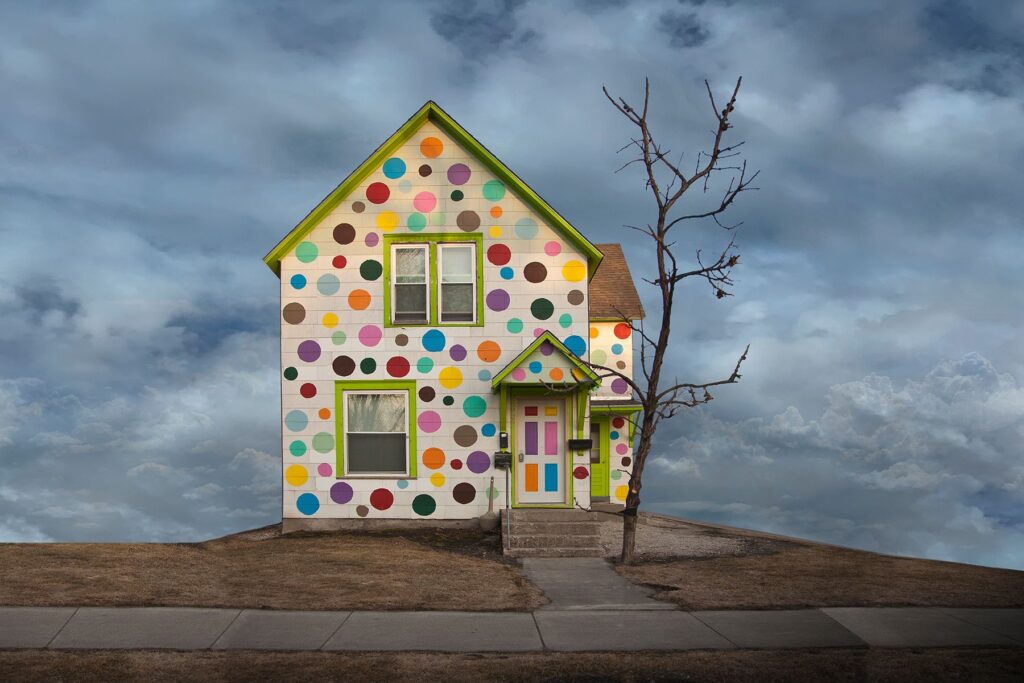 Those early experimentations with photography were magical to Levine, leading her to studies at the High School of Art and Design in Manhattan and the School of Visual Arts in New York. She did her graduate work at CUNY-Brooklyn College.
Working mostly with digital photography, her subjects begin as random interface. She looks for the connective tissue of separate elements in images, then sets out to explore them in a more disciplined way. Music and dance inspire her work, too, citing the soundscapes of Brian Eno and choreography of Ohad Naharin as parallels to her approach to composition. For example, the photographs in her Swim series are aerial views of people in swimming pools, rivers and beaches in patterned montage with a focus on the movement of the water, movement in each individual swimmer and the movement across the piece as a whole.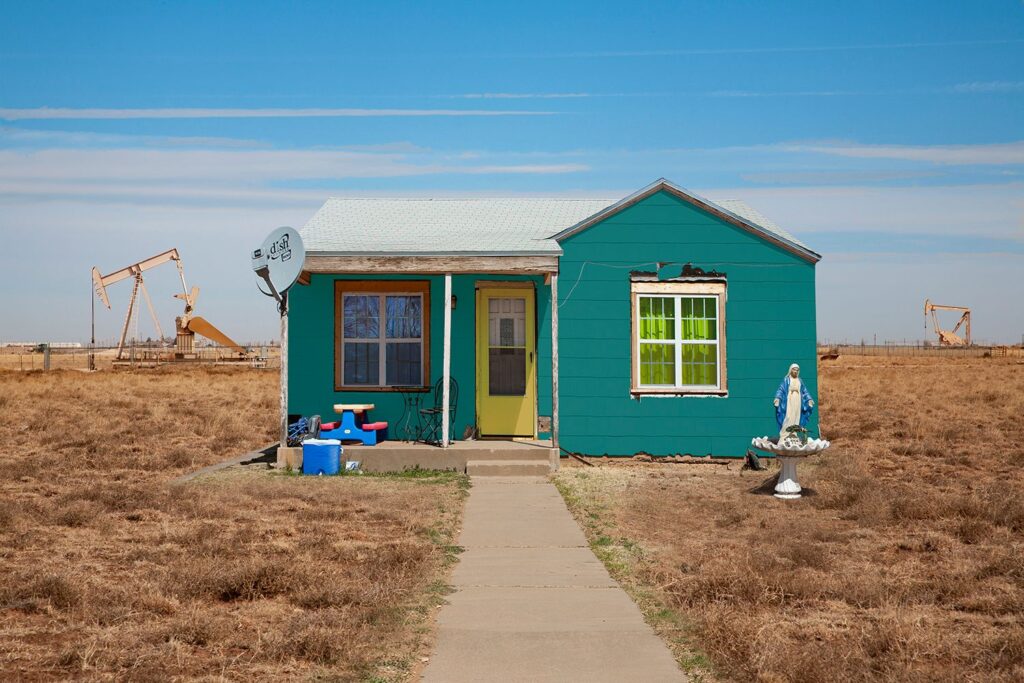 Levine has also developed a series of works based on construction sites entitled Construction/Deconstruction. She revels in the energy and rhythm of the urban cycle and the monumental human ingenuity that is used to construct large scale buildings, citing Walt Whitman's poem, Crossing Brooklyn Ferry as a deep inspiration. "I love the cranes, steel pillars, and concrete rebar, the stuff of construction that speaks of the rhythm and geometry of cities and the massive scale of human energy that goes into this form of creation," she said.
A day in the studio starts out by printing digital images to take inventory. Then, studying each print from a variety of perspectives, Levine determines in which direction to move forward. Some images take on qualities more evocative of a painting or textile art, evident in both of her series, Abstract/Concrete and Past Tense. Sometimes a juxtaposition of fantasy vs. reality takes place, as seen in the photographs in her series, Somewhere. "In that group of photographs, I'm exploring my own movement throughout one particular space so that the images as a whole convey many perspectives on the same location," she said.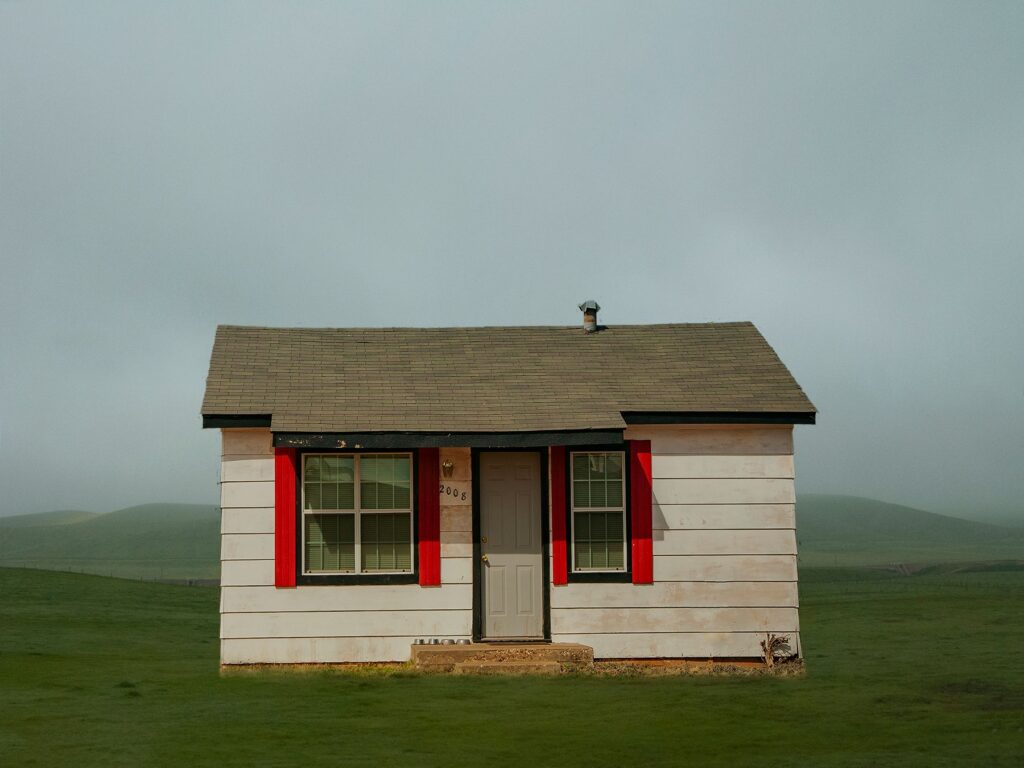 Levine's work has been exhibited internationally and is in various corporate and public art collections. She was featured in the de Young Open exhibition and has several privately commissioned works underway. Her work is represented by the San Francisco Museum of Modern Art Artists Gallery, Danielle Wohl Fine Art, and Slate Contemporary Gallery. She has taught photography at Cal State University East Bay for over a decade and teaches at the Academy of Art University in San Francisco. 
Levine hopes viewers can pick up on her particular fascinations and have a similar experience to her own. "If I can connect people with the sensations I am feeling, then the work is successful," she said.
For more information, visit her website at LisaLevinePhoto.com.