Six San Francisco supervisors spoke today about their support for a public bank, guaranteeing that a measure just introduced by Sup. Dean Preston will be sent to Mayor London Breed.
The legislation would set up a task force composed of banking industry experts, community members, and a representative of the offices of the treasurer and controller that would have a year to craft a business and structural plan.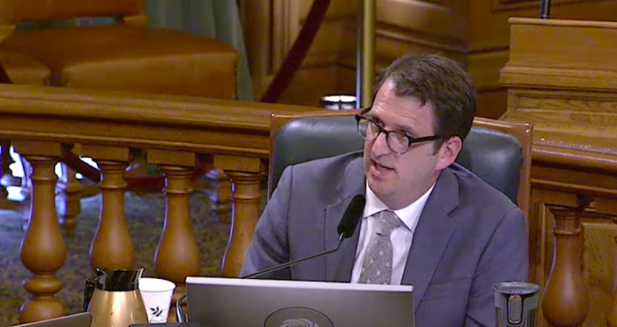 The proposal would have to go to state banking regulators for approval.
The details are, of course, not clear yet, but it the task force comes up with a workable plan, San Francisco could be the first city in the nation to have a municipal public bank.
The model is North Dakota, which has had a public state bank since 1919.
Speakers at a press conference made several points about the concept, including social responsible investing, community services, and affordable housing.
Jackie Fielder, who has been a leader in the public bank movement for several years, said at a press conference that "we can't trust $13 billion to Wall Street." That's the amount of city money that now flows through private banks every year.
Preston said that the impacts of the COIVD crisis have not been felt evenly in society; while many small businesses have failed and people have lost jobs and face eviction, the billionaires have prospered.
"This is not a bug but a feature of capitalism," he said. "Public banking is a visionary and essential step toward a more just and sustainable society."
Board President Shamann Walton said that "now, more than ever, it's important to look at the impacts of COVID on small businesses and individuals, and we need community institutions that don't make money off tragedies." He said a public bank could be a way to "eradicate the check-cashing places that take advantage of people."
Sup. Hillary Ronen said that "we know banks invest in many places that have a direct impact on the environment. Saving this planet is our biggest overall need, and that can only happen if we control these dollars and where they go."
She also said that a public bank could help the city buy out and municipalize PG&E to create more sustainable energy.
Sup. Myrna Melgar said that "the private market will not solve our affordable housing problems." A public bank, she said, "will allow us to develop new models of shared ownership and social housing."
Sup. Connie Chan said that she knew personally "how challenging it is for immigrants to negotiate the banking system. Our banking system has always been rooted in racism."
Fielder said that there are many details to work out. The Bank of North Dakota is mainly a "bankers' bank" that sends money to small community credit unions. The bank could also do direct consumer banking and finance everything from affordable housing to green energy.
It's hard to overstate the potential importance of this idea, which could become a national standard. I can't imagine how Mayor Breed could veto the bill, and I suspect there will be two more supes on board by the end, which would guarantee a veto-proof majority.