Jamaica Hampton's friends and family were heartbroken when Hampton was shot by police in December 2019 on 23rd street after attacking SFPD officers Sterling Hayes and Christopher Flores with an 8.5- inch bottle of Grey Goose vodka and then fleeing.
He sustained injuries that hospitalized him for three months, forcing his left leg to be amputated, and permanently damaging nerves in his left, dominant hand, which may never regain full function.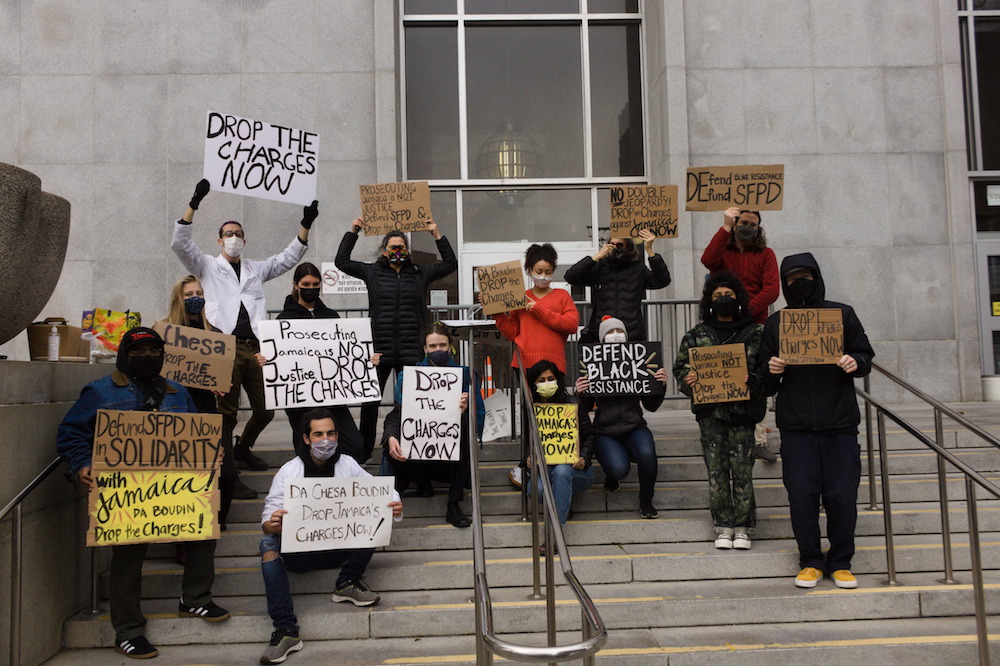 This morning, more than a year later, Hampton was due for his arraignment in court, but a dozen supporters, including friends and acquaintances, gathered outside the Hall of Justice to say enough is enough.
"DA, drop the charges!" they changed. "Justice for Jamaica.
Hampton was originally booked on charges of assault with a deadly weapon, assault upon a police officer, and threats to an officer, shortly after the shooting. Ultimately, those charges were withdrawn in January 2020 and Hampton was never arraigned.
Boudin then indicted Hampton on similar charges: four counts of felony assault with a deadly weapon, a felony charge for battery on a peace officer, and two felony counts of resisting arrest.
According to the DA's office, because the vodka bottle was used as a weapon, and is an object "capable of severely injuring someone used in a dangerous way with the intent to harm," the bottle is considered a "deadly weapon."
One of the officers, Flores, shot Hampton once after he had already been shot twice by Hayes, as he was crawling on the ground.
At the same time as Hampton's indictment, Flores was indicted and Boudin charged him with assault with a semi-automatic firearm, negligent discharge of a firearm and assault by a public officer, with two charging enhancements of personal use of a firearm during a felony.
That, and another police indictment, was a remarkable change from past district attorneys, and represented the first time in decades that a copy has been charged with a crime for shooting someone.
Hampton's public defender, Danielle Harris, said that Hampton has already received enough punishment for his crimes by suffering two permanent disabilities at the hands of the police officers who shot him, who did not attempt to de-escalate the situation before shooting Hampton, as is required by SFPD's use of force policies, and that the seven charges filed against her client should be dropped.
"The notion that [Hampton] needs to be punished more than he already has been is absurd," said Harris. "Jamaica received a kind of street justice, if you will, that is far beyond what the legal system could legally do…He lost his left leg… Jamaica has a lifetime disability and pain and suffering that comes from losing a limb."
Protesters, whom included organizers from the Do No Harm Coalition and Defund SFPD Now, some of whom were friends of Hampton, said that Hampton was a victim of a policing system that uses excessive violence on people experiencing mental health crises, rather than a deadly threat.
Boudin's office said that people are discounting the fact that Flores, who shot Hampton after he already was shot twice in the left arm and was crawling on the ground, has also been indicted.
"The grand jury indicted Mr. Hampton after hearing the evidence," Rachel Marshall, Boudin's director of communications, told us. "It is important to remember in this particular case that Mr. Hampton is not the only one who has been charged—but so has Office Flores. Mr. Hampton is a victim of Officer Flores's actions and vice versa. We are prosecuting Officer Flores as well for the serious harm he caused Mr. Hampton."