In recent decades Frida Kahlo, who died in 1954 at age 47, has become the kind of pop icon whose cult status threatens to overshadow her actual life and work. But the reasons for that adoption as a symbol—for many things, from feminism to creative individuality to Mexican cultural pride—made that stature almost inevitable, as unlikely as it might have seemed during her lifespan.
While they elicited as much puzzlement and alarm as admiration during her lifetime, her paintings were easy to embrace later, as they anticipated conceptual and performative trends in modern art that would surface soon after her death. Her specific playing with identity and gender, embrace of ethnicity, frank portrayal of the female body, and other themes likewise resonate now more than ever—not to mention the bisexuality and radical politics she practiced off-canvas. She lived a highly dramatic life as an artwork in itself, one that naturally lent itself to much posthumous fascination and interpretation.
Besides biographical tomes and documentaries, she's been portrayed or paid homage in operas, novels, ballets, plays, and other media, including a US postal stamp and a street here in SF (the former Phelan Ave., renamed Frida Kahlo Way two years ago). If it's sometimes hard to separate the cumulative mythos from the real woman or her art, that is part and parcel to the persona she carefully constructed.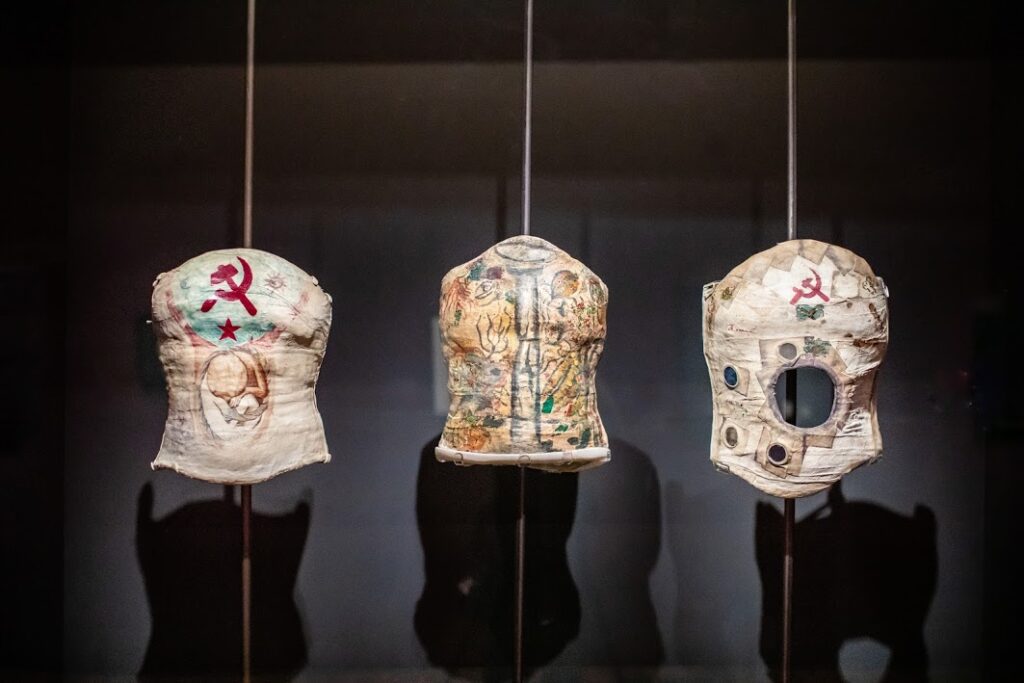 Offering considerable help in that quest is the DeYoung Museum's current exhibit Frida Kahlo: Appearances Can Be Deceiving, which was postponed from its original opening earlier this year due to COVID, but is now up and running through February 7. This isn't so much a retrospective of her paintings as a multimedia biography that encompasses her own works (including sketches and one-off experiments) with photos, jewelry, a "home movie," miscellaneous memorabilia, and other elements tracing a biographical chronology.
It includes pictures of her upbringing in a well-to-do Mexico City family, a childhood marred by polio; others of her extensive travels with famed muralist husband Diego Rivera, as well as of their longterm houseguest Leon Trotsky. There are the plaster medical corsets (painted with hammer & sickle) she was compelled to wear amidst never-ending health crises generated by a streetcar accident at age 18. A large display of outfits reflect her distinctive Tehuana sartorial style, which made a major impression on the socialite A-list of San Francisco and other U.S. cities where already-renowned Rivera had residencies in the early 1930s.
It's an immersive experience that is ideally experienced by those already at least somewhat familiar with Kahlo's work, since while it includes a fair amount of her painting (including numerous self-portraits and a fascinating wall of quasi-religious retablosminiatures on metal), the most famous signature canvases are absent. Those who seek a Kahlo intro or refresher before diving in can do their cramming via a couple immediately-available local cinematic options. 
As of this Friday, Roxie Virtual Cinema is adding the new UK documentary simply called Frida Kahlo (more info here), which offers a succinct 90-minute overview of her often tumultuous life, as well as analysis of such key works as "The Two Fridas" and "My Nurse and I." Ali Ray's film consults experts, biographers, surviving relatives et al. to locate place its subject within 20th-century art history as an innovator and iconoclast. She was admired by the surrealists even if she did not consider herself to be one. Quite likely even they grew a bit faint-hearted at such bold strokes as her being almost certainly the first painter to illustrate (among depictions of her own miscarriages, surgeries, and so forth) vaginal blood. It is noted that among just two solo exhibitions she enjoyed while alive, she attended the last literally on her deathbed—which was wheeled into the gallery. 
That mordant embrace of morbidity, among other flamboyantly individual qualities, made Kahlo a good subject for the surreal visual imagination of stage (The Lion King) and screen auteur Julie Taymor—certainly more so than the very pragmatic Gloria Steinem in recently -eleased The Glorias. Playing just this Sunday night at the temporary Fort Mason Flix drive-in is the director's 2002 Frida, the best-known dramatization of its subject's life to date. Salma Hayek plays the title role, Alfred Molina is Rivera, Geoffrey Rush essays Trotsky, and other historical figures are played by the likes of Valeria Golino, Diego Luna, Roger Rees, Ashley Judd, Antonio Banderas and Edward Norton. It's an uneven but ambitious and imaginative treatment. More info here: 
If that's still not enough, the DeYoung is also offering numerous supplemental programs including a series of "Local Voices" perspectives. You can find more info here.