Editor's note: State officials have fined San Quentin Prison almost $500,000 for health violations related to COVID. The state's Office of Inspector General has reported that prison officials set off a "public health disaster.
Our correspondent describes what the situation was like inside the prison as the disease spread.
At San Quentin Prison, Daniel Kramer and others lived in extreme fear of contracting COVID from their cellmates.
"Being in a cell with someone who has COVID-19 was extremely stressful, not know when or if you're going to catch it," Kramer said. "Some days I wondered if I was going to wake up or not."
On June 20, North Block was put on quarantine due to an incarcerated person testing positive for COVID-19, according to a California Department of Corrections and Rehabilitation Program Status Report.
On June 22 and 23, medical staff tested the whole North Block, designed to hold 419 people but which held more than 700 people at the time, for COVID.
Carrington Russelle, Kramer's cellie, said medical staff started checking his blood oxygen levels on June 26, but nobody told him why. The 34-year-old had a pounding headache, chills and a lingering cough, but no fever.
On June 30, both Kramer and Russelle, received their test results through the mail, from the California Correctional Health Care Services. The results indicated Kramer tested negative but Russelle tested positive. The notice was dated June 24.
Being confined with COVID put Kramer in grave danger. The Black 51-year-old has high blood pressure and has survived Valley Fever. "I asked for a move but they left us in there," Russelle said. "It was frustrating because I feel like they forced me to put my cellie's life at risk. If I refused to lockup, I risked getting a 115 [disciplinary write up] that would jeopardize my getting out of prison."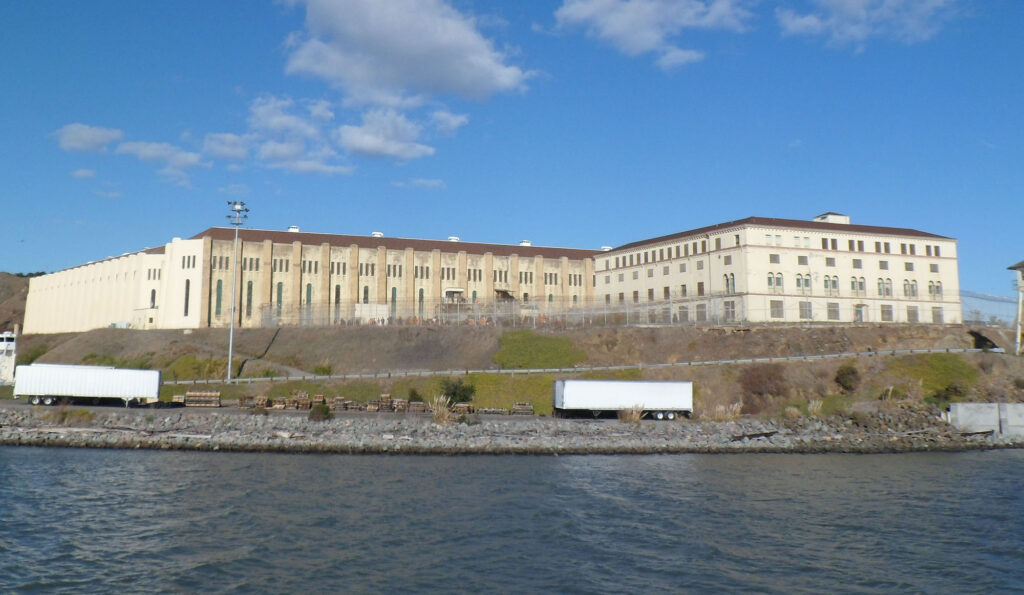 Dozens of incarcerated people who tested positive for COVID were moved to isolation from North Block between June 24-27. Others were told they were going to isolation too. The remaining moves were canceled because, with hundreds of positive cases breaking out, there was no more room.
"[I]solation of patients at San Quentin … is like a delicate game of chess," Dr. David Sears testified at a July 1 State Senate Public Safety Hearing. "California prisons are already over 100 percent capacity and every square in that chessboard has one or two pieces already on it."
Dr. Sears was part of a group of health experts who toured San Quentin on June 12. They warned prison officials that the only way to stop the outbreak would be to reduce the population by 50 percent. Prison officials refused to release that many people.
Due to the lack of space in isolation, as many as 238 positive cases were left in North Block, with the rest of the population, according to what an incarcerated person overheard a corrections officer say.
More than 42 cells in North Block were left vacant due to all the isolation moves but Russelle said he was never moved.
Russelle also said that an officer told him the medical staff is in charge of moves — but a nurse told him that she sent an email requesting that he be moved to an empty cell.
"They did a million unnecessary moves. Now one that makes sense, you don't want to do," Russelle said.
Russelle refered to being separated from his former cellie and moved into the cell with Kramer just a couple of weeks before the June 20 quarantine of North Block. He was told he was being moved to make room for someone coming to the building to have a lower bunk. Russelle doesn't recall anybody ever taking his place in the former cell.
Ronald Carter, 55, was also housed with someone who tested positive for COVID. His cellmate received his results via mail the same day as Carter.
"It was fearful, living with COVID in the cell with my underlying health conditions," Carter said. I wore my mask in the cell."
Carter, a Black man, has a weakened immune system from having Castleman disease, high blood pressure, and kidney disease, he said.
Medical staff retested Kramer and Carter on July 6. Kramer tested negative again while Carter's results reflected that he had contracted the disease. "I'm not Dr. Fauci, but if my cellie didn't give the virus to me, I'd be surprised," Carter said.
To combat the spread, San Quentin went on a two-week full lockdown on July 14, to rid the prison of the Coronavirus — with Scott and Carter, Kramer and Russelle still confined together.
Too late to protect Carter, tents were built on the yard at San Quentin and bunks placed in its chapels and furniture factory to accommodate isolating the huge amount of positive COVID cases after they skyrocketed into the thousands.
Somehow Kramer has tested negative for the virus more than 10 times, while Russelle has been cleared of COVID and has recently moved. No one has tested Kramer's blood for antibodies.
Carter received a new cellmate after Scott moved in early August. Carter's new cellie, whose English is limited, moved in sick.
"He said he's positive from what little information I can understand out of him," Carter said. "He's coughing all night."
Governor Gavin Newsom planned to release 8,000 people from California prisons, seven percent of the total population, by late August, according to a KTVU news report.
As of Aug. 30, at San Quentin, more than 2,000 people, 75 percent of the prison population, had contracted COVID and 28 died.
Most of the population has been clear of COVID and have returned from isolation back to their cell blocks or dorms. Tents and the chapel areas still stand ready for the next outbreak.
On Sept. 1, North Block of San Quentin held more than 813 people, over 190 percent of designed capacity. Finding prison officials acted with deliberate indifference in keeping San Quentin overcrowded and failing to protect the population from COVID, the State Appellate Court has ordered San Quentin to reduce its population by 50 percent through transfers or releases. CDCR appealed the decision.
Rahsaan "New York" Thomas co-hosts and co-produces the Pulitzer Prize nominated EAR HUSTLE podcast, as well as being a contributing writer for The Marshall Project and San Quentin News. He is currently incarcerated and has a legal campaign seeking help to secure his freedom at bit.ly/BringRahsaanHome