I got a telephone call from a friend on Thursday who told me that the Moscone Center vaccination site had appointments available, and that I should go online right away and book an appointment.
I am 71 years old. Although I have been a member of Kaiser since 1976, Kaiser has repeatedly told us that appointments are not available for anyone younger than 75, unless they are a long-term care patient or staff member, or a healthcare worker.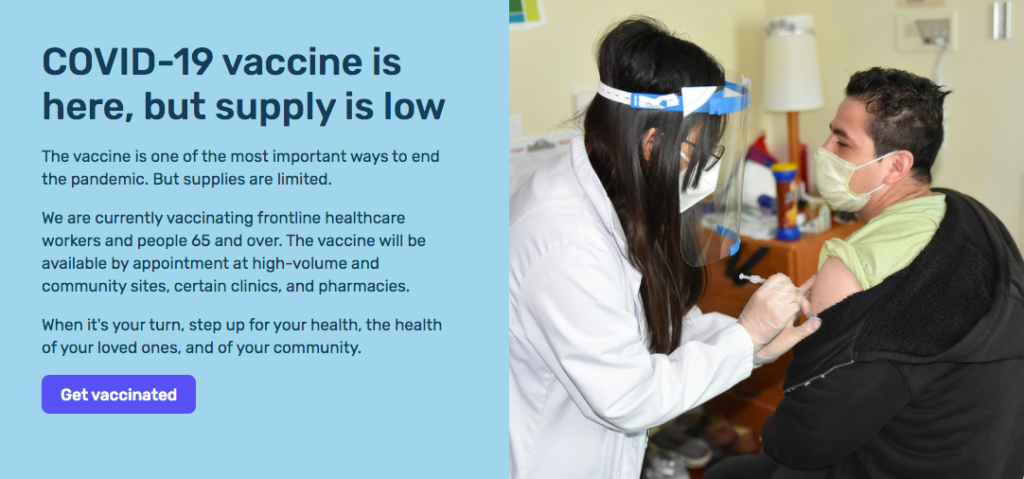 According to the City of San Francisco's website, "Frontline healthcare workers and people 65 and over are eligible to book an appointment" at the Moscone site. So I took my friend's advice and tried to book an appointment.
There were appointments available, but not for me – for the sole reason that I do not have a cell phone.
I picked an appointment time, then went through the process of answering the questions that the website asked. When it asked for my cell phone number, I tried to answer "none," but the website would not accept that answer. So I filled in (555) 555-5555 like the example on the website.
But when I got to the end of the process, the website told me that a "security code" had been texted to my cell phone, and that I needed to retrieve that code and enter it. Since I could not do that, the website refused to allow me to book the appointment I had been offered.
At first, I figured there must be a way around this problem. I will spare the reader the multiple calls I made to the San Francisco Public Health Department, the California Department of Public Health, and Kaiser. They all told the same story. Appointment bookings for Moscone Center are only available through a piece of software ironically called "My Turn," and that is supposedly where the problem lies.
Not my turn
The "My Turn" software requires the user to enter a code that is texted to the user's cell phone. There is no other method allowed to complete a booking. None of the people I talked to could give me the code. They couldn't get it emailed to me. They couldn't book an appointment for me. Although they never said it this way, they basically told me to go pound dirt. It was decidedly not "My Turn."
Once upon a time, ten years back or so, I had one of those now-ancient flip-phones, because I needed it to round up people for the picket lines I was in charge of at Hotel Frank, now called Hotel G, but that's another story. I dumped that flip phone in the aftermath of that campaign, because I was sick of people expecting me to answer the phone every minute of every day, and did not want to pay the piper to carry around a little GPS spy and radiation device – but that's another story also.
To say that I was outraged at being denied the vaccine because I do not have a cell phone would be to put it way too politely. After all, COVID can be a death sentence for a person of my tender years, and I did not and still do not see how having a cell phone would make my life more worthy than it already (I hope) is.
I was told by one of the many people I talked to that they had received multiple complaints from other seniors about the same exact problem. It certainly doesn't take a genius to know that many elders do not have or use cell phones. So, this is not a personal problem of my own, but a problem for a whole class of people, whose lives might be even more worthy than mine.
I also got to thinking about the fact that the only way to book an appointment at Moscone is online. Again, it doesn't take a genius to figure out that many elders do not have access to a computer, or may be unable to use one if they do. These folks can't even get as far along the process as I did. In fact, they might even have trouble trying to figure out who to call to complain.
The media has reported that Kaiser, my medical provider, is somehow in charge at Moscone. The city folks I talked to claim they run the place. The Kaiser people I talked to said that they "help run the operations." No matter. Any way you cut it, my medical provider Kaiser — which on Thursday wouldn't give me an appointment for a vaccine shot at Kaiser — was facilitating vaccine shots for non-Kaiser elders of my same age at Moscone. I don't resent any of those elders getting vaccinated, but Kaiser's double-standard is, shall we say, irritating.
According to the most up-to-date (online) numbers as I write this article, eight deaths were added to the toll of COVID-19 casualties in San Francisco last Tuesday, 546 people died in California on Thursday, and 3,589 died in the US on Friday. How many of these people were elders supposedly "eligible" for a shot, but unable to get one because of limited access to a computer or a cell phone?
And, to once again state the obvious, how much would the reader bet that a disproportionate number of these elders are Black or Brown, female, LGBT, and/or of less-than-average income?

Technological inequities
At one point I got an email from the SF Department of Public Health stating that the "City and County of San Francisco recognizes the technological inequities of the My Turn system." They would have to be dolts not to, but it's revealing that they admit it.
But responsibility for these "technological inequities" is not something to which City or San Francisco Department of Public Health officials are willing to admit. Instead this same email claims that "Kaiser chose to use the platform ["My Turn"] and the City and County of San Francisco has no input or control over the use of that registration system."
The word for that finger-pointing excuse starts with B, has eight letters, and ends with T. Moscone Center is a city-run facility, and the city decides who uses it, when they use it, and for what. Apparently, our city officials didn't bother to set any conditions about how appointments would be made, despite the known "technological inequities" of the "My Turn" software.
Nor has the city, the SF Department of Public Health, the California Public Health Department or Kaiser made any moves toward doing the obvious thing – setting up a telephone system for making appointments. All these players seem locked into the Silicon Valley way of doing things, and have forgotten the old fashioned device that ruled the world for the vast majority of my life. Perhaps they should watch some 20th-century movies to see how it was done.
The most ridiculous solution that was proposed to me was that I should buy a relatively cheap burner-style flip phone. It was explained to me in this same conversation that the "My Turn" software relied on cell phones to confirm my identity as a worthy person for a vaccination. When I pointed out that the burner phones I was being directed to buy are routinely used by drug dealers and other assorted criminals precisely to hide their identity, I got a nervous laugh followed by silence.
Hah. Hah.
A happy ending?
By Friday night, I was pretty pooped out from making multiple telephone calls and handling multiple emails. It didn't even seem to have helped that I kept telling the powers-that-be that I am a freelance journalist and that I intend to write about this fiasco, which the reader can see was no idle threat.
Then, Friday night, out of the blue, I got a telephone call from my Kaiser doctor. She told me that I should show up at Moscone on Saturday at 12:30 p.m. That's today, as I write this. I am instructed to go to the "help desk" and ask to be put on the "waiting list." It seems that a special accommodation has been made for me. I guess it is true that the (very) squeaky wheel sometimes gets the oil. I will see if I actually get a vaccination today.
But, as I told my doctor, and the Kaiser public relations guy that emailed me to make sure I had heard from my doctor, that getting me an appointment does not solve the problem, not by a long shot – as it leaves untold numbers of other elders out in the cold. In fact, getting me an appointment reeks of an attempt to buy me off and keep me from making any further noise about the discriminatory actions of Kaiser, the SF Department of Public Health, and the California Public Health Department.
So maybe I will get a vaccine shot today. But at the same time many elders are sitting at home, if they have a home, trying to figure out how to stay alive during one of the most serious public health crises of their lives.
Marc Norton works, when work is available, in the culinary, restaurant and hotel industry, and moonlights as a free-lance journalist. 48 Hills published an article of his earlier this month about the failure of the California Department of Public Health to abide by the COVID-19 reporting mandates of AB685, and of the failure of the SF Public Health Department to report on workplace COVID-19 infections as many other counties and states are doing. Marc Norton's website is at www.MarcNortonOnline.wordpress.com.