Supervisor Dean Preston and the Bay Area Tigray Community held a digital teach in Thursday to bring attention to atrocities occurring in the Tigray region of Ethiopia. Representatives of the community included native San Franciscans with family in Tigray as well as Tigrayan immigrants to the city.
Since November last year, an armed conflict has claimed countless lives, and been the scene of sexual violence and displacement of at least half a million people. Long standing tensions rose in Tigray after a local election took place against the demands of the federal authority in Addis Ababa. Shortly after the election, the Tigray People's Liberation Front attacked federal forces in the region.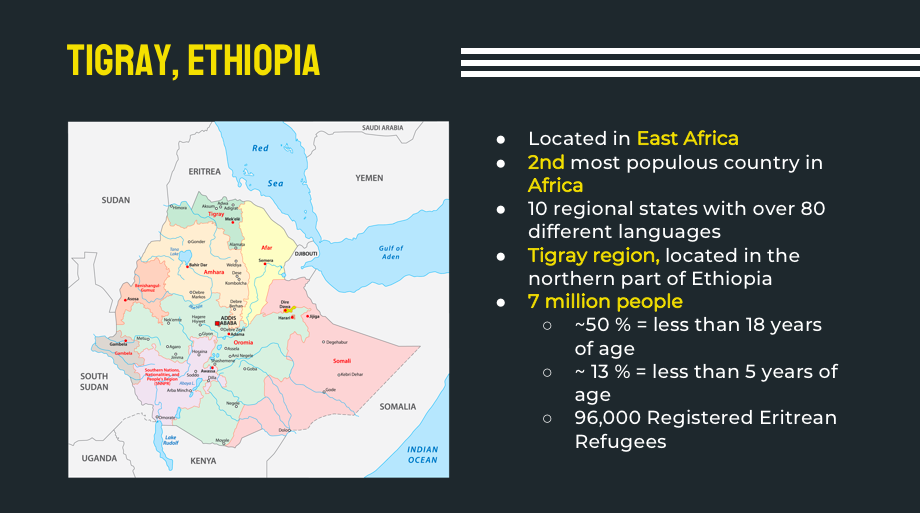 Prime Minister and Nobel Peace Prize recipient Abiy Ahmed quickly retaliated by imposing a six-month blackout and deploying armed forces to the region. The Tigray region has entered its 115 day of communication black-out at the time of this writing, Feb 26.
Preston represents D5, which is home to a large amount of San Francisco's Ethiopian population and Ethiopian-owned businesses. "We stand with you in this incredibly difficult time," Preston said during the teach in, "we will do everything possible to build awareness, support you, and build pressure to cause action."
On Tuesday this week, Preston introduced a resolution urging immediate action on and official recognition of the conflict in Tigray. The resolution will be voted on by full board Tuesday afternoon. If it passes, San Francisco will become the first city in the US to make such an official statement.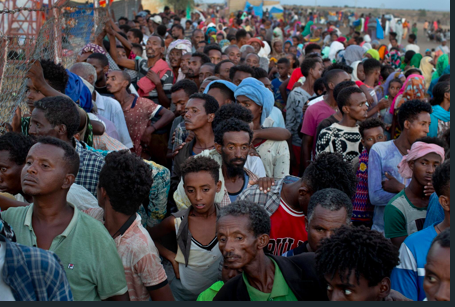 The resolution condemns the human suffering, sexual violence, and human rights violations occurring Tigray and calls for congressional action. "The resolution is one part of our efforts to raise awareness and enact change," Preston said in a phone interview with 48 Hills. The resolution is the legislative side of Preston's efforts. He also has attended protests, held informational sessions, and lobbied US representatives, including House Speaker Nancy Pelosi.
Unable to speak to family members back home, San Franciscans with ties to the region live in perpetual fear for their loved ones. Those that do receive information from Tigray are told very little. Fear of someone listening in keeps the conversation short.
"Your family is not dead yet is the typical length of a phone call" Henock Woldu, a spokesperson for the Bay Area Tigray Community, told 48 Hills.
The Bay Area Tigray Community has asked for multiple avenues of support from their fellow San Franciscans. These include joining protests, donating to medical efforts, and staying informed. "It's a larger challenge than just stopping the war," Rehmai Menelik of the Bay Area Tigray Community told 48 Hills, "4.5 million people are starving and that is going to take years to resolve."
Meanwhile, the Office of Prime Minister Abiy has rejected atrocity charges coming from the Tigray region. On Feb. 24, the office issued a statement on its Twitter account claiming effective and widespread humanitarian assistance efforts in the region. This is in stark contrast to the UN Relief Agency UNHCR's reports.
"We are very concerned about the humanitarian situation in Tigray," said Chris Melzer who works with UNHCR in Ethiopia. "We know there are hundreds of thousands, maybe more than a million people who need help."
"We have heard that hospitals in the northern part of Tigray have been destroyed, or damaged or have no supplies to help sick people," Melzer added, "communications to aid workers have been disrupted and, in some cases are only possible via satellite phone."
The statement made by the Office of Prime Minister Abiy also disputes the lack of media access to the region, claiming that access was provided as early as November 2020 and that allegations of no media access are a false representation of the situation. The office lists seven news agencies that have been granted access to the region, including Reuters.
Journalists attempting to report on the area may have a different opinion. Earlier this month, an Ethiopian journalist was beaten and received a death threat by three unidentified men who entered her home in Addis Ababa after reporting on Tigray. In late January, a Tigrayan journalist was murdered in the region's capital of Mekelle. In December, a Reuters cameraman was arrested and held in custody for two weeks, following the beating of a Reuters photographer.
Early on in the conflict, the TPLF was reported by Amnesty International to have been responsible for a massacre in Mai-Kadra. Today, Eritrean forces were reported by Amnesty International to have been responsible for a massacre in Axum. As in common in armed conflicts, atrocities have been committed by both sides, leaving civilians to suffer.
The TPLF has moved out of Tigray's capital of Mekelle and most major cities, but guerilla-type warfare has continued in the region's lesser populated areas. Eritrean, Ethiopian, and TPLF forces have all been accused of varying atrocities and all have pointed their finger at the other.
In attendance at Thursday's teach in was Rwandan genocide survivor Theo Ndatimana. "You can talk about two political parties having problems," he said at the meeting, "but innocent people are caught in the middle of this."