Like many artsy people who run several businesses, I have my quibbles with how COVID has been handled by the city. But I'm giving a hearty "hats off" to Kaiser (working with the San Francisco Department of Public Health and other health companies) for setting up and managing the vast Moscone South COVID vaccination site—or at least I would, if my unshorn Arab 'fro wasn't currently too big to wear a hat of any kind to begin with.
I went down there this afternoon for my first shot, and the whole thing was incredibly smooth and efficient. I'm going to describe the process because even though it appears all available appointments are currently booked, more will be available soon and everyone who is eligible should get vaccinated as soon as they can. I hope to help anyone (like me) who may be overwhelmed by the thought of going to such a large place with other people in it, since it's been a while since many of us have done that!
Obviously peoples' experiences will differ slightly, and you can book appointments for the vaccine elsewhere (like Safeway or CVS or the equally large Koret Center). But Moscone is a main distribution point that is currently processing ~6000 shots a day. For background, I am a non-disabled, English-speaking Internet user with a cell phone. At Moscone, there is very visible non-English signage and accessible accommodation as best I could tell. Those without cell phones, email, or trouble accessing the Internet can call the CA COVID Hotline at 1-833-422-4255 (M-F 8am-8pm, Sa-Su 8am-5pm) for assistance.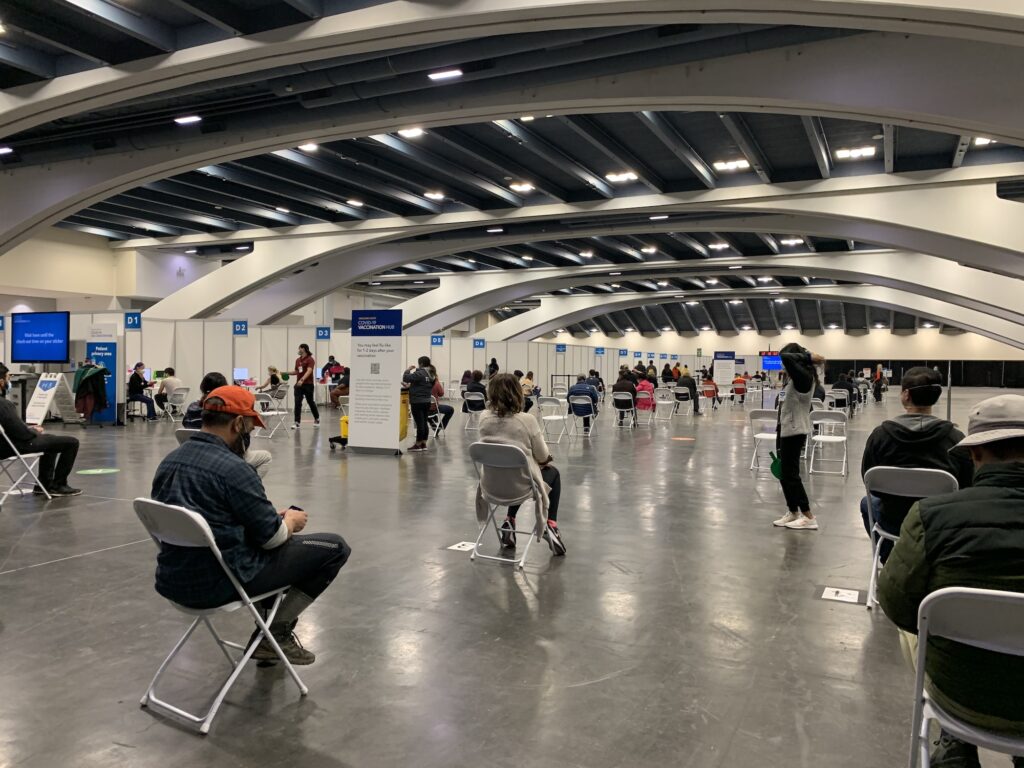 The recent expansion of vaccine eligibility included me, and on Sunday night I went online to https://myturn.ca.gov to see if I could score an appointment for the first and second shots. (Moscone is currently only distributing the Pfizer-BioNtech vaccine.) On that website, I filled out a brief questionnaire confirming that I was eligible and then was shown a calendar where I could select an appointment time. The second appointment option is automatically distanced the required period from the first.
When you book an appointment, you can receive both a text and an email confirmation. The email includes a QR code in it that you use for check-in at the appropriate time. (I took a phone screenshot of the QR code so I wouldn't have to find it in my email later.)
I walked down to Moscone from Lower Haight, which was fun because it was a nice day and I realized that several people around me were also headed to the same place. As I got closer, it appeared that more and more people were joining us on the trek. Suddenly it felt like a kind of miniature Civic Duty Parade, semi-festive but mostly purposeful.
At Moscone Center, your path is very clearly marked and there are helpful people ("vaccine ushers"? "Vax flacs"?) to guide you and the stream of people through the socially distanced process. First you check in with someone and show them your photo ID and and your QR code. My check-in person also asked for my health insurance card (its optional to fill out your health insurance info on the website) and asked which general category I was eligible under.
Then I was directed to the escalators downstairs, where I was seated with a few others in a numbered waiting area. When we were called, we were shown to individual booths for the shot. My nurse, like everyone else, was super-nice and even funny. (Yes, I was there answering a call for models and just happened to want the vaccine, too, thank you. Even with a giant mask I must literally scream "gay" lol.)
The nurse asked a few general health questions around vaccines and then administered the shot, which is just a normal shot. She gave me a vaccine card with the date of my first shot and told me to make sure to keep it for my return appointment (first week of April).
She then directed me to a waiting area where I was to sit for 15 minutes so they could make sure I didn't suffer any major side effects. People checked in with me throughout to make sure I was feeling OK. I was and luckily still am.
After the 15 minutes was up, I exited, walking past people taking post-shot selfies with a cardboard cutout of Dr. Fauci. The whole thing had taken a total of 30 minutes. I rode up the escalator, and walked across the street to Yerba Buena Gardens, where I treated myself to a poke bowl and a green tea from the Metreon. And that's the tea on Moscone.
PS The best part, as my friend Colby reminded me, was that they had little DJ set-ups playing upbeat tunes throughout the space. He got '80s tunes when he went, I got some vintage Gwen Stefani.