As restrictions ease across the Bay Area and vaccinations start kicking in, we can finally get out more with our friends and families, even without a mask. I am attending a weekly drag show and even visiting people inside!
It is exciting and refreshing, but I find myself unprepared to socially consume cannabis these days. What can I throw in my bag and share with my friends when I am out? Read on to find out.
I did actually trek out to find the new Plus hash gummies … all the way to the Sunset! As soon as I heard the rumor and confirmed it, I was on the hunt. Plus Gummies teamed with Biscotti on a MAC strain, limited edition, solventless, hybrid, ice water gummy. The flavor is orange blossom.
I looked, but could not find it at any of my regular dispensaries. My good friend Veronica mentioned it was listed at Barbary Sunset, and zoom! I was out the door like a cartoon character. Since then, I found them online at Sava and Mission Cannabis Club, so I am sure you will see them soon near you.
It was a lovely visit to Barbary, however. My budtender was amused by my hash gummy enthusiasm. It is always fun discovering a new dispensary, and we are lucky there are so many choices in San Francisco.
Back to the hash gummies. The packaging is impressive, big and boxy. It might as well be housing a piece of jewelry. They taste good and don't have a strong hash flavor. The effects are very mellow in that great hashy way.
This is a super fun item to pull out at a picnic or day out with friends. Cost runs $25-$30 for 10 10mg gummies, with an added .25mg kick of CBD each.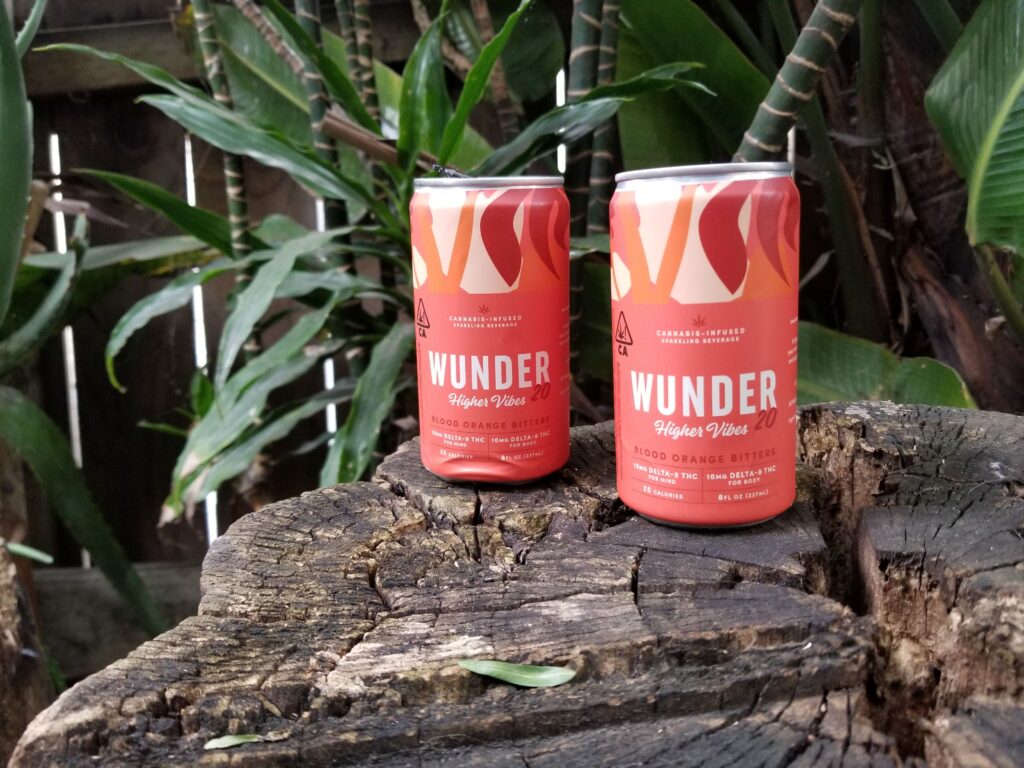 One of my favorite cannabis-infused beverages Wunder has upped their game by introducing a High Vibes 20 sparkling beverage with 10mg Delta-9 THC (for the mind) and 10mg Delta-8 THC (for the body high.) That's a big bump up from the 2mg of each in their regular beverages.
I tried the blood orange bitters flavor, and it was fantastic and satisfying. They are also conveniently sized for your bag, so drop by a dispensary on your way out and pick up a four-pack ($25.) Other flavors in this new series are watermelon basil and lemon ginger.
I always enjoy the fizzy buzz these sparkling beverages give me, and most do a good job. For me, it comes down to flavor, and Wunder is really nailing that aspect.
Another new item that stopped me dead in my tracks is Jetty's live resin-infused prerolls. I love Jetty for their amazing extracts and many of my super high moments in public involve their handy dablicator, which is just as easy to use in a bong or rig as it is to drizzle on a nice party joint. The idea that these Wizards of Goo created their own preroll was pretty exciting (granted, I have been cooped up for a long time.)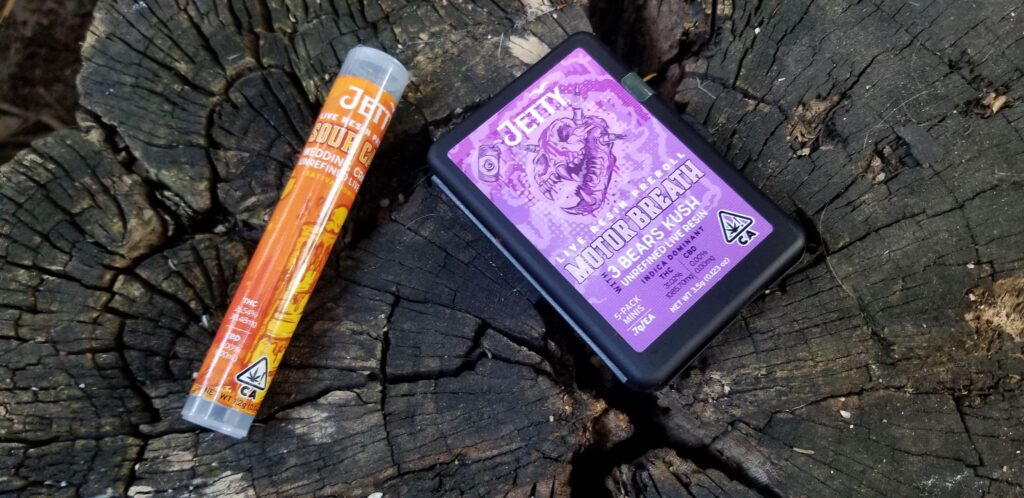 I purchased. I tried. I loved. I got lost (Just kidding.) These babies were strong with great flavor. They also burned very evenly, which is a primo thumbs up when it comes to smoking infused joints. The packaging was well-designed, and I liked the pop-open container that the minis came in.
The Motor Breath prerolls with 3 Bears Kush and unrefined live resin had that great indica kick, but did allow me to get up off the couch and do some stuff—within reason, these were infused after all. Now, the Sour Cake sativa infused with Wedding Crasher unrefined live resin was a whole different story. Things got cleaned and straightened. I was active and alert. This is my new jam when things need to get done.
These new infused prerolls come in several sizes. You can buy the 1.2 gram single preroll ($30) or go for the five mini joints in a 3.5 gram five-pack ($48). The minis are a great way to share with your friends when you hang out, especially since many people won't want to pass the joint just yet.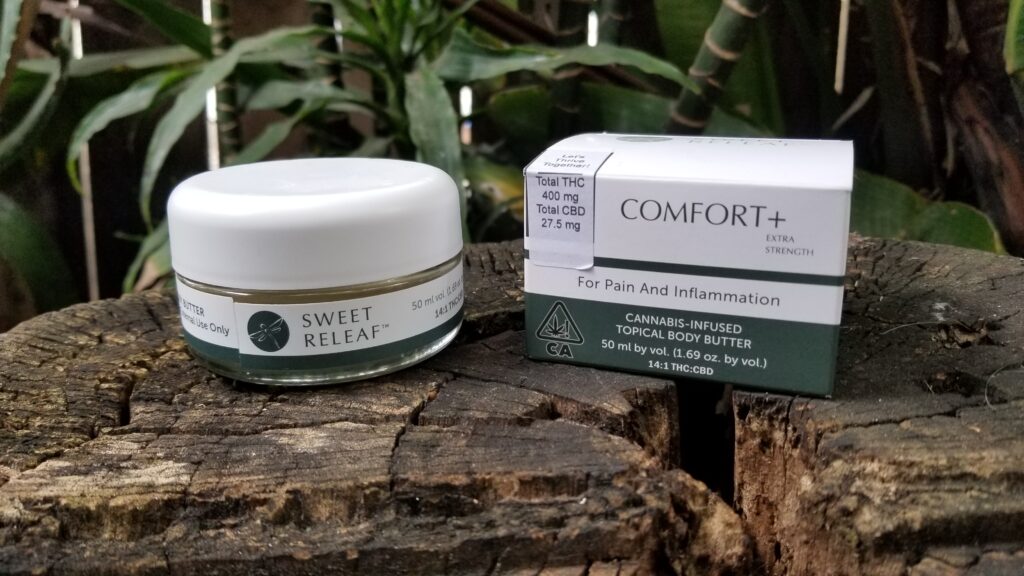 Now, if you are stiff and sore from all that going out and socializing again, I recommend you come home to a nice jar of Sweet ReLeaf cannabis-infused topical body butter. There are many great brands out there, but Sweet ReLeaf has such an amazing smell and texture. Plus, it gets the job done. I use it on my knuckles, sore muscles and assorted cricks and pains. My philosophy is that if something hurts, slather a little body butter on it, and see if that helps first. Often, it does.
I send Sweet ReLeaf to my dad in Texas, who uses it every night. So, if you don't believe me, definitely believe him. I go for the extra strength Comfort Plus ($36-$97), but there is also the regular strength ($44-$75.) There are several sizes. It is always helpful to have a bottle handy!
So now when you see me out, I will be properly prepared to get stoned socially again. We can sip on fizzy cannabis water and enjoy a nice strong preroll while lightly tripping on a hash gummy. Our well-salved muscles and joints will make it all that easier to sit back and enjoy it all at a park, cafe, movie theater, or house party.
Maybe it is even time for me to go back inside a dispensary instead of ordering online? That way I can finally activate some of those bonus points I have been stashing away in my account during the pandemic. There are several places I will be getting discounts at for years.
And if you are not quite ready to go out yet, these items will still get you high at home! Enjoy them any way you want, at your own pace. You be you, and do not worry. It will all be there when you do step out. Too stoned and having trouble locating an item? Just consult their website. New items are popping up everywhere so it is difficult to keep up. You can also subscribe to their newsletters.
Now it is time to light up! See ya soon!