Melissa Lewis, a dancer, choreographer, and visual artist, heard about the Great AAPI Elder Print Off from a few friends and fellow artists. A project of the For You performance collective, working with the Little Brothers Friends of the Elderly, artists are partnered with Asian elders. After several meetings, they will make an 8½" x 11" poster expressly for that person. Those posters will be displayed virtually and in public spaces around the Bay Area on June 26-27.
Lewis was partnered with someone who requested a Mandarin speaker. The woman, Wei Wei, said she wanted to go on walks, so when Lewis got in touch, she suggested walking around Wei Wei's South of Market neighborhood.
But that's not what Wei Wei wanted. Due to limited mobility, no car, and not feeling comfortable walking around SoMa, where she had experienced racism, she wanted to go walk in nature. So Lewis took her out to Baker Beach, with the help of the Little Brothers Friends of the Elderly, who provided car service.
Baker Beach is a favorite spot of hers, Lewis says, and she wanted to take Wei Wei there to get a view of the Golden Gate Bridge. That didn't quite work out, but they had a great time anyway.
"It was a gorgeous sunny day downtown, but when we got over to that side of city, it was foggy and you couldn't see the bridge," Lewis said. "It was still gorgeous though, and the waves were really nice. I learned that Wei Wei hadn't really been to the ocean in San Francisco, so it was really special to watch her walk up and touch her hand to the water."
Lewis says she and the woman talked about her memories of Beijing and what it's been like for her living in San Francisco the past 20 years. Lewis' mother is also from Beijing and when she comes to visit soon, she and Lewis and Wei Wei will all go out: They're planning on visiting Land's End.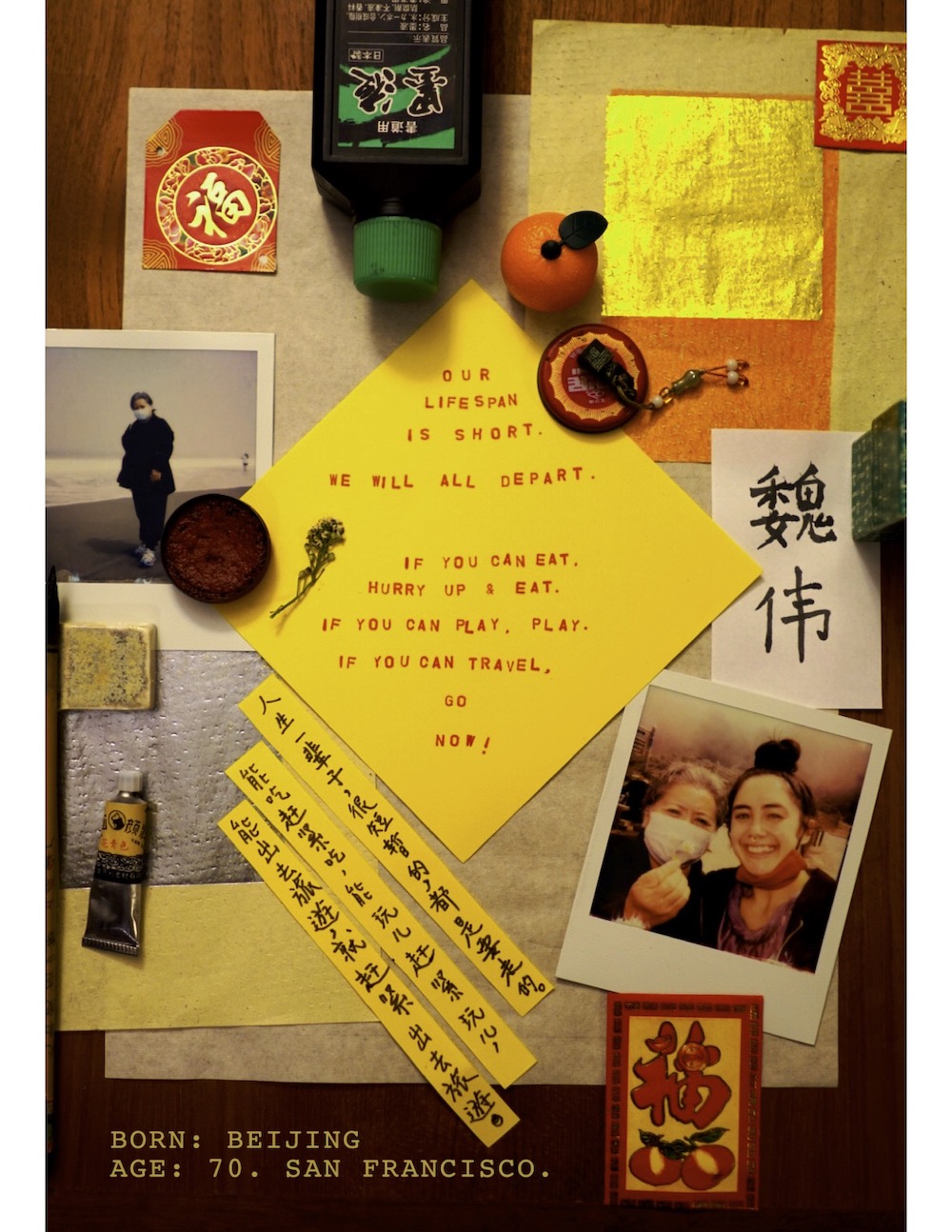 The For You performance collective was created by Erika Chong Shuch and Ryan Tacata in 2017 as a way to make performances as gifts for strangers. At the beginning of the pandemic, they started Artists & Elders, as a way to get what Tacata terms "Creative Mutual Aid" to some of the people most vulnerable to the disease and to loneliness while sheltering in place.
"It's been a hard year, and there's been so much uncertainty," Shuch said. "Ryan and I thought about the elders in own lives. My mom is in her 70s, and it was terrifying. I thought if my mom opened her windows, she might die of the disease."
In May, in recognition of AAPI Heritage Month and in response to growing anti-Asian hate, they created the AAPI Elder Print Off. Along with displaying posters at different community organizations, there will be a series of events, including a panel of queer AAPI artists and elders at the Chinese Cultural Center moderated by curator Hoi Leung and Tacata on Saturday; June 26 at 1pm; a conversation with Shuch and her mother at the Jones Institute on Sunday, June 27 at 3pm; and an online live DJ Set with Berlin-based DJ Werd, who will create a playlist of the participating elders' favorite songs on Sunday, June 27 at 4pm.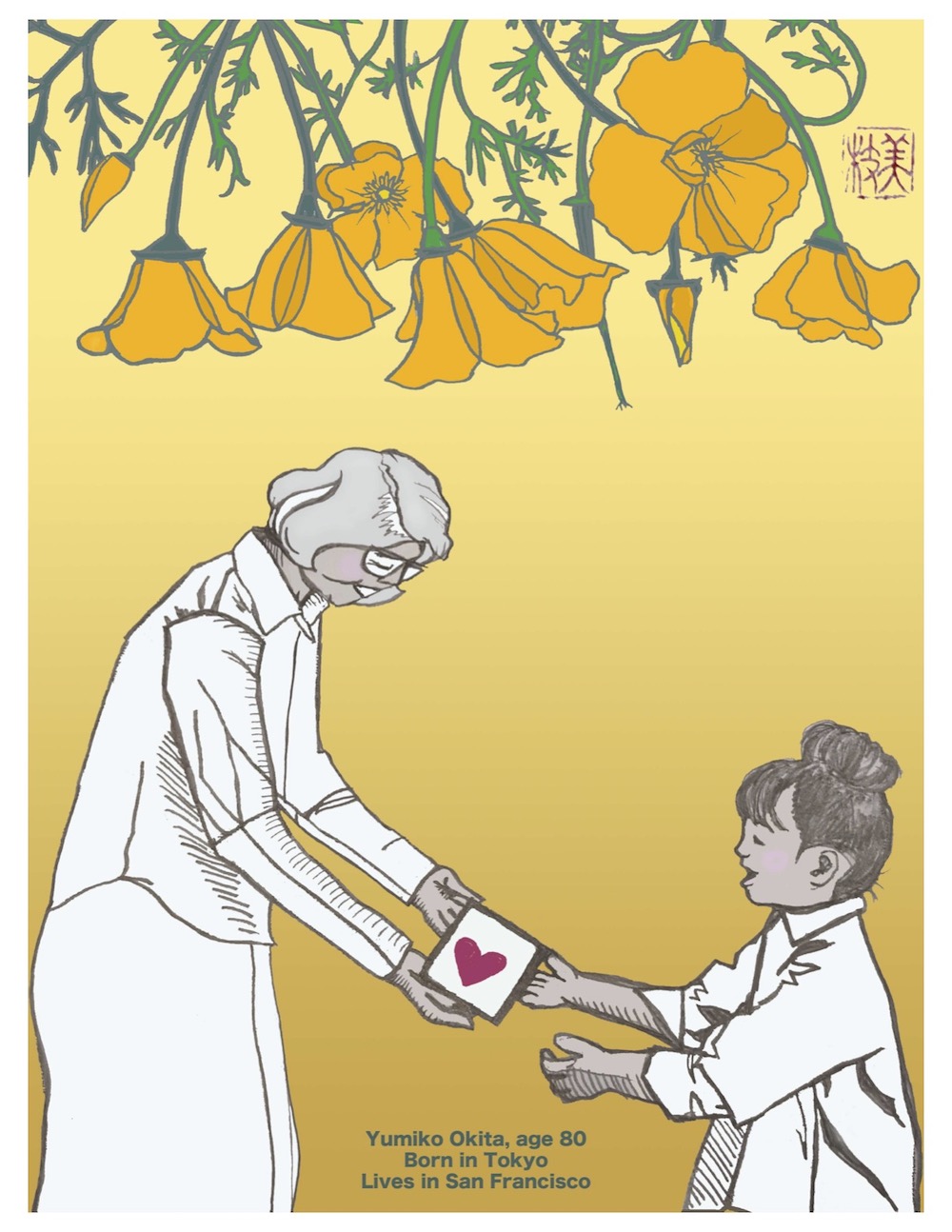 Shuch is excited about the weekend's events. But she hopes people will participate from home.
"What we really hope people do is go to our website and look at the posters and print some out, and put them in window," she said. "We want to have a deep impact as well as a broad impact."
Shuch and Tacata give an orientation program with the artists before they pair up with an elder. One thing they emphasize is that the older people may not want to talk about their memories of the worst things that have happened to them.
"The question is whether that serves the elder," Shuch said. "They may want to talk about how they hid in the rice fields during the Korean War. If you find that person is wanting to dig into that narrative, go for it, but sometimes it may be about being able to search for levity and laughter."
Tacata agrees it's important not to just ask the elders about their history or trauma, but to see them as a whole person.
"We want to ask questions around the future and questions about pleasure and things a lot of older folks aren't asked often asked about," he said. "They're living, active people who have dreams and desires."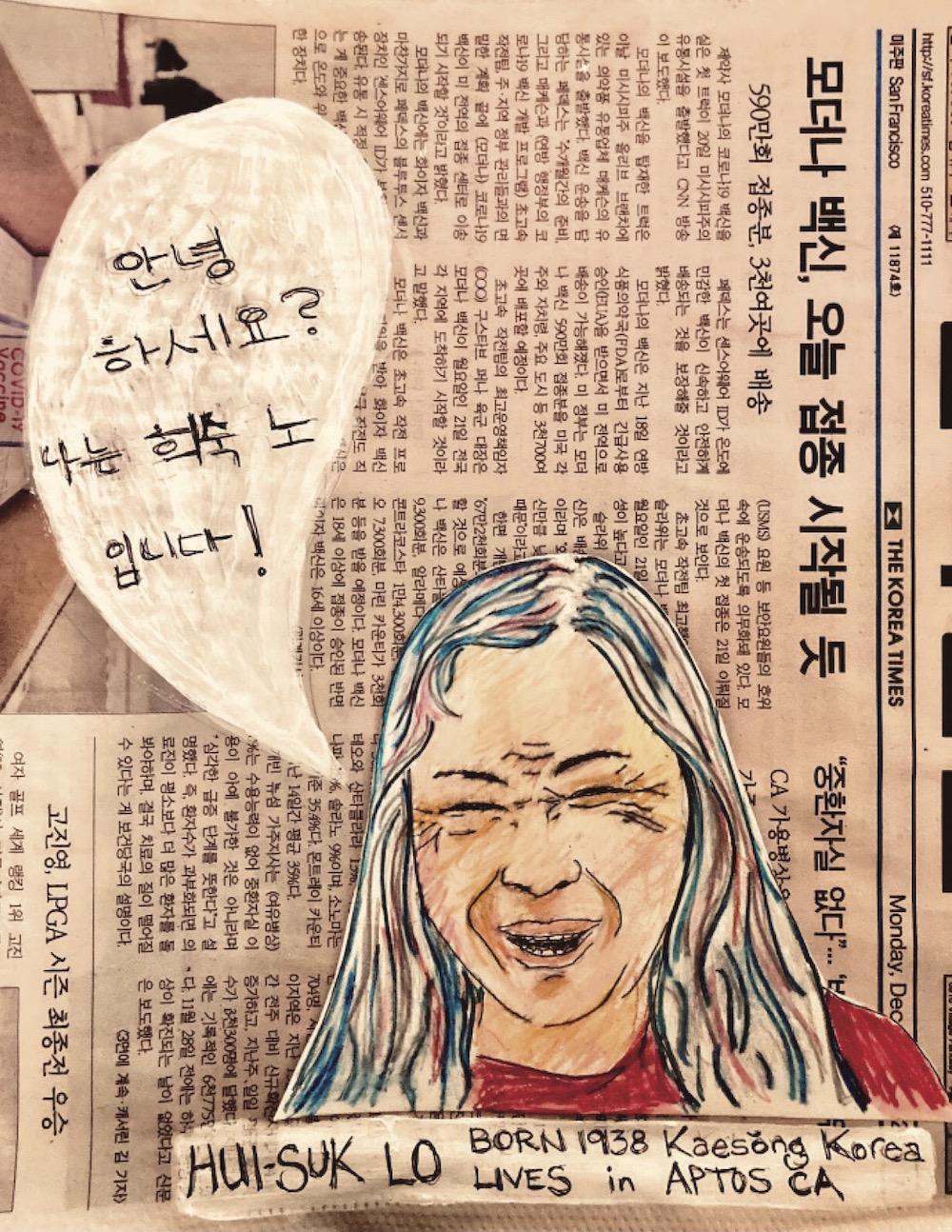 He and Shuch say through conversations, people learn not to generalize.
"We're sort of allergic to this idea of elders carrying wisdom. I mean, that's true but my eight-year-old also carries wisdom," Shuch said. "It's easy to view a group of Asian elders as homogenous, but with this project we're turning an anybody into a somebody."
Through listening to Wei Wei and spending time with her, Lewis is planning to use some Polaroid photos she took on their outing, Wei Wei's Chinese name that she wrote, and some flowers picked on their walks to create a multi layered portrait of the woman.
Sharing time with Wei Wei feels meaningful and personal, Lewis says, and she sees part of her work as an artist to listen to people's stories and translate them.
"To create opportunities to build relationships and trust and friendship—that impact can feel huge," she said. "It weaves together this role of artists as activist and honoring people as who they are."
THE GREAT AAPI ELDER PRINT OFF A list of places to see the posters and online events on June 26 and 27, as well as posters you can download is available here.