These are turbulent times for City College.
On March 9, the college announced that it had given preliminary layoff notices to 163 faculty members and 34 administrators in order to balance a projected budget shortfall of $33 million for the 2021-2022 Fiscal Year.
In response, City College students held virtual and in-person protests, arguing that the layoffs—which would reduce ESL, ethnic studies, and vocational programs—would be especially devastating to people of color, who make up the vast majority of the College's student body. 
On May 10, the City College Board of Trustees reached an agreement with American Federation of Teachers 2121, which represents City College faculty, and voted to rescind all layoffs by instead reducing faculty and administrator wages.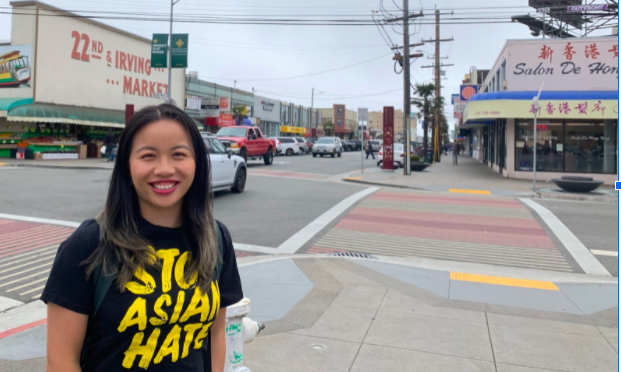 Although jobs and classes have been saved from being cut, some City College students see the fight as far from over.
Julia Quon founded the advocacy group Save Cantonese at CCSF this April after hearing that the World Languages Department planned to cut Cantonese classes indefinitely. "We created a petition to prove that people in the community really wanted [Cantonese] classes. Within three days, we got over 800 signatures," Quon said.
City College now plans to offer two Cantonese classes in the fall, both of which are fully enrolled and have several students on each waitlist. Still, Save Cantonese at CCSF is fighting to guarantee the longevity of the Cantonese program.
Quon notes that this is not the first time that City College has almost cut its Cantonese program. Five years ago, Valerie Luu—now best known for her book Chinatown Pretty—created a petition asking City College to continue offering Cantonese classes. "How many times do young community leaders need to petition for these classes?" Quon said.
Save Cantonese at CCSF argues that establishing a Cantonese certificate program would help ensure that Cantonese continues to be offered each year. According to City College spokesperson Rosie Zepeda, however, creating a Cantonese certificate program would be no easy task.
In order to create a certificate program, departments must demonstrate that the program would meet transfer requirements to a four-year school or career preparation needs for a specific area of employment. "Chinese degree programs at colleges like SFSU and SJSU are focused on Mandarin," Zepeda stated in an email. (Currently, Cantonese courses are transferable to California State University schools but not to the University of California system.)
Likewise, Zepeda said, "language acquisition in Cantonese, or any other language, is not by itself something [that] prepares students for employment. Certificate programs offered by the college that are career focused are much more directly applicable to specific jobs."
These preconditions speak to some of the conflicting views of City College's purpose. Historically, City College has served a wide range of learners, such as older adults, ESL students, and those hoping to explore new interests and career paths, but the state is pushing—including through financial pressures—for the school to focus on associate degree candidates looking to transfer to four-year programs.
The fact that most university Chinese programs focus solely on Mandarin is a contentious issue. After Stanford University announced in December 2020 that it would not renew the contract of its sole Cantonese lecturer, more than 4,000 individuals signed a petition asking the university to reconsider—particularly in light of university founder Leland Stanford's exploitation of Chinese railroad workers, most of whom were from the Cantonese-speaking Pearl River Delta region.
Although Stanford has agreed to offer two Cantonese courses per quarter, they will be taught by part-time instructors. City College has only one Cantonese instructor, who works part-time and teaches both Cantonese and Mandarin.
Save Cantonese at CCSF is loosely affiliated with Save Cantonese at Stanford, the student group pushing for Stanford to restore its full-time Cantonese lectureship. "Stanford is like an Ivy League, so they get a lot more publicity, but they've also been really helpful," Quon said. "They give us guidance and promote us a lot on social media, and we do the same."
Both groups emphasize the importance of Cantonese at both the global and local levels. There are an estimated 80 million Cantonese speakers worldwide, almost half a million of whom reside in the United States. In San Francisco, Cantonese is the most common language used among all city departments in interactions with LEP (low English proficiency) clients. According to the San Francisco School District, more than 75 percent of Chinese speakers in the district use Cantonese at home.
The core members of Save Cantonese at CCSF—Quon, Melissa Chow, Edward Pang, and Lauren Chinn—report that the Cantonese skills they have learned at City College have been invaluable both personally and professionally.
"I'm a doula. All four of us are in the medical field… Other people in our classroom are teachers, social workers, EMTs, paramedics, and firefighters. A lot of working professionals take [Cantonese] classes because it's necessary for them to be able to communicate with the people they serve," Quon said.
Chow, an aspiring physician, was initially motivated to take Cantonese after a family medical incident. "I [came to recognize] my inability to communicate with my grandparents and the ways in which they relied on me to be there for them… From talking more with my grandma about medicine, I recognize the fear and distress that manifests when going to a doctor that does not speak your language," she said.
Pang, whose family also speaks Cantonese, said that relearning the language has allowed him to reconnect with his roots and will aid him in his future career. "As a future nurse, I want to be able to give back to my community by helping those who struggle… due to language barriers," he added.
Learning Cantonese at City College allowed Chinn to be a more effective census enumerator in Chinatown in 2020, and continuing to study the language enabled her to volunteer at San Francisco Chinese Hospital's COVID vaccination clinic this year.
"Because of my personal experience, I'm able to recognize how crucial knowing Cantonese can be in my neighborhood to connect with my neighbors and help their basic needs get met," Chinn said. "I have also witnessed how marginalized our Cantonese-speaking populations are and how there is a lack of resourced Cantonese speakers who can support the more vulnerable Cantonese-speaking members of our community… I already see so many ways the needs of Cantonese speakers in San Francisco are getting neglected."