Under the Stars is a quasi-weekly column that presents new music releases and a number of other adjacent items. Let's keep it going!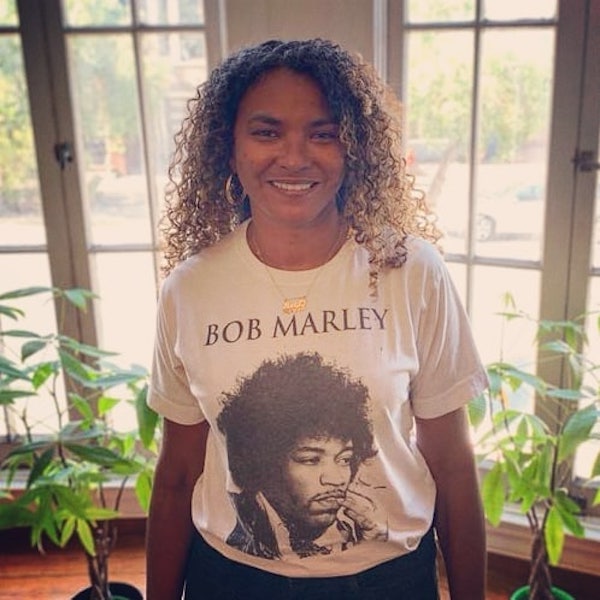 DJ NOEL AT THE SWEATER FUNK PARTY, SAT/14
One of my fave DJs, soul controllers, and music nerds in the city, DJ Noel once played "This Is It" by Kenny Loggins at Casanova in olden times, repeating the lyric "For once in your life, here's your miracle"—and I knew, immediately, this was an earnest DJ who knew when not to take things so seriously. (By the way, that song's intro… nothing but vibes.)
"I've been messing with records since 2003," Noel texted me. "Officially in Sweater Funk since 2018, but hanging with Jon (Blunck) and Jacob ( DJ Guillermo) since the beginning, so I feel like I've been Sweater Funk's therapist since 2008. "Check It Out" by Trilark immediately puts me back in the basement of Li po with a Mai Tai in hand."
In preparation for playing The California Academy of Sciences NightLife x Pop-Up Magazine event this past Thursday, she reflected on getting music lovers their fix of the right music at the right time.
"I've been thinking about the folks who are apprehensive about going out to bars and clubs, but still want to go out and dance. I want to give them what they've been missing, to get loose in a huge space that is considering their apprehension. I plan on ignoring that stereotypical stuffy environment a museum can have and letting go. The music is pumped throughout the entire space (even the bathrooms). It lends to letting go and dancing wherever you are in the space."
You can catch DJ Noel at Sweater Funk this Saturday at The Knockout.
ANGEL BAT DAWID AT THE LAB, SAT/14
Angel Bat Dawid, the Chicago-based musician who wears many hats will be performing at The Lab this upcoming Saturday night. According to The Lab's site, this Black American composer is an improviser, clarinetist, pianist, vocalist, educator, and DJ. Dawid's work draws from free jazz, gospel, and hip-hop and explores themes of Black resistance and self-care. The performance is in anticipation of Angel's new Hush Harbor Mixtape Vol. 1 Doxology. Which we assume will be available on the International Anthem Bandcamp page at that time.
In April she shared with NPR her absolute gratitude for George Clinton:
"First of all, I come from a Funkadelic, Parliament household. Every day, probably, of my life, my father played anything from Funkadelic and Parliament. He was a hero of my father. The music is so good. George Clinton always did his own thing and those have always been the musicians that I have looked up to the most. George Clinton was the ultimate arranger, producer, know how to put things together, all the elements, you know, it's so triumphant. ["Let Me Be"] gets me so hype. George Clinton, I just want to let you know that you are such a great inspiration to me. You showed me how to be myself. I'm strong in my individuality because of you. You're one of the most ingenious musicians, composers of our lifetime. Thank you, George Clinton!"
You can purchase tickets for the performance at The Lab here.
TUNE-YARDS AT BIMBO'S AUGUST 20
Tune-Yards, the Oakland-based music project of Merrill Garbus and Nate Brenner, will play their homecoming show on August 20 at Bimbo's 365 Club by way of Flymachine, the new virtual venue for live entertainment that promises to deliver a first-of-its-kind immersive social experience. Tune-Yards is currently on a West Coast tour in support of their latest album sketchy, released in March. The homecoming show and tour closer, featuring Salami Rose Joe Louis opening in support, marks the famed San Francisco venue's first hybrid event, featuring a combination of fans both on-site and online, enjoying the show as a community.
Purchase passes here. Live tickets here.
MIA DOI TODD, TEN VIEWS OF MUSIC LIFE, CITY ZEN RECORDS
Just combing through the deluge of remix projects that seem to be coming out every second of the waking day, I found LA singer-songwriter Mia Doi Todd follow-up on her acclaimed album Music Life (released earlier this year) with a set of stellar new remixes entitled Ten Views of Music Life. From Dntel's quirky electro-pop to Julia Holter and Tashi Wada's pensive and heartfelt orchestration, to the inimitable, free-form disco-boogie touch of Georgia Anne Muldrow.
Somehow I missed the first record, and just recently heard the stoic track "Music Life" featuring Jeff Parker and Money Mark. Just as expansive and beautiful as one can expect. But yo, that Georgia Anne Muldrow remix, or as she calls em GEEMIX, on the upcoming project of that same track "Music Life," with slowed-down shuffling snares and 4/4 Slingo tempo, awash in dubby hues. Oh, buddy. Unfortunately, the track is not avails for a listen. You'll have to wait for the remix project to be released on Aug 20. But if you're looking for more GEEMIXES……
GEORGIA ANNE MULDROW GEEMIXES
Sometimes I get so stuck on the powerful grip Georgia Anne Muldrow has on electronic music, jazz, and hip-hop that I forget: She is one of the best remixers working today. Cases in point:
Little Dragon, "Hold On (Georgia Anne Muldrow Remix)"
Released last week, you hear GAM rewire the drums, giving the melody room to move within flexed polyrhythms. This is a real tuff rework. It does just enough to make the message brighter, vivid, than the original.
Brittany Howard, "History Repeats (Georgia Anne Muldrow Geemix)"
Released this July, we start to get that P-Funk influence she moves with in her own G-Funk musical vocab. With the layered vocals in the background, angular bass lines, and overall wonky (the good kind) mood.
Salami Rose Joe Louis, "Peculiar Machine (Georgia Anne Muldrow Geemix)"
As we reported last year: This cocoa butter smooth remix of "Peculiar Machine," from Queen Georgia Anne Muldrow on the knobs? Whew. Rose gets that mellow Parliament-Funkadelic polish. You know. That quiet, real sneaky, aquatic type fonk. Like Eddie Hazel and Bernie Worrell are just vibing. No George, just the two masters chilling. That type of frequency, that version of genius where it feels easy, but it's not.