The grand if still slightly understated reopening of ArtSpan's month-long Open Studios continues, this weekend encompassing the great 1890 Bryant Street Studios community, among others, for studio visits and up-close (and masked!) visits with artists' work. I caught up with one of the 1890 Bryant artists, DK Haas, who has been a participant since 2005, to talk about why, after a year hiatus of all art viewing, this installment of Open Studios feels absolutely necessary.
"The first challenge that everyone felt in the pandemic was that everyone's shows were cancelled, across all the arts," Haas told me over the phone, recalling what seems like a century ago but was in fact less than 18 months. "The mayor issues this shelter-in-place order, and you're like, 'Woah, what is happening?' This is your work, your livelihood, you've poured everything into creating and having your work seen. Now it's cancelled, and everything's covered in this ghostly veil of anxiety and illness. What now?
"I think a lot of us just stopped," Haas said. "Everyone was freaking out. It was too painful in that moment to paint, to photograph, to make art. I myself got COVID and was very sick for months, I developed long COVID. And when I finally did start painting again, I was painting things that I didn't even relate to particularly. I was like, 'Huh, a flower.' In a way it was liberating, even as my painting got very dark. There was one painting that I made when I was so angry about everything that was completely alien to me. I called it 'Fuck COVID.' I was embarrassed of it, in a way, because I'm never that direct with what I do. I usually keep the crazy lady in me under wraps!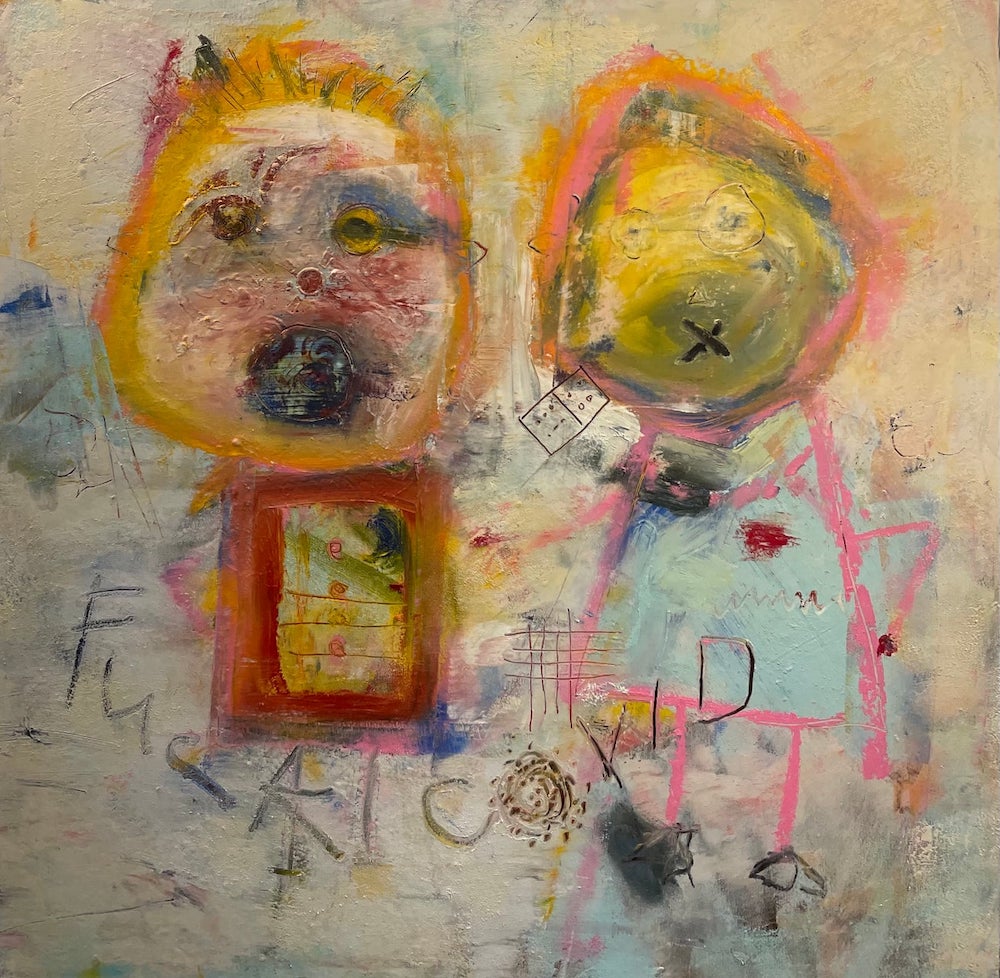 "But you can't paint or make art in a vacuum, especially when your own reaction to what you've done is 'What the hell is this?' Art-making and art-viewing are a part of a conversation. That conversation is riddled with what's happening politically, socially, economically—and now it's about COVID mainly, which encompasses all of those things, all of these fears and feelings we have to deal with. But it's still a conversation, and that moves things forward.
"In the spring, when things were looking better, I invited some people into my studio. Four appointments over two days. We have a big gallery space. I set up a couch and a bench. I put out oranges—satsumas—and cans of sparkling water, so no one would have to touch each other's stuff. And people sat down and didn't move. They were so hungry," Haas said.
"That's the great thing about Open Studios, too. You have an audience, you aren't making art in a vacuum. I love 1890 Bryant. The caliber of art, of community, the way the community gets together to do this event—people should know that this is the place for everything. It's a wonderful experience to walk though there. The giant halls, it's beautiful and clean. The conversation continues. It has to continue in some way, or I feel there's going to be more harm done to the community's health."

Open Studios at 1870 Bryant takes place Sat/2 and Sun/3, with a preview reception Fri/1 evening. More info here.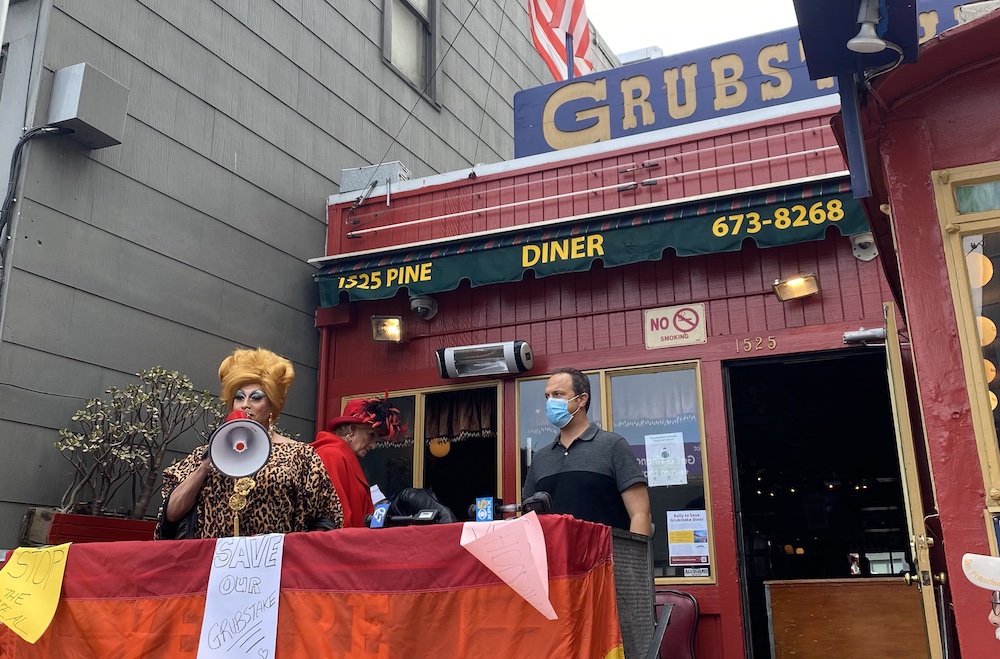 SAVING GRUBSTAKE The TL's stalwart late-night Grubstake diner, with its splash of Portuguese-Californian flare (don't miss the caldo verde), is usually where I would end up after a wild day such as I had at Sunday's Folsom Megahood Fair. Like many a scrappy queer landmark, the adorable restaurant in a little red train car badly needs some upgrading. Co-owner Jimmy Consos wants to demolish the spot and build an eight-story, 21-unit "middle-income housing building," complete with a Grubstake replica on the ground floor.
Residents of the 103-unit building next door oppose the Grubstake plans, already approved but altered in the development process, and have filed an appeal, submitting letters complaining that it will block their light. It's one of those complicated situation and the development is now in limbo.
This Monday—yes, the morning after Folsom so there was no way I was making it in person—some of the city's biggest drag queens and LGBTQ boosters (Juanita More, Donna Sachet, Gary Virginia) held a rally supporting the Grubstake's plan, a rare instance of LGBT activists advocating for development in a traditionally queer and gentrification-ravaged neighborhood. (Perhaps only in SF would saving a historic burger joint mean hungover drag queens advocating for an already-approved development they probably can't afford to live in.)
More wrote me, "I've been a District 3 resident and customer of The Grubstake for 30 years and have a solid connection to the Polk Gulch's history and legacy, as this neighborhood is where I came out as a teenager.
"I am also in full support of Grubstake's proposed new building project. And I'm thrilled to hear that the new building will offer 21-units of middle-income housing above the rebuilt diner—something that will benefit the neighborhood and community altogether.
"Help us save and rebuild this iconic diner and its legacy as part of the LGBTQ+ community," More said. She pointed here for more information on her mission. I just wish the housing was for all the neighborhood night-people who I love running into at the Grubstake, tucking into their burgers and drinks.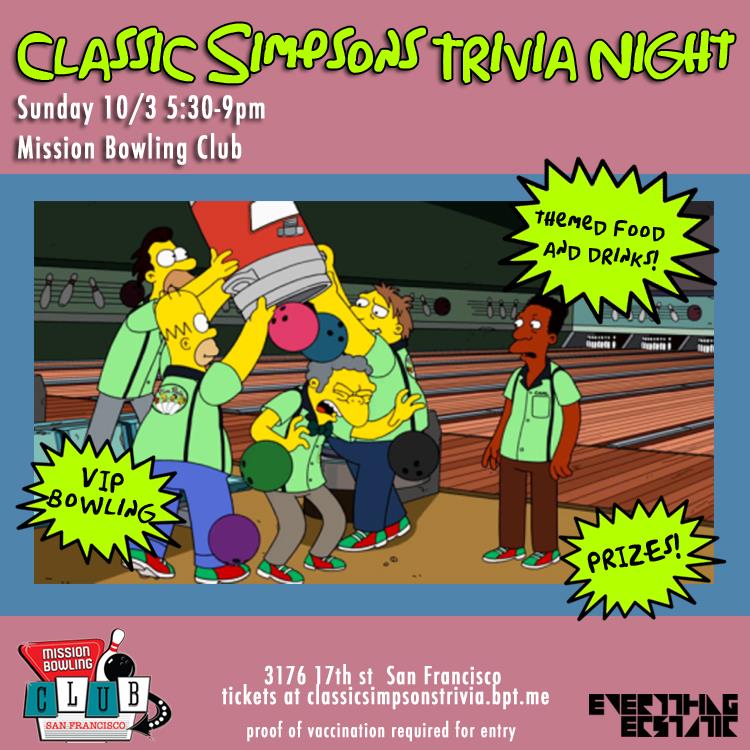 COWABUNGA, DUDES Probably the thing I am most excited about int the world as a very, very young stoner Gen-Xer is the return of the infamous Simpsons Trivia Night on Sun/3 from the ever-hip Everything Ecstatic crew, and this time it's a real doozy: They're holding it at Mission Bowling Club (yes you can grab a lane) and also featuring a whole Simpsons-themed menu.
According to the organizers: "It's not just a night of trivia, we've also got a very special themed Simpsons menu, cocktails (yes, the Flaming Moe shot specials will be back as well as "Duff Beer"), crazy cool prizes, episodes in between rounds, and even VIP bowling lanes. To celebrate this momentous achievement in the field of excellence, the dinner and drinks menu for the evening will consist of Simpsons dishes inspired by Laurel Randolph's awesomely outrageous The Unofficial Simpsons Cookbook. It's a fantastic cookbook with LEGIT recipes for your fave Simpsonian foods like Steamed Hams, Little Meatloaf Men, Sloppy Jimbo's, and even a Space Age Moon Waffle. We'll be giving away cookbooks and bottles of Uncle Moe's Secret Hobo Spices (among other cromulent prizes) to celebrate the Bay Area release party of the book and this can't-miss function." Sun/3, 5:30pm-9pm. More info here.
MORE UPCOMING EVENTS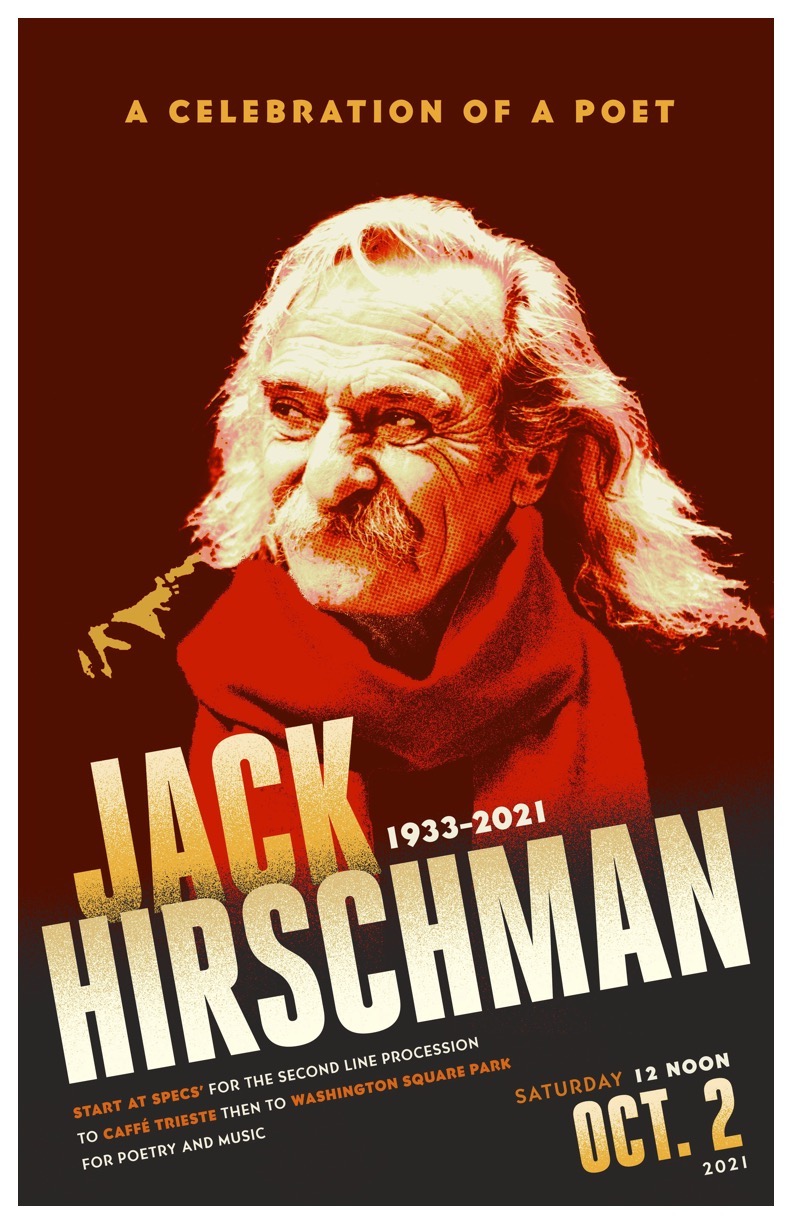 SAT/2 COMMUNITY PARADE AND MEMORIAL CELEBRATION OF POET JACK HIRSCHMAN "Jack Hirschman passed on August 22, 2021. He spent the majority of his productive life as an established poet, painter, translator and community organizer in San Francisco's tight-knit North Beach neighborhood. His closest comrades and admirers have organized a processional of revelry and outdoor memorial as a fitting celebration of his life and work. In many ways, Jack was the poetic engine of the City, and supported poets from the novice to the multi-famous, from the local to the internationally known. His major work, The Arcanes, three volumes of 126 poems spanning 34 years, is the most prolific output by an American poet since Pablo Neruda. He served as the Fourth San Francisco Poet Laureate and was the creator of the International Poetry Festival that brought poets from around the world, helping make San Francisco the "City of Poets". The free celebration will be open to all, and will include performances at some of his favorite local haunts in North Beach, culminating in a formal program at Washing Square Park. Admirers are encouraged to bring items to include in the community altar at Specs' Bar."
SAT/2 GAYC/DC + MIDDLE-AGED QUEERS An impressively talented GLBTQ AC/DC tribute band shows off its dirty deeds (done dirt cheap), paired with an up-and-coming queer punk foursome (led by my former roommate Shauners!) that won't let any midlife angst go to waste. At the Ivy Room. More info here.
SAT/2 AS YOU LIKE IT 11-YEAR PARTY We are really so blessed to have regular techno party As You Like It, jam-packed in every installment with a mind-boggling lineup. This one is extra: Classic techno trail-blazer Robert Hood performing with his daughter Lyric as ecstatic house duo Floorplan, unsung Detroit originator Claude Young, and New Jersey's Todd "The God" Edwards, whose chunky beats and chopped samples revolutionized the '90s sound. At Public Works. More info here.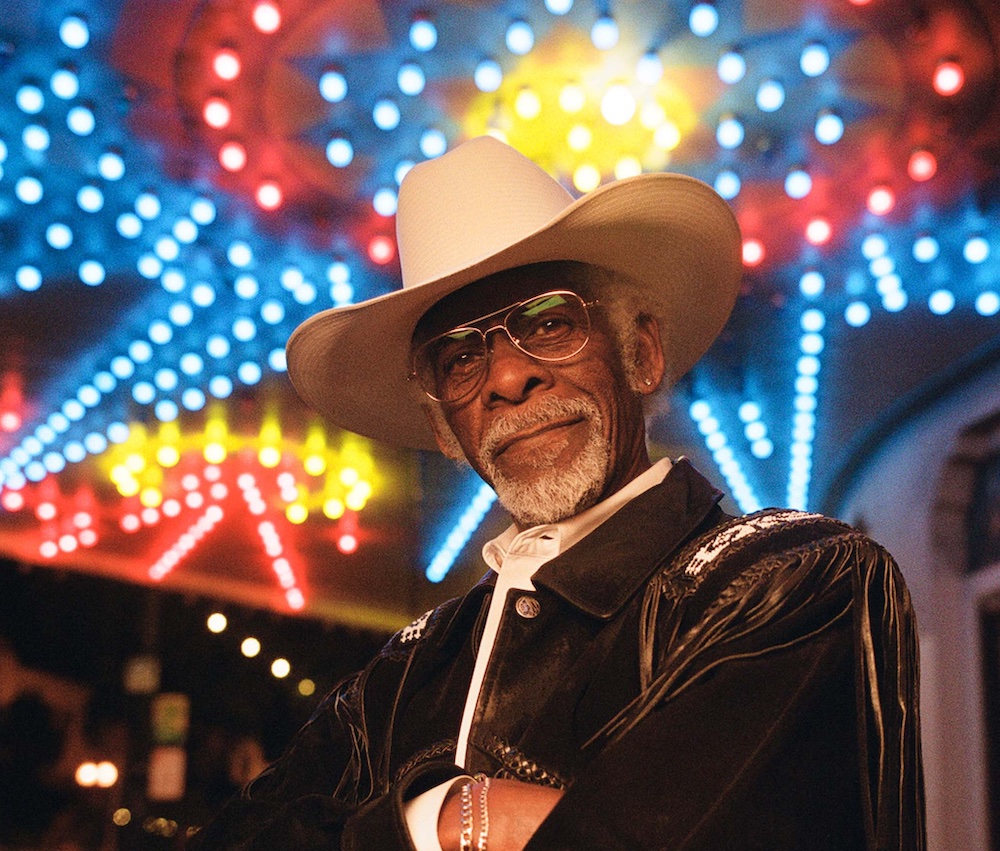 SAT/2 "COWBOY" FILM PREMIERE "Cowboy is a portrait of Wilbert Freeman McAlister, President of the Oakland Black Cowboy Association (OBCA). Through the film, we follow Wilbert from the dusty fields of the Central Valley through the urban landscapes of Oakland as he retraces his life's path of self-discovery, personal loss, and community education. The film will be premiering at the historic Eli's Mile High Club in Oakland. The event will include a screening of the film, a Q&A with Wilbert and the filmmakers, a performance by Cowboy And His Sometimes Blues Band, a raffle with donations from local businesses, DJ performance. While the event is a celebration of Wilbert and the film's release, it is also just as much a crucial fundraiser for The OBCA who have had to cancel their annual parade, their main fundraising event, for the past two years due to COVID. All profits from ticket sales, raffle tickets, and 20% of food/drink sales will be donated to the OBCA to help them continue their mission of educating the public of the oft-overlooked role of African American cowboys." More info here.
SAT/2 BIKES TO BOOKS 8-YEAR ANNIVERSARY RIDE "It's a party and you're all invited! Our signature 7.1 mile bicycle tour of literary San Francisco combines San Francisco history, art, literature, cycling, and urban exploration—a diverting and unique way to celebrate the literary and adventurous spirit of San Francisco. In 2013 we created Bikes to Books as an homage to the 1988 street-naming project spearheaded by City Lights Books founder and former San Francisco Poet Laureate, Lawrence Ferlinghetti, in which 12 San Francisco streets were renamed for famous artists and authors who'd once made San Francisco their home. Celebrate eight years of Bike to Books, 33 years of street names, and 150+ years of San Francisco literary history from South Park to North Beach, Jack London to Jack Kerouac." Meet at the north side of jack London in South Park at 12:45. More info here.
SUN/3 CASTRO STREET FAIR The unofficial start of fall for the gays (everyone's invited though!), this lovely outdoor stroll fills the air with fun music, drag performances, and all the rainbow windsocks and male torso art you can cary home from the vendor booths. I am hoping they've retained my favorite part out-COVID: The country line-dancing stage which used to be tucked behind the Castro Theatre. Yeehaw! More info here.