The San Francisco Giants are having a record year, taking the National League West title with the most wins of any team in baseball.

During the final week of the title run, ballpark food service workers overwhelmingly ratified a record contract providing huge economic gains. This new contract was negotiated by our union, UNITE HERE Local 2, after we threatened to go on strike during the playoffs.

But fears that the playoff games at the Giants Oracle Park stadium could fan the flames of the ongoing COVID-19 pandemic remain high.

The Giants may very well face the Los Angeles Dodgersin the National League Division Series games that begin on Friday, October 8, if the Dodgers beat the St. Louis Cardinals in the Wednesday, October 6 wildcard game.



If that is the case, Giants fans attending the games at Dodger Stadium in Chavez Ravine will be required to provide proof of vaccination or a recent negative test, per the orders of the Los Angeles County Department of Public Health.

But no such orders have been issued by the San Francisco Department of Public Health. Dodger fans attending games at Oracle Park have a free pass, along with Giants fans, to enter the park with no conditions whatsoever. The Giants website still sports a banner headline that reads NO COVID-19 ENTRY REQUIREMENTS.

Our new contract has some provisions protecting workers from COVID-19, including an expedited arbitration system to enforce safety rules at the concession stands, in the suites, and some indoor venues in the park. But Local 2 is hobbled by the fact that it is the Giants and the San Francisco authorities who make the safety rules, not our bosses. Our contract is not with the Giants, but with their food service subcontractor, Bon Appetit. Federal law, most importantly the Taft-Hartley Act, erects all sorts of legal barriers to Local 2 making demands directly on the Giants.

Huge economic gains …

On the economic front, ballpark food service workers hit a grand slam:
Wages will go up $3 an hour immediately, the result of retroactive pay raises.


Wages will go up another $4 an hour in the next three years, for a total $7 wage increase over the life of the contract.


There will be an additional $1.50 per hour COVID-19 hazard pay bonus for all hours worked in 2020 and 2021.


Workers will be guaranteed full medical coverage over the life of the contract—nearly free for single workers, $10 a month for complete dependent coverage. This is an unparalleled union medical plan, shared by most Local 2 workers in San Francisco.


Monthly pension contributions by the employer will more than double over the life of the contract, resulting in a substantial increase in pensions for retired ballpark workers. Workers pay nothing for pensions. Few other sports stadium food service workers, if any, get pensions.


Eligibility requirements for medical and pension benefits have been reduced so that nearly all regular workers will be covered.


Workers will earn one hour of paid time off for every 20 hours they work, which can be used for sick leave or other time off. Again, few other sports stadium food service workers, if any, have sick leave or PTO.


Workers at Public House, the restaurant and bar at the Willie Mays entrance to the stadium, have labored under a sub-standard contract for years. They will now get an $8 an hour wage increase over the life of their contract, plus full medical and pension benefits.
There is more, including increases in overtime pay, legal assistance benefits, opportunities for ballpark work for Bon Appetit workers in other San Francisco workplaces such as Chase Center, and reducing subcontracting to non-union vendors.


…In the midst of crisis
All of this is even more remarkable given the ongoing economic troubles facing workers everywhere, especially food service and hospitality workers. Ballpark workers had the advantage of coming to the plate just as the Giants were heading to the playoffs. We were able to see the ball coming and hit it out of the park. The new contract will expire in March of 2025, which locks in all of these gains for the next three baseball seasons.


But many other workers are not so fortunate. The economy is only sputtering back to life, at best. Unemployment remains high. Inflation, especially of food and gas prices, is eating away at our incomes and savings. Bosses continue to do their best to take advantage of our desperation, putting profits way above people. Politicians continue to diddle and daddle.

Will our victory at the ballpark be an example of how workers, united to fight and ready to win, can lead the working class out of this crisis? Can we achieve real dignity, respect and economic justice for workers through this kind of fight?

Nothing comes easy for workers in our profit-driven economic system. And, as much as the corporate media wants us to ignore it, the ongoing COVID-19 pandemic continues to threaten our safety and the economy.

 
The Giants and the pandemic

Sunday, October 3, was the last day of the regular baseball season, and the day that the Giants finally clinched the National League West. In years past, the ballpark would have hosted a sellout crowd for sure. But Sunday, while there was a large crowd of 36,000, there were also thousands of empty seats. Attendance has been low all season long.

"The attendance woes aren't exactly a puzzle," wrote San Francisco Chronicle sports columnist Ann Killion. "There is no proof of vaccine required to go to the games, which might be a bonus in some parts of the country but not in San Francisco. People are also a lot more reluctant to get on public transportation, and even if they are willing, it isn't fully available… [T]he team with the best record in baseball is in the middle of the league in attendance."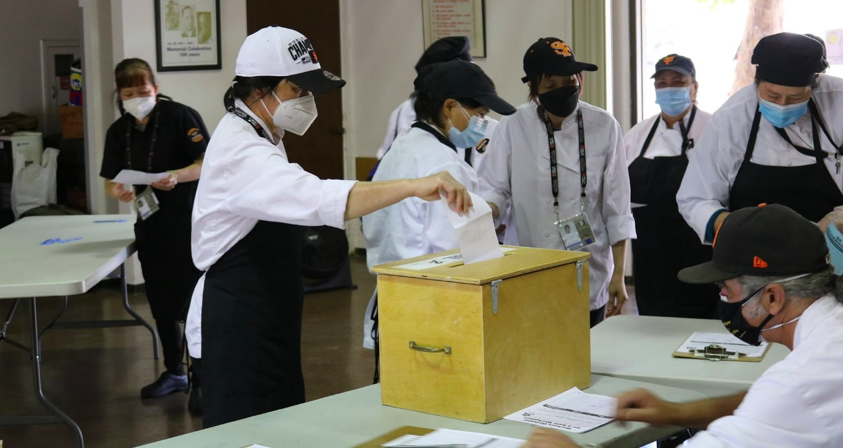 Bon Appetit has reported that more than 20 food-service workers have tested positive for COVID at the ballpark, and many of us believe that there have been more. Ballpark workers made it clear during the contract campaign that COVID safety is a big issue at the ballpark, although we recognized that the contract fight alone can't fix that problem.

That is why on the same day that ballpark workers voted to ratify our new contract, over 400 ballpark workers signed a petition to the Giants and to city officials, calling on them to require that both fans and workers show proof of vaccination or a recent negative test before entering the ballpark.
Will the Giants listen?

If the past is any guide to the future, the answer is a resounding no.

These are the same Giants who turned a blind eye when their food service subcontractor Bon Appetit fired all of us in July 2020, at the beginning of the pandemic. It took a sustained campaign by Local 2 and ballpark workers to win our jobs back.
These are the same Giants who demanded a release of liability for COVID infection from food service ballpark workers before we came back to work in 2021. We fought that fight too, and got their release of liability dumped in the trash where it belongs.

These are the same Giants whose principal owner, the infamous Charles Johnson, increased his fortune by $815 million during the first year of the pandemic, making him a billionaire five times over. Johnson is a Trumpite who continues to contribute money to Republicans who claim that Trump won the 2020 election.

In his latest scandal, Johnson helped force the resignation of the head of a prestigious educational program at Yale University after a political scientist who teaches in the program published an opinion article called "How to Protect America From the Next Donald Trump." Johnson demanded that the program teach "the way Henry Kissinger would."
What does Charles Johnson care about the mostly Black, Latino and Chinese food service workers at the ballpark?

Profits before people. That's the Giants outlook when it comes to workers at the ballpark.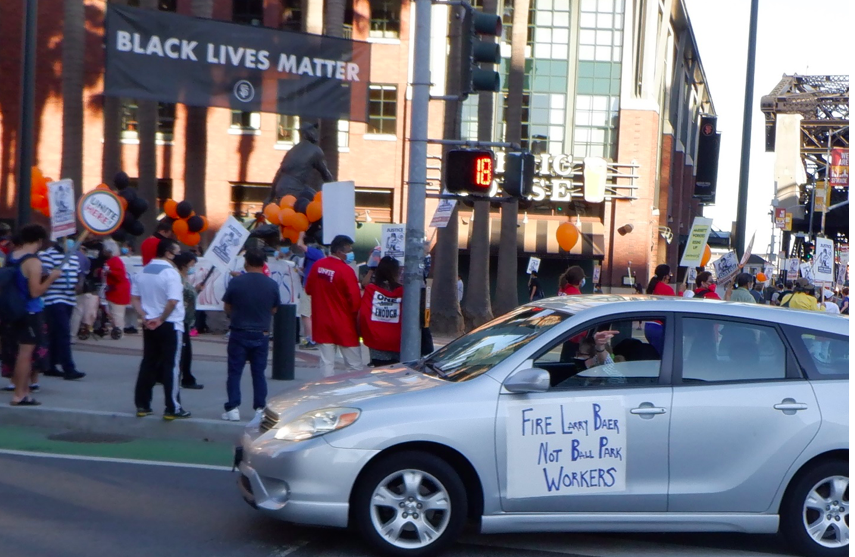 The COVID cover-up

If the Giants are guilty of risking the health of ballpark workers in their pursuit of the all-mighty buck, San Francisco officials are guilty of kowtowing to the corporate elite in the pursuit of their political careers. If anybody has seen a city official of any kind checking up on COVID protocols at the ballpark, please let me know and I will eat my Giants cap.

After the recent BottleRock Napa Valley music festival, which required attendees to show proof of vaccination or a recent negative test, Napa and Sonoma County officials reported about 20 cases of COVID among attendees. They called this a success. They did not report how many of these cases resulted in serious disease or hospitalization.

Where is any kind of similar report from San Francisco officials about Giants games? The answer is that it is nowhere to be found.

If this one music festival produced 20 cases of COVID among attendees, where strict entry protocols were in effect, how many Giants fans have become infected at the ballpark, where there is no required proof of vaccination and no required negative test? What is the reason the city is not reporting on this?

But lack of reporting by city officials is the least of it. Think cover-up.

I filed a Public Records Request with the San Francisco Department of Public Health earlier this year asking for written documents exchanged between the city and the Giants about ballpark protocols. After months of delay I finally got a couple of documents, the most recent of which concerned protocols in effect last April, before the Delta variant juiced up the pandemic.

Then SFDPH closed my request, claiming that "We have conducted a diligent search for records responsive to your request," and that there weren't any other documents.

After I filed a complaint with the Sunshine Ordinance Task Force, SFDPH reopened my request, promised to look again and get back to me sometime this week. I haven't seen anything yet. Talk about closing the barn door after the horse has left.

But San Francisco officials are not alone in their occasional Hear No Evil, Speak No Evil, See No Evil attitude toward COVID.

We have now passed 700,000 reported deaths from COVID-19 in the USA – 300,000 of those deaths since Joe Biden became President. We passed this milestone with barely a whimper from the corporate media.

At the risk of sounding like some kind of media-bashing right-winger, can you imagine how much hysteria the media would have whipped up when we hit 700,000 deaths if Donald Trump were still the prez?

Instead, what we are getting is a bunch of medical talking heads in the media telling us that COVID is ceasing to be a pandemic and instead becoming "endemic," and that we just need to learn to live with it, dead bodies and all.

The State of California is part of the cover-up also. Since January 2021, the California Department of Public Health has been required by a state law prosaically called AB685 to report on workplace outbreaks, and identify those outbreaks and infections by industry. It took CDPH a while to get around to abiding by this law, but they finally did, and now you can look at these records, if you dig deep enough, at their website. This is a good thing.

But when the AB685 was passed in 2020, it notably did not require disclosure of outbreaks at specific worksites, only by industry type. Specific worksites would have been much more meaningful, and some California counties – not including San Francisco – do indeed report on outbreaks by specific worksites, despite the lack of any legal requirement to do so.

When AB685 was passed, California legislators promised that they would be back shortly with legislation to require reporting of outbreaks at specific worksites. Just such a bill—AB654—was introduced in February 2021. That law is now sitting on the governor's desk, waiting either his signature or his veto. Except that the requirement that CDPH report on specific worksites has been stripped from the bill, which was the whole point of the bill at the beginning.

So if you want to know how many people who have attended Giants games this year have been infected by COVID at the ballpark, don't ask San Francisco officials and don't ask California officials, because they probably don't know, probably don't want to know, and probably wouldn't tell you if they did.


Go Giants

After all is said and done, I think we are all still hoping for Giants victories in the upcoming playoff games. Maybe the Giants will make it to the World Series. If they do, food service workers will earn double time during World Series games, a concession we got in our new contract.

Money can buy a lot of things. We won a lot of money in our new contract. The Giants will make a lot of money if the team wins some playoff games. Charles Johnson will get even richer.

But money can't bring anybody back from the dead if they die from COVID.

As has been said many times before, the struggle continues.

Marc Norton is a UNITE HERE Local 2 Giants food service worker, and has written extensively during the pandemic about the Giants and the class war they have been waging against ballpark workers. Marc's website is at https://MarcNortonOnline.wordpress.com.